Apple (NASDAQ:AAPL) is down over 20% from its record high of $705 per share in September. Dec. 5th alone, the stock was down 6%, primarily based on COR Clearing increasing the margin requirement for Apple's stock from 30% to 60%, which affects some funds that use leverage to trade certain stocks. Many articles have been written about the potential cause of the overall falling out of favor of Apple's stock. Let us focus on each one of these concerns in detail and see if we can weed through the media noise to see what Apple should be a buy or sell at today's prices:
Size of the Company
Even after the decline, Apple's stock at $538 per share still implies the company is worth $500 billion in market capitalization. Apple is the largest market cap company in the world, larger than Exxon (NYSE:XOM) ($400bn), PetroChina (NYSE:PTR) ($250bn), Google (NASDAQ:GOOG) ($226bn), General Electric (NYSE:GE) ($222bn), and Microsoft (NASDAQ:MSFT) ($220bn). That may seem intimidating, however note that Apple also produces over $40-50 billion of net income or profits per year (implying a 10-12x P/E) and has cash of $121 billion on their balance sheet with no debt ($130 cash per share). Excluding the cash on Apple's balance sheet, you would get an adjusted market cap (or enterprise value) of $385 billion.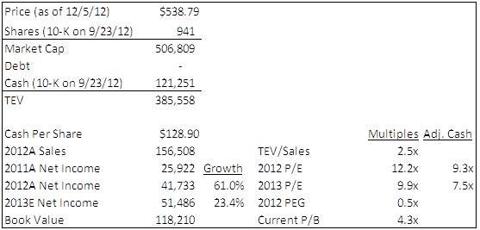 Another interesting data point to consider, is that part of the story of Apple's growth, is related to the shifting consumer preferences in the past five years away from the incumbent traditional PC makers and traditional phone manufacturers (Microsfot MSFT, Hewlett-Packard (NYSE:HPQ), Dell (NASDAQ:DELL), Nokia (NYSE:NOK), Research in Motion (RIMM)) and toward Apple's popular consumer products that simply just works. The decline in market caps of these incumbent PC and phone manufacturers over the past 5+ years total an astonishing negative $250 billion, which helps somewhat justify Apple's market cap increase of $330 billion during the same period. To be fair, some of this shift in market cap of $250 billion from the incumbent players, should have also gone towards other current winners in the new PC/iPad/smartphone space (ie: Samsung).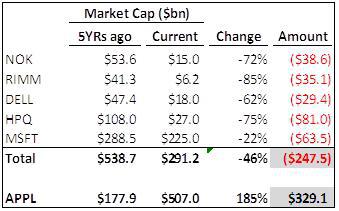 Limited market share increase upside
Samsung and Apple currently dominate the smartphone industry in terms of market share with 27% and 18%, respectively. Note however, if looking at market share within all of handsets globally including both smartphone and basic feature phones, Apple's market share is only at 7% and Samsung is at 21% (note, Apple only makes smartphones). Smartphone is currently only at 40% of total handsets globally and is projected to grow to 55% of total handsets in 2013 (annual growth of 47% versus only 5% for total handsets). Because the overall smartphone pie is getting bigger (growing at 47%) as consumers continue to upgrade from basic feature phones, even if Apple maintains their 18% market share of smartphones, they should grow along with the overall smartphone industry at the 47% annual growth rate. Another interesting point is to note the potential of selling smartphones in China. China OEMs (Tier I and Other) such as Huawei, Xiaomi, ZTE, etc. currently capturing 30% of smartphone market share. If Apple eventually launches an iPhone compatible with China Mobile's home-grown network (currently iPhone only available with China Unicom and China Telecom), there could be tremendous upside to Apple's units sold and market share increase.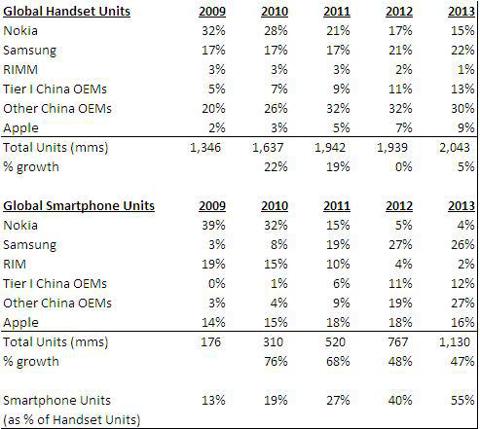 No longer a growth company
Some people have expressed concerns that Apple is no longer a growth company and therefore should not deserve a growth company valuation. If you look at Net Income annual growth trends, it has slowed down from 85% in 2011, to 61% in 2012, to a projected 23.4% in 2013. However, if you look at the valuation table from above, at today's price levels, Apple is only trading at 2012 P/E of 12.2x, or 9.3x adjusted for cash. This is arguably very cheap for a stock that is still projected to grow 23.4% in 2013 (PEG ratio, or price-to-earnings-growth is only 0.5x, where any PEG ratio below 1.0x is considered cheap).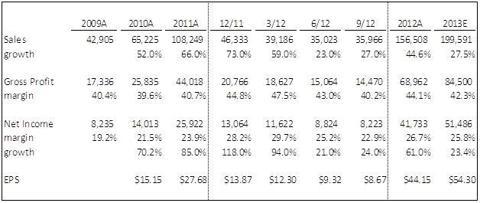 Gross margin concerns
Apple currently enjoys gross margins of +40%, the highest margins in the industry (As of 3Q12, Samsung is 37% and Nokia is 22%). In the past 4 quarters, gross margins have come down from 44.8% in Q12012 to 40.2% in Q42012. Some also are concerned with iPad mini's gross margin, given it has been priced aggressively at $329. However, based on numerous tech community teardowns of the component costs of the iPad mini, gross margins are expected to be around 40-42% for the iPad mini. Note, iPhone 5 gross margins are projected at 55%, and iPhone as a product category comprise 54.3% of Apple's 2013E sales.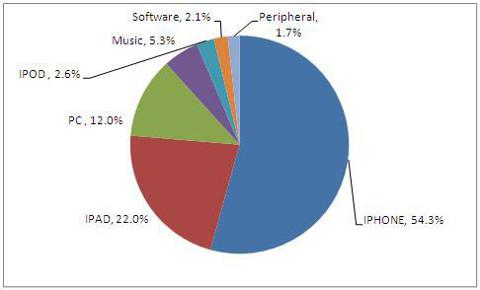 Nevertheless, let's make some down-side scenario assumptions to see how much declining gross margins would affect Apple's 2013E EPS. If we assume two downside adjustments of a) revenue growth missed by 5% (22.5% vs. 27.5% projected) and gross margin miss by 5% (37.5% vs. 42.3% projected), we still arrive at 2013 net income of over $42 billion, or an implied 2013 P/E of 12.1x.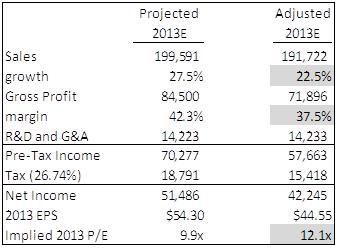 Dependence on iPhone sales
As mentioned above, iPhone sales comprise of 54.3% of Apple's sales (iPad 22%, PC 12%, Music 5.3%, iPod 2.6%, Software 2.1%, and Peripheral 1.7%). iPhone unit sales are projected to increase 35% in 2012-2013, based on the latest iPhone 5 product launch. This may initially seem as an aggressive assumption, however remember that iPhone sales increased 69% in 2011-2012, based only on a iPhone 4S product launch at that time (iPhone 4S launched October 2011), which was only an upgrade to the previous iPhone 4. iPhone 5 is an entirely revamped new product launch (granted not 100% revolutionary) and iPhone 5 will be available in 100 countries this time, compared to 70 countries that the iPhone 4S was eventually available in. Average per quarter, Apple would need to see 41mm iPhone units per quarter, and specifically analysts are expecting 46mm iPhones for upcoming quarter. However, note 5mm iPhone 5 units were sold in the first 3 day weekend (not counting existing iPhone 4S sales), and Samsung sold 56mm smartphones in their latest quarter. The availability of iPhone 5 due to capacity constraints have been reported by several analysts to be improving dramatically (lead times down to 2-3 days versus 3-4 weeks at launch).

Finally, remember that Apple had their largest entire product line launch this year, and besides the iPhone, they launched new Macs, iPads, iPods, peripherals as well. The unit sales for the other segments (although not as important as the iPhone), may prove to be conservative.
Other Considerations
This article attempts to only dive further into the quantitative concerns. Note that there are also numerous qualitative/technical trading issues that investors may need to consider as well (hedge funds recognizing gains on Apple at year end before tax increase, margin increase at COR Clearing from 30% to 60% puts pressure on any leveraged buyers, no more Steve Jobs premium given to the stock, what will be the next new major breakthrough product (ie: Apple TV), Samsung/HTC lawsuits, etc.).
Conclusion
From a fundamental value-driven perspective at least, Apple does seem to be trading at extremely cheap valuation levels, trading at only 9.9x 2013E P/E, $130 per share of cash on hand (cash adjusted 2013 P/E would be only 7.5x). Demand for Apple's entire product line seems to remain strong (given analysts' recent channel checks), and Apple's ecosystem of Apps/iTunes/iCloud/iBook/etc. helps to lock-in customers and add a "recurring" element to their revenue streams. The entire market seems to be against Apple these days, but if you remain calm, avoid all the noise, and focus on the fundamentals, Apple does appear to be a great value play.
Disclosure: I am long (AAPL). I wrote this article myself, and it expresses my own opinions. I am not receiving compensation for it (other than from Seeking Alpha). I have no business relationship with any company whose stock is mentioned in this article.