Since 2010, I've been trying to make energy companies a significant part of my portfolio. Attracted by a some of their long-term oriented management and correlation to energy prices, I set about looking for high quality oil and gas companies with the following characteristics:
Low cost of production
Conservative balance sheet (not too much debt)
A meaningful dividend
Dividend growth
Production growth, especially in oil
A good return on equity (ROE) and capital employed (ROCE), although production growth is more important to me
While both efficiency (ROE, ROCE) and growth are important and the tradeoff between them is not always set in stone, I do prefer growth, especially sustained growth. I believe sustained production growth will lead to higher returns over a long term horizon, particularly when management rewards shareholders with sustained dividend increases as a result.
Enter Occidental (NYSE:OXY).

For those who don't know, Occidental Petroleum is primarily an oil producer and most of their operations are in the United States. Their focus areas are in California, New Mexico, Texas and also North Dakota. They do have significant operations in Oman, the UAE and Qatar, too. OXY enjoys steadily rising production as a result of the unconventional oil boom going on in the United States right now. For reasons I will show below, they are one of my favorite energy companies.
These days, OXY's stock price has been at or near its 52 week lows. Despite macroeconomic uncertainty and a lot of negative price action in the stock, I believe OXY represents good value around these levels. Before we get into the reasons why I believe this, let's take a look at Occidental's most recent results.
Year Over Year Results for Q1-Q3 2012 (in millions except for EPS)
YTD 2012
YTD 2011
Net Income
$4,262
$5,137
Reported EPS
$5.25
$6.31

Overall Oil and Gas Production, MBOE

(+4.7%)

762
728
Capital Expenditures (+55.28%)
$7,716
$4,969
Cash Flow From Operations
$8,500
$8,600
Source: OXY Q3 Earnings Presentation Supplemental Schedules
Despite steadily increasing production, net income has dropped significantly from last year. The increase in capital expenditures will result in further production increases, but not for awhile. The below graphic explains the latest earnings decline in a nutshell: largely lower realized prices, higher operating costs from a higher rig count and finally a higher depreciation and amortization rate. With any luck, this too shall pass.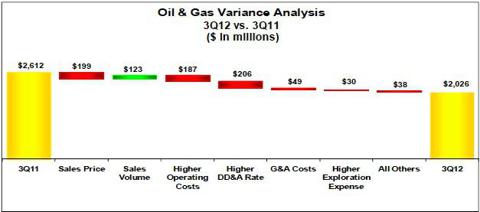 Source: OXY Q3 Earnings Presentation Supplemental Schedules
Low Cost Of Production
Of its 15 domestic energy-producing peers, Occidental's capital spending per Boe of production ranked the fifth lowest.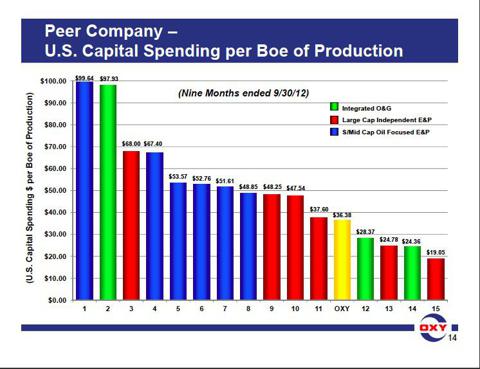 Source: Bank Of America Merrill Lynch 2012 Global Energy Conference
Occidental President and CEO Stephen Chazen has been strict in only adding incremental production when the cost to do so is low. Here are a couple of his most recent comments that I believe shed light on his approach.
On Elk Hills Field Production
You know, the only way I can assure that they are getting the squeal out of every dollar that they spend is to tighten their capital rather than give them more money.
On The Williston Basin
Our production in the basin has tripled since we entered the area over a year-and-a-half ago. We have recently slowed our drilling activity, and significantly reduced our rig count in the basin as a result of cost pressures.
Source: Occidental Q3 2012 Earnings Conference Call
Balance Sheet
Yes, debt has grown as of late. As you can see, the debt to equity ratio has increased steadily to 0.18 on the back of low interest rates and increased capital spending. While debt to equity is higher than integrated giant Exxon Mobil (NYSE:XOM), it is still much lower than others as Marathon Oil and Hess (NYSE:HES).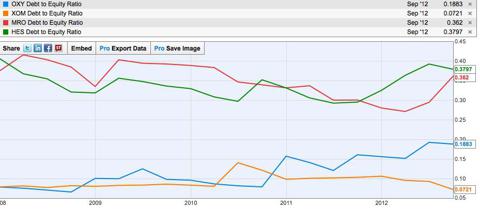 Source: YCharts
Also, while long term debt has grown to $7.6 billion, keep in mind that cash and cash equivalents have grown along with it and stand at $3.7 billion.

Source: YCharts
Great Production Growth, Good Returns
In comparing Occidental's long-term production growth to some of its peers, we see that it really excels.
Occidental Petroleum (OXY): 5-8% annual production growth
ConocoPhillips (NYSE:COP): 3-5% annual production growth
Marathon Oil (NYSE:MRO): 5-7% annual production growth
Exxon Mobil (XOM): 1-2% annual production growth
Chevron (NYSE:CVX): 4-5% annual production growth
Sources: Insider Monkey (XOM, CVX), Jeffries 2012 Global Energy Conference, November 2012 , Marathon Oil Third Quarter 2012 Earnings Conference Call and Web Cast, Bank Of America Merrill Lynch 2012 Global Energy Conference, link above.
Sustained production growth is part of management's commitment to long-term shareholder returns. While OXY's production growth is indeed remarkable, its Return on Capital Employed (ROCE) is still a respectable 13%. Return on Equity (ROE), as we can see, is also well within the range of its peers at over 15%.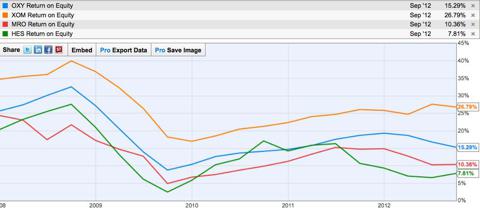 Source: YCharts
On Growth And Returns
With regards to returns, we don't believe that a depleting or shrinking business, or selling profitable future opportunities to fund high declined production, can yield high rates of return. One can reduce spending to achieve short-term higher returns, but these returns would not be sustainable, as the Company would deplete.
Stephen Chazen, Occidental Q3 2012 Conference Call
Because exploration and additional production of oil and gas is capital intensive, especially in the early stages, growth often comes at the expense of ROE and ROCE. Conversely, energy companies with a high ROE and ROCE could have few new oil fields and little additional production. Though this is not always set in stone, it is an important tradeoff.
Occidental has found a happy medium, or at least a spot I am comfortable with, in balancing returns and growth. I believe it is one that will work very well for the long term. Though there are some E&P companies with higher production growth, OXY's reasonable efficiency ratios and commitment to dividend raises make it a favorite of mine.
Dividend Growth
Occidental's history of dividend growth, shown below, is quite impressive. Of course, past performance is no assurance for future hikes of the same magnitude. However, OXY has impressive volume growth. It has a free cash flow/dividend payout ratio of 74% that should drop as CapEx tapers off this quarter. Finally, they are expressly committed to growing the dividend. So, we can be confident that it will increase and increase substantially for the intermediate future.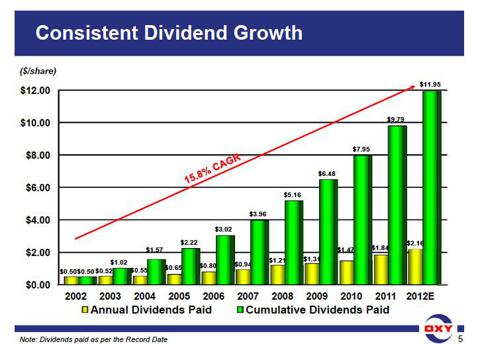 Source: Bank Of America Merrill Lynch 2012 Global Energy Conference, same URL as listed above.
My Strategy
OXY's stock price has a strong correlation with WTI Crude prices. So, it shouldn't be a big surprise to see it lagging and dropping as of late. Could oil prices drop more, taking OXY with it? They could. I am no expert on commodity prices, that's for sure. For what its worth, I think oil prices could go higher with the latest economic indicators coming out of China. Even if oil prices go nowhere for awhile, OXY's earnings will be propelled by its production growth.
Looking below on the chart, we can see that OXY is trading at a 5-year low in its Price to Book Ratio. From what I can see, the technicals don't look too great as we have to go all the way back to the Debt Ceiling panic in 2011 to see comparable prices. I could be early to the party, but the stock is certainly reasonable here.

Source: YCharts
My strategy was to buy shares when the dividend yield reached 3%. On December 4th I got the chance to do it for a brief moment when the share price dropped to as low as $72.69. It quickly recovered from that price, and since I'm not as fast as most, I was only able to pick it up for $72.92, which gave me a yield of 2.97%. That's good enough for me. I'll consider buying more if the yield jumps to 3.3% or greater.
To conclude, Occidental Petroleum is a favorite of mine because of their production growth and dividend growth strategy. That's not to say that OXY is the only one worth considering. Nor do I see it as a "screaming buy" at these levels. I do, however, believe that its price is reasonable here and priced for some bad times. I also believe it is worth the consideration of fellow investors looking for dividend growth at a reasonable price.
Disclosure: I am long OXY, COP. I wrote this article myself, and it expresses my own opinions. I am not receiving compensation for it (other than from Seeking Alpha). I have no business relationship with any company whose stock is mentioned in this article.