Given its recent estimates beat, Green Mountain Coffee Roasters (NASDAQ:GMCR) has seen its stocks rise 31% from 28.90 on 11/27 to 38.00 as of 12/6. Technical indicators supported by analyst estimates are all suggesting that this stock will continue to see higher highs. Today's contraction, to many people is providing what seems like a great buying opportunity to those who were late to party. However, everyone seems to have forgotten that 90% of GMCR's business is under attack from competitors financially much stronger than this up and comer in the retail coffee business.
As seen in the chart below, today's contraction, to many technical analysts looks like a 33.33 retraction on low volume before the stock continues its path upwards. RSI is at 75 and both 20 day and 50 day EMAs are steadily approaching the eagerly anticipated cross over on the 200 day EMA. Add to that, the fact that the Chaikin Money Flow Index has moved over to the positive side of zero and the continuous widening of the MACD shows strong momentum strength and you have a winning buy. I know! I would want to jump in given even these basic technical indicators. But I would still tread with caution.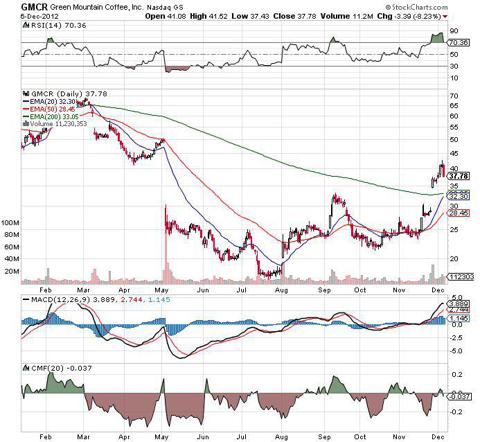 What seems like a good technical buy right now is fundamentally still very weak. Take a look at these two articles by Bill Maurer and Ben Strubel for more details. But for those of you that want a quick summary, their analysis indicates that stock buybacks and manipulation of inventory obsolescence along with the fact that GMCR's most recent quarter was an extra week long (leading to 7 cents extra on earnings) all but wipe out the consensus beat that they had. I'd like to add a point that I wish Ben would have added to his article. He has artfully discovered that GMCR saw their write downs from inventory obsolescence go from 29MN in the 3rd quarter to 27MN at year end. While not normal, this has been seen to happen because some organizations at year end, manage to find creative ways to reuse old inventory thereby forgoing the write down. What seems most unnerving is that such a feat, in which GMCR saw no inventory obsolescence speaks to tremendous operational efficiencies which should have been noteworthy on their earnings call. The lack of any mention of this seems to suggest that they were trying to keep this close to the chest, which is very worrying.
Another fundamental factor, one that seems to have been forgotten, is the still recent expiration of their patents, that only expired towards the end of fiscal 2012, so its true effects are yet to be completely realized. More competition on both the single serve packs and the home brewers is likely to continue affecting margins and eventually earnings.
As for the technical geeks out there, until the 50 day EMA crosses over the 200 day EMA you may want to keep away from this stock. The high RSI is a classic contrarian indicator and anything over 70 simply suggests that GMCR is overbought. The CMF is still weak and trending downwards. Couple these with the fundamental reasons discussed above and you should in the very least be very concerned by the nearly 7% drop GMCR is experiencing today.
I would recommend this stock is a 6 month short, and in the very least, it is a good point to cash in your gains and step to the sidelines to see what the holidays bring.
Disclosure: I have no positions in any stocks mentioned, and no plans to initiate any positions within the next 72 hours. I wrote this article myself, and it expresses my own opinions. I am not receiving compensation for it (other than from Seeking Alpha). I have no business relationship with any company whose stock is mentioned in this article.