1-800-Flowers.com (NASDAQ:FLWS) common stock appears undervalued based on a number of important metrics and when compared to other internet retailers. However, this does not seem justified, as the company's growth is recovering, margins are improving, and it is actually generating a profit. In addition, 1-800-Flowers.com continues to expand organically, through improving its sales channels and product offerings, and internationally, through direct investments. Investors looking to invest in a company that is down over 80% since its inception, with solid chances for recovery, should consider 1-800-Flowers.com. The hidden value could surface as soon as this winter, when the company reports its usually strongest second fiscal quarter.
Valuation and Fundamentals
1-800-Flowers.com has nearly 40 million unique customers served by the company's 2,200 employees. The company has 65 million shares outstanding for a market capitalization of $200 million and an enterprise value (EV) of $260 million. During its fiscal year ending on July 1, 2012, the company generated $0.27 in earnings per share and had adjusted earnings before interest, taxes, depreciation and amortization (EBITDA) of $43.8 million. Thus, the EV to EBITDA ratio is about 5.9. This is attractive and much lower, compared to Teavana (TEA), the tea seller, that is being acquired by Starbucks (NASDAQ:SBUX) at a staggering 16+ times EV/EBITDA.
Based on a number of other metrics, 1-800-Flowers.com seems to offer an attractive investment opportunity. It is difficult to compare the company to another company as it is a leader in the consumer floral area with fiscal 2012 revenues in that segment of $398.2 million. Perhaps, a company that comes close to 1-800-Flowers.com is United Online (NASDAQ:UNTD), that generated $587 million in 2011 revenues from its floral (and related products and services) segment. However, this represented only about 65% of United Online's business as the company has other major unrelated businesses. Also, United Online derived $151 million of its 2011 floral segment revenues from the UK and Ireland. 1-800-Flowers.com's international business is currently in its early growth stages. Below are some valuation metrics compared to four other companies that are somewhat comparable to 1-800-Flowers.com.
United Online - A specialty retail and communications company established in 2001 that has a market capitalization of $510 million and EV of $650 million.

Groupon (NASDAQ:GRPN) - An internet-based company that connects local merchants with customers. It was founded in 2008 and recently had a market capitalization and EV of $2.5 billion and $1.35 billion, respectively.

Teavana - A company that sells loose tea and tea related accessories online and through stores in the U.S., Canada and Mexico. The company was established in 1997 and has a market capitalization of about $600 million and an EV of $610 million.

Amazon.com (NASDAQ:AMZN) - An online seller of merchandise and services with a market capitalization of $115 billion and founded in 1994.
| | | | | | |
| --- | --- | --- | --- | --- | --- |
| | FLWS | UNTD | GRPN | TEA | AMZN |
| PEG Ratio | 0.5 | -1.4 | 0.5 | 0.8 | n/m |
| Price to Book | 1.3 | 1.1 | 3.5 | 8.1 | 15.2 |
| Price to Sales | 0.3 | 0.6 | 1.2 | 3.1 | 2 |
| EBITDA | 6.1% | 14.8% | 6.7% | 18.9% | 4.2% |
| LT Debt to Equity | 0.1 | 0.5 | 0 | 0.1 | 0 |
| Sales Growth vs. 1 Year Ago | 4.8% | -4.7% | 70% | 33.1% | 31.3% |
Source: Reuters; PEG - Price/earnings to growth ratio.
As seen from the table above, 1-800-Flowers.com offers a good value by having a relatively undervalued stock price based on its PEG, price to book, and price to sales ratios. In addition, it also has low debt, an acceptable revenue growth rate and a decent EBITDA margin.
Growth Initiatives
While valuation and fundamental metrics are useful, they usually tell a story that has already happened (with PEG being an exception) and sometimes miss current and future trends. Based on a number of initiatives, 1-800-Flowers.com should continue to perform well. The company underperformed during and after the 2008-2009 crisis (see graph) but is on the path of a healthy recovery and the share price should follow. For example, its revenues, in the first quarter of its fiscal 2013, rose by 3.1%, compared to the same period last year, while the operating loss in the quarter decreased by 16.6%.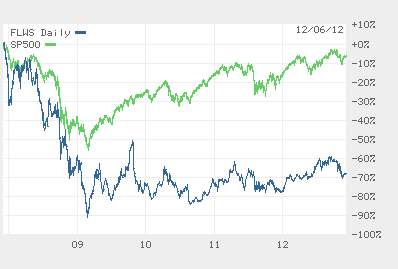 The company is, currently, able to grow revenues while reducing costs at a faster clip due to the following stated initiatives:
Merchandising and marketing initiatives featuring truly original products that have helped drive increased average order value and gross profit margins,

Efforts in manufacturing, sourcing and shipping that have helped absorb rising commodity and fuel costs and enhanced operating cost leverage, and

Investments in innovation for the future, including its industry leading efforts in Social and Mobile arenas, BloomNet and franchising programs in Consumer Floral and Fannie Mae.
These are not just empty corporate messages as the company is already delivering on most of them. For example, it has strategic relationships with such well known brands as Lenox, Waterford, Crabtree & Evelyn, Yankee Candle, Junior's Cheesecakes, Norman Love, and Starbucks. Earlier in 2012, it teamed up with a leading Brazilian floral and gift retailer, Flores Online. And in 2011, it acquired Finestationary.com and Mrs. Beasley's, in an effort to improve its specialty gift and gift basket offerings, respectively.
Most remarkable and promising is 1-800-Flowers.com's successful expansion in the social media and mobile areas. The company created one of the first apps that enables it to sell through Facebook (NASDAQ:FB) as part of Facebook's new gift service. In addition, it won the award for 2010 Best Mobile Application among a number of other awards for best Web site and Mobile app. Finally, its technology-based BloomNet, which connects independent florists and also offers wire services, is highly regarded in the industry.
Conclusion
Investors have shunned 1-800-Flowers.com because the company experienced significant setbacks, due to the decrease in consumer discretionary spending following the recent financial crisis. The company adjusted its operations somewhat slowly to this new reality and its shares slumped. However, the company has made changes to its business model, reduced costs, and is continuing to grow revenues. Today, the shares are attractively priced and the company is able to sell well through new channels such as mobile apps and social media. The second, third and fourth quarters of its fiscal year are usually the strongest and now could be a good time for investors to consider 1-800-Flowers.com.
Of course, there are risks of rising commodity and transportation prices as well as a new recession, following the "fiscal cliff." However, the shares are cheaply priced and should offer a margin of safety in case of deteriorating economic picture or a sudden increase in inflationary pressure. No matter what, people will continue to buy flowers and gift baskets for a variety of occasions and reasons. 1-800-Flowers.com is well positioned to meet this demand.
Disclosure: I have no positions in any stocks mentioned, and no plans to initiate any positions within the next 72 hours. I wrote this article myself, and it expresses my own opinions. I am not receiving compensation for it (other than from Seeking Alpha). I have no business relationship with any company whose stock is mentioned in this article.