It's no secret that the stock market makes most of its gains in the winter months, and if it's going to have problems, they usually take place in the summer months.
The pattern is so consistent that academic studies prove that over the long term, betting on the pattern, even with a strategy as simplistic as the venerable old "Sell in May and Go Away" dictum, outperforms the benchmark S&P 500 by a wide margin, while taking only 50% of market risk.
However, it doesn't happen every single year. So by far, the majority of investors remain skeptics, and in spite of their performance history, believe there must be a way to be right 100% of the time.
Last year (2011), the market followed the seasonal pattern in classic fashion. The rally in the winter months of 2010-1011 topped out May 1, followed by a double-digit summer correction. The summer correction ended in October, and a typical winter months' rally began.
This year followed a similar pattern -- until June. A strong winter rally topped out in late April into a summer correction. But the correction ended at the June low, with a rally that carried the market up to a level fractionally higher than the seasonal May exit. At that point, exiting May 1 had not paid off.
But then the market pulled back again to a level lower than the May 1 peak.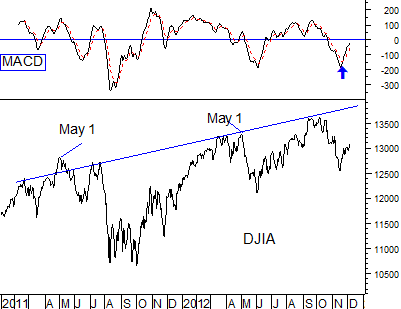 The question for seasonal investors now -- fractionally ahead of the market if they followed the spring exit and recent re-entry signal of my Seasonal Timing Strategy -- is whether the rally that began in November was the beginning of a typical favorable season rally into next spring.
It's been a nervous attempt to rally so far, as uncertainties over the fiscal cliff negotiations continue.
That uncertainty is not being helped by several months of positive economic reports that indicated the U.S. economic recovery is back on track, which have been replaced by some reports for October and November that are less supportive of that conclusion.
As I wrote last week, durable goods orders were flat in October after an encouraging increase in September, new home sales fell 0.3% in October, and consumer spending declined in October for the first time in five months.
On Friday this week, it was reported that the University of Michigan-Thomson Reuters Consumer Sentiment Index fell sharply in early December, from 82.7 in November to 74.5 so far this month, much worse than the consensus forecast of 82.0
The Labor Department also reported on Friday that 146,000 new jobs were created in November, much better than the consensus forecast of 95,000. But previous reports for September and October were revised down by 49,000 jobs total.
But don't count seasonality for the winter months out yet.
The wait and see attitude of business and consumers regarding the fiscal cliff -- which has been creating the recent weakness in economic reports -- would likely take a decided turn for the better again if a reasonable compromise is reached to avoid the cliff, or at least kick it down the road again.
And nothing in the typically slow negotiation process so far has disabused me of expecting that outcome.
By the way, if that happens, although it would a positive for a few months, down the road, the remnants could provide the catalyst for the seasonal pattern to continue next summer.
So I continue to be watchfully optimistic that a typical "favorable season" rally will continue to come out of the rubble of the current uncertainties.
But it is still not a time for over-confidence, or to adopt a buy and hold approach.
Until there is more clarity regarding the cliff, I favor conservative holdings like the SPDR DJIA ETF (NYSEARCA:DIA) and the Utilities Sector via ETFs like the Select SPDR Utilities (NYSEARCA:XLU), while holding an ample supply of cash ready to pounce on more aggressive opportunities.
Disclosure: I have no positions in any stocks mentioned, and no plans to initiate any positions within the next 72 hours. I wrote this article myself, and it expresses my own opinions. I am not receiving compensation for it. I have no business relationship with any company whose stock is mentioned in this article.