Semiconductors are about as unloved as any basket this year. The S&P Semiconductor ETF (NYSEARCA:XSD) has significantly lagged the S&P 500 (NYSEARCA:SPY), losing 0.31% this year versus a 14.8% increase in the index.
The demise of the personal computer has taken a toll on the suppliers of commoditized chips, including flash memory and PC friendly CPU's. Flash maker Micron (NASDAQ:MU) is down 28% from its spring 2012 peak and Pentium maker Intel (NASDAQ:INTC) has fallen 31% from its high in May. While the anti-PC trend isn't likely to reverse anytime soon, it's not all bleak for chip companies heading into 2013.
Don't forget, the chip business is cyclical.
Semiconductors are a cyclical industry and true to form, semiconductor stocks tend to trade higher or lower during certain seasons each year.
Since its launch in 2006, the XSD has outpaced the S&P 500 ETF solidly through the month of April. The summer and fall are notoriously poor performers, and this year proved no different.
Source: E.B. Capital Markets, LLC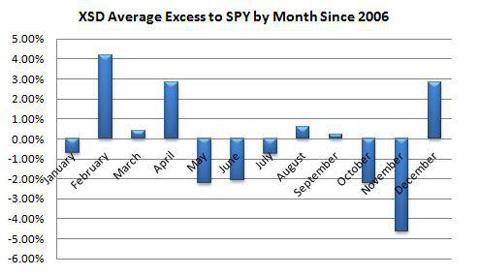 The stocks tend to trade in line with the seasonal improvement in the SEMI book-to-bill ratio, which measures semiconductor orders against deliveries. This next chart averages the monthly book-to-bill by month over the past decade. Typically, the measure bottoms in Fall and accelerates into Spring.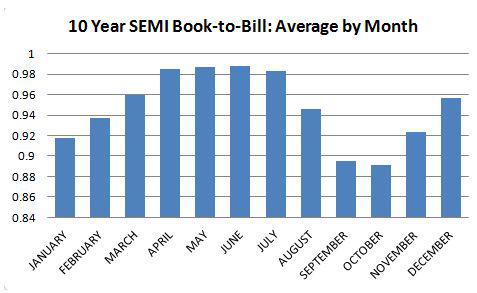 Sure, the PC market is suffering but there are some bright spots.
Outside of the struggling market for PC's, chips are increasingly finding their way into autos, industrial equipment and of course smart phones and tablets. The shift is creating a new set of industry leaders in the process.
For example, Qualcomm (NASDAQ:QCOM) is a market leader in baseband chips and its Snapdragon processors have found their way into a number of high profile smartphones and tablets. Broadcom (BRCM) lands in just about every mobile device thanks to its WiFi chips. And specialty plays such as Cirrus Logic (NASDAQ:CRUS) have seen sales grow substantially thanks to Apple's iPhone and iPads.
Semiconductor companies including Analog Devices (NASDAQ:ADI) have carved out niches in the fast growing automotive market, helping engines run more efficiently, GPS systems navigate us and parallel parking us into tight spots.
In total, autos have climbed to 9% of the global market for semiconductors in 2011, up from 5.6% in 2000. This market now represents $25.7 billion in sales, up from $20.9 billion in 2007. And, IC Insights expects semiconductor content per vehicle to climb to $495 in 2015 from $350 last year - good news for players including Analog.
Given the seasonality, certain stocks may make a lot of sense at depressed prices.
The average large-cap semiconductor stock is trading 1.6x its 5 year PE low, versus 1.8x for the large cap universe. Maxim Integrated (NASDAQ:MXIM) is trading just about at its 5 year PE low.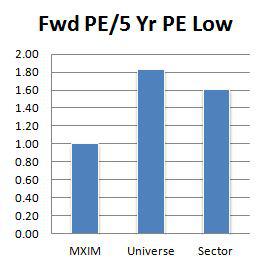 Of course, low PEs don't necessarily mean there is value. The best bets will likely be those that are seeing earnings growth where earnings per share forecasts are being revised higher. Intel, which is also trading near its 5 year PE low on forward estimates, doesn't make that cut. But, Maxim does. And, so does low PE shares of Qualcomm.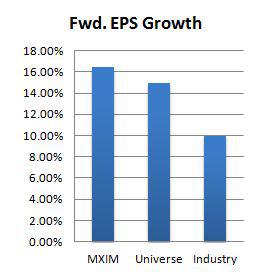 For investors interested in smaller market cap semiconductors, Sanmina (NASDAQ:SANM) may make sense. The company is expected to generate $1.69 in earnings per share in fiscal 2014, giving it a forward PE ratio of 6x. The Street has bumped up this estimate from $1.65 60 days ago. Despite the rising estimates, having beaten analysts in each of the past 4 quarters and getting positive earnings revisions, shares are still trading more than 20% below their 52 week high.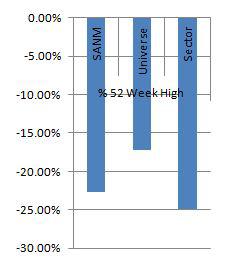 Looking across large caps, three have strong seasonality over the past 10 years for the 3 month period through February. Micron has posted the best median return. But its eye popping standard deviation makes the stock interesting only to the most iron stomached.
Source: The Seasonal Investor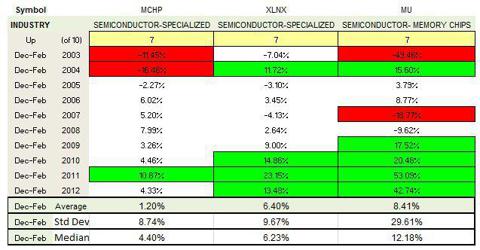 Of course, this opportunity won't be right for everyone. After all, past performance is never a guarantee for future returns.
But, for those willing to take a stab at a beaten down basket with a penchant for rewarding shareholders through winter, semiconductors may fit the bill.
Disclosure: I have no positions in any stocks mentioned, but may initiate a long position in SANM, MXIM, ADI over the next 72 hours. I wrote this article myself, and it expresses my own opinions. I am not receiving compensation for it (other than from Seeking Alpha). I have no business relationship with any company whose stock is mentioned in this article.