With the European sovereign debt crisis dragging on, European telcos are struggling. In all the cases, continued economic challenges in their main markets, plus heightened competition among telcos and between telcos and over-the-top players have been largely to blame.
Considering that US telcos are doing relatively fine, the malaise in Europe suggests that there are structural problems facing the industry. Over the years, Europe has created a resounding success story in telecoms. Yet, increasingly, the rewards of this success are flowing mostly to customers through intense competition-induced price cuts, handset subsidies, enterprises with their strong buying power, and regulator-mandated cuts to termination and international roaming rates. Other beneficiaries have been new entrants (Iliad in France) and substitutes (Skype and WhatsApp).
With revenues falling, the emphasis is likely to shift to cost cutting to help stabilize margins. Vodafone's CEO admitted as much, saying he expects another round of cost cutting. Telefonica obliged by slashing dividend payments, joining the ranks of France Telecom, KPN and Telekom Austria, which have all slashed dividends in the past eight months to deal with lower profits and debts. For long-term recovery, further organizational transformation and a move to leaner and more efficient businesses are paramount.
The Ernst & Young risk radar presents a snapshot of the top 10 business risks in an industry sector, by dividing risks into four quadrants. These quadrants are:
Compliance threats - originating in politics, law, regulation or corporate governance
Operational threats - impacting the processes, systems, people and overall value
Strategic threats - related to customers, competitors and investors
Financial threats - stemming from volatility in the markets and in the real economy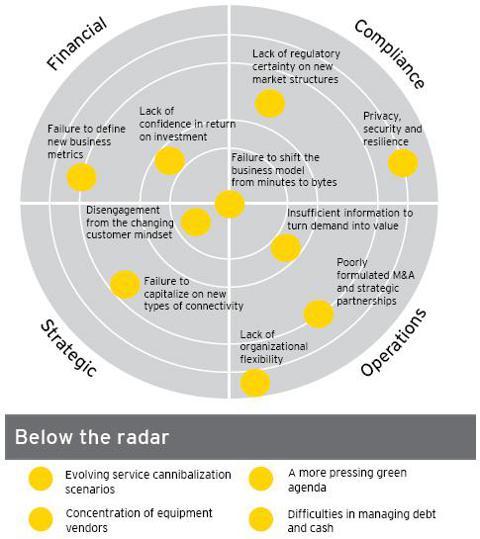 1. Failure to shift the business model from minutes to bytes
As value shifts from minutes of usage to volumes of data, operators need to move away from their legacy strategies focused on customer retention, which has had the effect of commoditizing the value of minutes and bandwidth in customers' eyes.
2. Disengagement from the changing customer mindset
With global technology brands now top of mind for consumers, and technology cycles quickening, operators need to understand and respond to fast-changing customer expectations and behaviors if they are to fight off the competitive threat from over-the top providers.
3. Lack of confidence in return on investment
While operators have proved adept at managing capital investment and balancing it flexibly with free cash flow and dividends, it is increasingly clear that tight capex control can limit their ability to grow new services quickly. So they need to maintain their commitment to investing in growth opportunities, while tracking technology and consumer developments closely to ensure they target their money at the right areas at the right time.
4. Insufficient information to turn demand into value
To drive profitable customer propositions and improve their time-to-market for new services, operators need accurate, timely and comprehensive business intelligence and customer analytics, underpinned by aligned and integrated operational support and billing systems.
5. Lack of regulatory certainty on new market structures
It is increasingly crucial for governments and regulators to adopt pro-investment policies to sustain the sector's momentum and for operators to form workable stances on a range of issues, including the increasing relationship between fixed and mobile policies. At the same time, all these groups must work together to achieve greater clarity over regulatory approaches.
6. Failure to capitalize on new types of connectivity
New types of connectivity such as machine-to-machine (M2M) are redefining the concept of connectivity, requiring operators to adopt new strategies. Instead of continuing to think of connections in human terms, operators need to develop new understandings of connectivity and target new growth areas.
7. Poorly formulated M&A and partnership strategy
Though M&A activity has accelerated through 2010-11, its nature and risks have changed. Footprint control increasingly takes precedence over footprint growth, and political, macroeconomic and regulatory risks are increasing. But acquisitions and partnerships are essential for success in emerging market segments such as mobile advertising and cloud computing.
8. Failure to define new business metrics
The metrics and key performance indicators (KPIs) that operators use to manage their operations internally and communicate their performance and prospects externally have not kept pace with the shift in business models from minutes to bytes. Operators urgently need to define a new and different set of metrics that puts the customer first.
9. Privacy, security and resilience
Customers place more trust in operators than in social networks, regarding operators as security guarantors across a range of services. Yet they still hold operators responsible for threats from third parties even for mobile malware attacks and rogue apps. Operators should work closely with governments to clarify their responsibilities in areas such as anti-terrorism and content for children, and collaborate with suppliers and partners to tackle privacy and security issues in new service areas such as cloud security and mobile apps.
10. Lack of organizational flexibility
With their organizational structures subject to forces such as the shift to data services, the rise of partnering and the rising imperative for speed-to-market, operators have already made significant changes to their organizations. But more is needed. Operators now need to align their business units to maximize the economies of scale and scope in their geographic footprints while reconciling the competing forces of geographic sensitivity and global strength.
Four European Telcos That Deserve A Closer Look
| | | | | |
| --- | --- | --- | --- | --- |
| | Vodafone | Telefonica | France Telecom | Telecom Italia |
| Ticker | VOD | TEF | FTE | TI |
| Market Cap. | 136.47B | 59.51B | 28.80B | 17.75B |
| Price | 25.87 | 25.87 | 10.61 | 9.13 |
| | | | | |
| Book /share | 22.60 | 18.16 | 13.48 | 15.71 |
| Cash /share | 2.31 | 2.82 | 3.63 | 5.30 |
| Dividend | 1.53 | - | 1.75 | 0.54 |
| Dividendperc. | 5.90% | - | 16.08% | 5.91% |
| | | | | |
| Forward P/E | 10.05 | 7.09 | 6.67 | 10.14 |
| P/S | 1.91 | 0.73 | 0.50 | 0.45 |
| P/B | 1.15 | 0.72 | 0.81 | 0.58 |
| EPS ttm | -0.55 | 5.31 | 1.77 | -1.07 |
| EPS 2013 Est. | 2.58 | 1.84 | 1.63 | 0.90 |
| | | | | |
| Debt/Equity | 0.51 | 3.32 | 1.20 | 1.75 |
| Rating S&P | A- | A- | A- | BBB |
| Rating Moody's | A3 | Baa1 | A3 | Baa2 |
| | | | | |
| Liquidity | High | High | High | Medium |
| Avg. Volume | 8.04M | 1.94M | 1.47M | 250.31K |
| Optionable | yes | yes | yes | yes |
| Shortable | yes | yes | yes | yes |
Vodafone
Vodafone (NASDAQ:VOD) counteracts regulatory pressures by reducing costs, stimulating mobile/data usage and fixed broadband as well as new services. Another focus is on growth in strong growing, less mature markets (Africa, Middle East, Asia Pacific), which meanwhile account for around 30% of the group revenue and EBITDA.
A priority for Vodafone was generating liquidity from non-controlled assets, which was welcomed by the market and executed (assets of GBP 15 billion were sold).
First H1 results were mixed: Revenue figures missed market estimates driven by a weaker than expected performance in Northern Europe and Africa, Middle East, Asia Pacific ((NASDAQ:AMAP)). Southern Europe was as weak as anticipated. Reported EBITDA was heavily hurt by negative currency effects and missed estimates, but strong results from Verizon Wireless (VW, not included in EBITDA) caused operational profit to beat consensus. The company expects the trends to continue in H2 and now expects to reach the upper end of its operational profit guidance.
Macro weakness especially in Europe led to another impairment which causes concerns. Vodafone is counteracting and rolling out new tariffs (called Red) including unlimited voice and SMS. Growth slowed in AMAP while the US is continuing its strength. The announcement that Verizon Wireless will pay a dividend is positive as there has been speculation that it would not make a payment. But the payment is 15% below consensus and Vodafone will replace last year's special dividend by a share buyback. As a result, ordinary FY 2013 dividend will be only 10.2 pence, or a yield of 6.3%. This is below the level of some peers, but the dividend is growing and can be seen as safe contrary to several peers, which cut dividends.
Vodafone is relatively well positioned to cope with the difficulties in Europe, helped by its regional diversification which is superior relative to its European peers. Valuation is moderate. So put this one on your watchlist.
Telefonica
Telefonica (NYSE:TEF) made several acquisitions in Latin America and Europe and thereby reduced the dependence on Spain (75% of revenues now outside Spain) and increased its presence in wireless and in emerging markets.
Net debt increased related to the acquisitions and Telefonica announced steps to improve its balance sheet and avoid further credit rating downgrades by the agencies. The company suspended its dividend payouts and share buyback program in 2012, and cut the planned dividend in 2013 by half. It also announced to shed some non-core assets and list some of its international operations.
Telefonica delivered Q3 results without significant surprises as key figures were broadly in line. Spain remained weak with declining margin but a small improvement in mobile. Latin America revenues rose 3% overtaking Europe as the largest unit for the first time with margin slightly up. Margin in Europe excluding Spain was also a touch better. Net debt reduction was in line and on track to reach the target of 2.35x OIBDA at the end of 2012. Guidance for the whole year remained unchanged.
France Telecom
For some time France Telecom (FTE) benefited from the strong position in its home market, but intensifying competition deteriorated domestic trends.
Q3 results were in line with expectations. The decline in mobile service revenue in France accelerated but net customer additions were promising. France remains the key concern for the market, but management's presentation to stabilize the business in 2014 was credible. The market was skeptical on the initial guidance of a stabilization in 2013 but it was difficult for the company to assess the full impact of the market entry of "Free Mobile" (Iliad). FT has now reset expectations for 2013. The dividend cut has been speculated, so this should not be a surprise.
New guidance results are still in a very attractive 8.5% dividend yield. Based on the new guidance and a proper strategy in France, the stock is too cheap and may have bottomed. Therefore this stock deserves a second look from investors.
Telecom Italia
Telecom Italia (NYSE:TI) is dominated by Telco Holding, which consists of some Italian companies and Spanish Telefonica. Telecom Italia confirmed in November 2012 that Naguib Sawiris (the previous owner of Wind, Italy's third-largest mobile operator) has approached the company with an interest to underwrite a capital increase in order to help finance "growth projects." It is speculated that Sawiris would subscribe shares at a premium with a value up to EUR 5 billion. New capital would be positive for Telecom Italia as it speeds up deleveraging. However there are lots of uncertainties: What will happen to the dividend, what is the right price for the new shares, what will the Telco holding do. In addition, the Italian state had made clear that it wants to keep the fixed network in Italian ownership.
Nine month results were in line with market estimates. Growth slowed in Argentina and Brazil but both countries performed very solidly. Domestic sales deteriorated further as anticipated driven by mobile (service revenue fell 13% vs. -7.5% in Q2), which suffered from Mobile Termination Rate cuts and data roaming caps. Despite the domestic deterioration, Telecom Italia confirmed 2012 guidance and might achieve its targets as comparisons become easier and Brazil should recover from the new line sales ban in July. However the perspectives for 2013 remain muted due to the slowdown in Latin America and weakness in its most important market - Italy. Especially when the planned debt reduction should suffer, the dividend (yield already below sector average) could come under additional threat. Related to increasing austerity pressures, expropriation risk in Argentina and uncertainty related to M&A, investors should stay cautious despite a very attractive valuation.
Final Note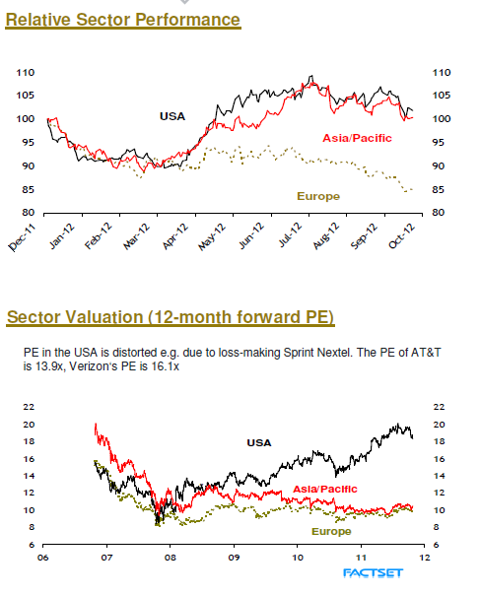 European telcos have underperformed their U.S. and Asia/Pacific peers with a wide margin. The sector is no longer "defensive." Telcos need to adapt their business models to a wider ecosystem and make more firm decisions about which revenue sources they are going to target within that broader environment.
From the companies mentioned in this report Vodafone and France Telecom offer some good value in the short run (<2 years). Telefonica and Telecom Italia are for opportunistic buyers who think peripheral European countries show signs of recovering.
Disclosure: I have no positions in any stocks mentioned, and no plans to initiate any positions within the next 72 hours. I wrote this article myself, and it expresses my own opinions. I am not receiving compensation for it (other than from Seeking Alpha). I have no business relationship with any company whose stock is mentioned in this article.