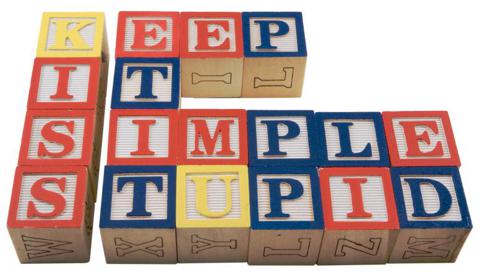 A few weeks ago, I was watching the NBC Nightly News and they had a brief report on what we all already knew: Given the choice, pre-school aged children would much rather play with the large boxes that toys came in than the toys themselves.
Flashing lights and electronic noises are great, but simplicity is better. It seems that a child's imagination is better stoked when simplicity is an option.
In the markets, it seems as if unbridled imagination is what can get us all into trouble, whether you're directly playing the game or not. Collateralized Debt Obligations, anyone? But the wilder the imagination, the greater the potential gains and the fees. Besides, if imagination blows up on you, all you really need to do is pack your bags and get your "two and twenty" from an entirely new group of friends, who may be destined to become ex-friends.
The year is almost over and the data thus far indicates that the average hedge fund is showing a gain of just 0.4% as compared to the S&P 500, which is up by about 12.5%.
Just to make that point more clear so that everyone can understand, those percentages are expressed in yen terms.
Being one who sells options, I can certainly understand how a sustained bull market or a surge can cause a hedged portfolio to underperform. I felt like a moron the first couple of months this year when the market went up nearly every single day without any accelerant or stimulant. For the most part, I feel better about myself since that time.
Being one who uses fairly simplistic hedges, it seems that having too many toys and too many hedging options may be counter-productive. At one time, I had the intellect to grasp the beauty of strangles, straddles, condors, butterflies and all of those esoteric and exotic option strategies. I don't have that capability anymore, although I'm continually intrigued. I tell myself to return to reality if that intrigue lasts for more than four hours.
Selling options is simple, but nothing trumps buying good stocks, and at the right time. Lately, I haven't done that terribly well -- witness last week's decision to repurchase Baidu (NASDAQ:BIDU) shares that were assigned the week before, and pick up additional shares of Freeport McMoRan (NYSE:FCX) after the announcement of their somewhat incestuous buyouts of McMoRan Exploration (NYSE:MMR) and Plains Exploration (NYSE:PXP). Add to that the "stock envy" related to the shares that I thought I might buy last week but never did, and you've got the makings of underperformance.
But still, when it's all said and done, the only question that I have is: 0.4%? Those hedge fund managers can't possibly be that consistently bad in their stock selection or timing.
Can they?
As I look at the losers that I am holding, I start to think about the quasi-governmental gift that we can avail when paper stock losses exist. In a year when the gains have been nice, sometimes it makes sense to do the unthinkable and convert those paper losses to the real thing in order to get the tax advantage and offset the gains.
But the need to not act in a simple fashion is making the rounds, as there is talk that end of the year tax loss selling should be deferred until 2013, in order to take advantage of what is likely to be a higher tax rate, and therefore, a greater advantage to taking stock losses.
It must be good to know with great certainty that next year will, in fact, bring stock gains that require offsets. I don't know if that will be the case, as I suspect that I will continue to be a lousy stock picker and timer. I'd rather keep it very simple and reluctantly take the losses now, when there are real gains and not anticipate the imaginary gains of 2013.
Imagination? Great for kids, terrible for stock strategies.
This week marks yet another week that I'm sitting on too many uncovered positions. While the historical low volatility is on everyone's cocktail party-approved conversation list, for me, what has marked the past six weeks or so is the unusually slow share price recovery in stocks that have taken dips. Of course, the only stocks that I really care about are my own, so that observation may not have broader applicability. Nonetheless, that regular sine wave that I've looked for in the past seems to have had its x-axis stretched.
By the same token, a number of my favorites that had been assigned away from me seem to be taking longer to get back to a price at which I would be willing to buy them back. Maybe it's me?
As that becomes the case, I tend to look for new positions that I haven't owned in awhile, rather than chasing stocks that are at too great a distance from my arbitrary version of "fair value."
This week's possible purchases are categorized as either Traditional, Momentum, Double Dip Dividend or Premiums Enhanced by Earnings (see details).
EMC Corp (EMC) has been a consistent performer for the past few years, trading in a fairly narrow range. Not quite as exciting as its spin-off VMWare (NYSE:VMW) that I thought I might purchase last week, it has the advantage of offering weekly options and a respectable premium, but without the histrionics.
Occidental Petroleum (NYSE:OXY) was almost on last week's list as a Double Dip Dividend selection. It is among those that got away, while Baidu and Freeport did not. I take some comfort from Freeport's decision to diversify its core business, recognizing downstream opportunities in the energy sector. Occidental is a reasonable alternative to Conoco (NYSE:COP), which would ordinarily be my first choice in the oil sector.
Perhaps it's subliminal, owing to all of those Peanuts Christmas specials and television ads, but Metropolitan Life (NYSE:MET) is attractive once again at this level. There's rarely anything exciting about the company, and I hope to decide between it and Aetna (NYSE:AET), as my United Healthcare (NYSE:UNH) shares are getting lonely and perhaps would perform better if they had a portfolio mate. Ordinarily, I would rather add shares of UNH, but at its current share price, it is awkwardly placed between strike levels that do not allow a worthwhile premium to be obtained. Neither MetLife nor Aetna have that issue, as strike levels are at single dollar levels, rather than $2.50 gradations.
Transocean (NYSE:RIG) has been a mainstay of my portfolio for a number of years. It is one of those rare stocks that didn't get brutally punished when it eliminated its dividend earlier this year. It just reliably trades within a reasonably tight range and generates an attractive premium, despite the market's low volatility.
Although Lexmark (NYSE:LXK) was among the Momentum stocks that I considered for last week and never did purchase, it is the sole member of the category this week. It has gamely recovered from the news that no one is printing anything anymore, and may be ready to become a member of the Traditional category, as its trading and price movements have settled down, but its option premiums continue to have appeal on a risk-reward basis.
Although December is always a risky time to consider adding a major retailer to the portfolio, Macy's (NYSE:M) has long been a consistent performer, and has the added attraction of going ex-dividend this week. I'm certain that someone is doing the aerial parking lot views and can be much more quantitative about Macy's prospects, but I have faith that whatever the holiday season will or won't bring in profits, Macy's will survive and thrive.
Starwood Hotels (HOT) is one of those rare annual dividend paying companies, like MetLife. Although I suspect that after the dividend is distributed, shares will not recover sufficiently to be assigned, it is a company that I wouldn't mind holding beyond the current option period, despite the fact that it only offers monthly options and it, too, offers $2.50 strike levels
The week's earnings related selection is Joy Global (NYSE:JOY). As with most such selections, it is volatile over the course of a typical day, and may be even more so in the wake of earnings. As with such choices, the range of price movement that I look for is 5-15%. If shares trade downward going into the earnings release, I would be inclined to pull the trigger on this one, despite the fact that the current weekly premiums aren't quite high enough to play strike levels more than 5% below the current price.
Traditional Stocks: Aetna, EMC, MetLife, Occidental Petroleum, Transocean
Momentum Stocks: Lexmark
Double Dip Dividend: Macy's (ex div 12/12), Starwood Hotels (ex div 12/12)
Premiums Enabled by Earnings: Joy Global (12/12 AM)
Remember, these are just guidelines for the coming week. Adjust accordingly with market movements, and you'll have the makings of a healthy income stream for the week with reduction of risk.
Disclosure: I am long RIG, LXK, BIDU, FCX and I may initiate positions in AET, MET, OXY, M, EMC, JOY, HOT. I wrote this article myself, and it expresses my own opinions. I am not receiving compensation for it (other than from Seeking Alpha). I have no business relationship with any company whose stock is mentioned in this article.