MPLX LP (NYSE:MPLX) is my favorite income growth story. MPLX is a midstream Master Limited Partnership (MLP) currently yielding 3.5%. MLPs have tax advantages for eligible income investors. MPLX has a strong foundation to increase its current distribution level. A growing income stream is a welcome addition to any income portfolio. Investors should acquire MPLX units in the $26 - $32 price range. I recommend buying MPLX units today for a growing yield stream.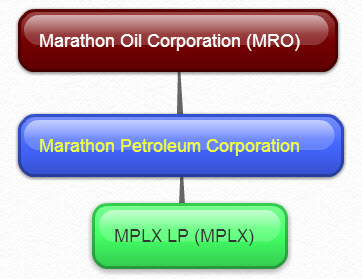 Cash Distributions
MPLX plans to make quarterly cash distributions of at least 26.25 cents per unit, or $1.05 annually. With units at $30.15, the company provides a distribution yield of 3.5%.
Distributions will likely go higher because of the company's captive relationship with Marathon Petroleum Corporation (NYSE:MPC) and Marathon Oil Corporation (NYSE:MRO). However, its distribution yield is lower than many other midstream energy sector master limited partnerships.
For the December 2012 quarter, MPLX will pay prorated cash distribution from its initial public offering (NYSEARCA:IPO) date through December 31.
Distribution Hierarchy:
MPLX's distributions will be prioritized as follows: i) 98% of available cash to common unitholders and 2% to its general partner, up to a minimum of 26.25 cents and arrears from prior quarters, ii) 98% of any excess cash to subordinated units up to 26.25 cents per unit, iii) of any further excess cash, 98% to all unitholders and 2% to its general partner up to 30.1875 cents per unit, and iv) increasing percentages of any leftover cash to the general partner up to 48%.
Distribution Amount:
At the minimum distribution level (26.25 cents), MPLX needs $19.8 million every quarter. Based on projections, MPLX believes it will be able to pay out minimum cash distributions to all common, subordinate and general partner unitholders in 2013.
Subordination:
Subordination is expected to end after three consecutive years of minimum annual distributions of $1.05, and $1.575 in the third year on all the units (150% of the minimum annual distribution).
Taxes:
MPLX estimates that common unitholders that hold units through December 2015 will only be subject to federal taxes on 20% of the cash distributions they receive.
2013 Distribution:
For 2013, MPLX projects $87.1 million in cash available for distribution, of which $79.2 million will pay for distributions at the minimum level, with $7.9 million available for additional distributions.
MPLX Overview
MPLX LP was formed in March 2012 by Marathon Petroleum as a MLP and an emerging growth company under the JOBS Act. MPLX is headquartered in Findlay, Ohio.
Marathon Petroleum, in turn, was spun off from energy giant Marathon Oil in June 2011, with crude oil and refined products' marketing, refining and transportation businesses hived off into Marathon Petroleum which subsequently became an independent public company.
Now, Marathon Petroleum has selectively transferred some of its midstream energy assets - pipelines, storage terminals, barges and other assets - to MPLX, and views MPLX as strategic to its growth.
Marathon Petroleum
Marathon Petroleum is the largest refiner of petroleum products in the Midwest, and amongst the largest in the US, with a solid credit rating and substantial industry expertise. In 2011, Marathon Petroleum had revenues of $78.6 billion making it the fifth largest petroleum products refiner in the US. Marathon Petroleum also has an extensive retail and wholesale marketing setup that pushes its Marathon Petroleum and Speedway brands across the US, as the fourth largest chain of company owned and operated retail gasoline and convenience stores. Marathon Petroleum's operations require large scale transportation of crude oil and related products to its refineries and the wholesale and retail markets it serves.
Assets Transferred to MPLX
MPLX has 100% ownership of MPLX Operations LLC which has i) a 51% general partner interest in MPLX Pipeline Holdings LP, and ii) 100% interest in MPLX Terminal and Storage LLC.
MPLX Pipeline Holdings LP, in turn, fully owns Marathon Pipeline LLC and Ohio River Pipeline LLC. MPLX Terminal and Storage LLC own a storage cavern in Neal, West Virginia, with capacity to store 1 million barrels.
Pipe Line Holdings owns a) 962 miles of crude oil pipelines and 1,819 miles of product pipelines that traverse nine states, primarily in the Midwest, b) storage facilities in Illinois and Indiana, and c) a barge dock with 80 mbpd throughput capacity on the Mississippi River in Illinois.
Organization
Marathon Petroleum owns a 78.1% limited partner interest in MPLX, while its fully owned subsidiary, MPLX General Partner LLC (MPLX GP), holds a 2% general partner interest in MPLX. The remaining 19.9% stake in MPLX was recently sold to the public through MPLX's IPO on October 26, 2012.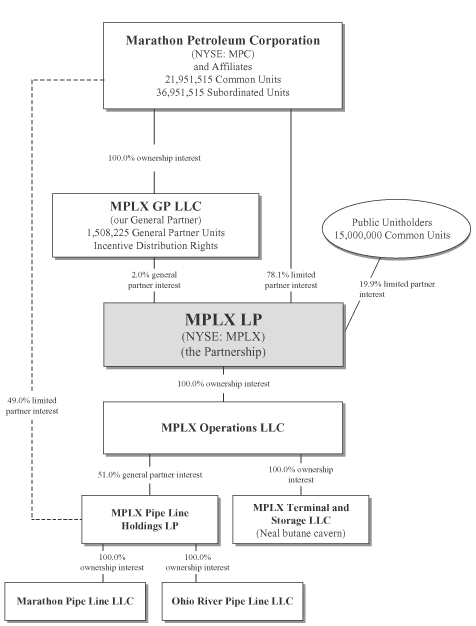 MPLX itself has no employees. All employees, including those for its operating subsidiaries, are on the payroll of MPLX General Partner. MPLX GP has full rights to appoint MPLX management and Board of Directors, and make decisions for the company.
Even though MPLX only holds a 51% stake in Pipe Line Holdings, its arrangement with Marathon Petroleum Corporation gives it full operational control, including the setting of cash distribution policies.
Marathon Petroleum Business Arrangement:
MPLX has entered into multiple management and service contracts with Marathon Petroleum Corporation. Marathon Petroleum Corporation, in turn, intends to make MPLX its primary growth vehicle for midstream services. And, over time, Marathon Petroleum Corporation will likely sell additional midstream assets to MPLX.
Management
MPLX GP is led by Gary R. Heminger as CEO. Mr. Heminger joined Marathon Oil in 1975 and has extensive experience in all major business activities. Garry L. Peiffer is the President, Donald C. Templin is the company's Chief Financial Officer, and George P Shaffner is the Chief Operating Officer. In addition, management includes business heads such as the Treasurer and Corporate Counsel. These officers concurrently hold key operational roles in Marathon Petroleum.
Overall, the company has a highly experienced management team with several years of collaborative experience in this field. MPLX pays Marathon Petroleum a fixed monthly fee for its management services.
MPLX will be managed by its general partner (MPLX GP) which is fully owned by Marathon Petroleum, thereby giving Marathon Petroleum rights to appoint management executives and the Board of Directors. Marathon Petroleum's existing executives and board members will concurrently serve MPLX. Neither MPLX nor its subsidiaries will have any employees; all employees will be on the payroll of the general partner and its affiliates.
Ownership Units
Under its arrangement with Marathon Petroleum, MPLX has i) issued 21,951,515 common units and 36,951,515 subordinated units to MPC, giving it a stake of 78.1%, ii) issued 1,508,225 General Partner units giving MPLX GP a 2% stake in MPLX, and iii) issued all Incentive Distribution Rights (IDRs) to MPLX GP (see table below).

Limited Voting Power:
Unitholders should note that they have limited voting power and no right to elect the general partner or Board of Directors at any time.
Dilution:
Investors should note that common units had a pro forma net tangible book value of $8.64 but were priced at $22 and are currently trading at $30.15. Investors therefore undergo immediate dilution when purchasing these units.
IPO
On October 26, 2012, MPLX conducted its initial public offering where it sold 15 million common units and the full 15% of overallotment (2.25 million units), for a total of 17.25 million common units priced at $22 per unit. Demand for units was strong and the offer price was raised from the $19 - $21 range to $22.
Shares jumped 24% on the first day of trading to close at $27.20, giving MPLX a market value of $992 million.
The IPO raised $381 million before expenses and banking fees.
Use of Proceeds:
From money raised in the IPO, $191.6 million will go to Pipeline Holdings to fund capital expenditures, $72.9 million will go to MPC for assets contributed, $10 million will be retained as working capital and $2.7 million will go towards paying credit origination fees. The balance, approximately $100 million, will be used to pay out cash distributions, for general management purposes and to pay origination fees for a new $500 million revolving credit facility.
Investment Thesis
Pros:
MPLX will benefit from stable, predictable revenue tied to long-term contracts with Marathon Petroleum which include minimum fee guarantees. This predictable revenue stream takes away a lot of the stock's uncertainty. In addition, its management affiliation with MPC gives it the industry know how and experience to successfully run its business.
MPLX's pipeline, refinery and storage assets provide stable predictable revenue streams without commodity risk. And MPLX's assets are located in strategic regions in the Midwest and the Gulf Coast - to service Marathon's existing operations and also close to prominent shale basins such as Utica and Marcellus for future growth.
MPLX ensures that its assets are well serviced and capable of high productivity and efficiency.
The company has strong financials with money from its IPO and a new $500 million credit facility. The company also has low leverage with debt of only $11.6 million, giving it approximately $600 million of liquidity.
Moreover, government regulations guarantee tariff increases tied to inflation + 2.65%.
And in the future, the company should benefit from additional drop down assets from its parent company under long-term contracts that would add to revenue and cash flow.
The company's management team has deep experience and expertise, and a proven record of managing midstream assets.
Unitholders also benefit from 80% tax deferral based on the MLP structure.
Cons:
On the flip side, MPLX substantially depends on Marathon Petroleum for 80% of its revenue. Problems at Marathon Petroleum will significantly impact MPLX's revenue and operating cash flows.
Business Model
Revenue:
MPLX's revenue comes from tariffs charged for the use of its pipeline and storage assets and from fees earned for operating Marathon Petroleum's assets. MPLX does not take ownership of any of the products that flow through its system and thereby reduces its business and financial risks.
Strategy:
MPLX's business goals are to generate stable revenues, increase revenue and earnings organically and through acquisitions (primarily from Marathon Petroleum), and increase quarterly distributions in the coming years.
MPLX's business strategy has four components: i) focusing on its fee based business to generate healthy stable revenues while minimizing its exposure to commodity price volatility, ii) growing revenue organically based on asset expansions tied to the growth of MPC's businesses and that of other third parties; iii) growing through acquisitions that complement its existing assets, from Marathon Petroleum and from third parties, including potential increases of its stake in Pipe Line Holdings, and iv) delivering safe, efficient and reliable services to maximize client satisfaction and protect and grow revenues.
Financials
Pro forma historical: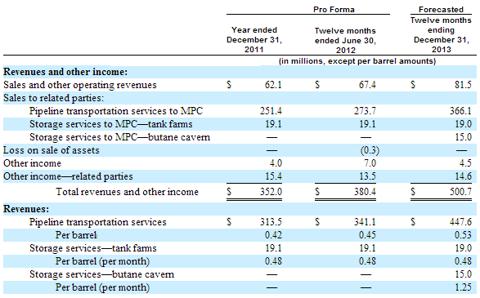 The table above shows pro forma financials for 2011 and 12 months ended June 30, 2012. It also shows projected financials for 2013.
Pro forma financials assume the carve out occurred on January 1 2011 but do not include $3.4 million in anticipated G&A expenses tied to public company operations.
For 2011, MPLX had total revenues of $352 million of which $313.5 million came from pipeline services and $19.1 million from storage services. Operating income was $94.5 million and net income (to MPLX) was $48 million which translates to $1.05 per common unit.
The company defines adjusted EBITDA as earnings before interest, tax, depreciation and financial expenses, and distributable cash flow as adjusted EBITDA less cash interest payments, cash income tax payments and maintenance expenses.
For 2011, on an adjusted basis, the company had EBITDA of $63 million attributable to MPLX.
As of June 30, 2012, net property, plant and equipment totaled $844 million of the $1,216.6 million in total assets. Long-term debt was $11.6 million.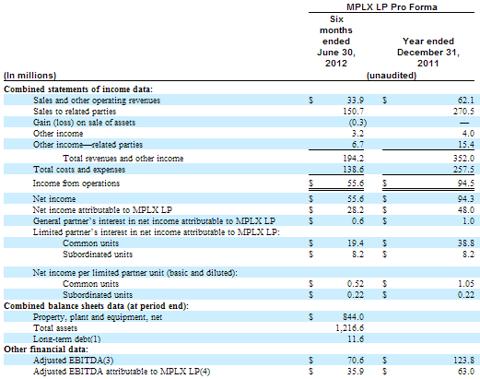 In 2011, assets attributable to MPLX carried 993 mbpd (million barrels per day) of crude oil and 1,031 mbpd of other petroleum products with average tariff rates of $0.40 per barrel and $0.44 per barrel, respectively.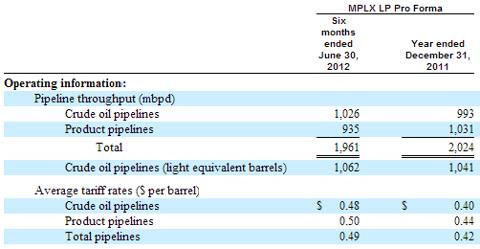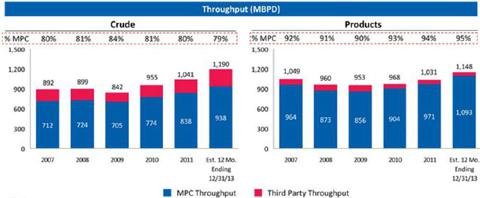 2013 projections:
For 2013, the company projects total revenues of $500.7 million with close to 90% from pipelines, flat revenue from storage at $19 million and $15 million in new revenue from its butane storage cavern in Neal, West Virginia.
Total costs and expenses consist of cost of revenues, purchases, depreciation, general and administrative expenses and miscellaneous taxes. 2013 operating income is projected at $154.6 million with net income to MPLX of $77.5 million dollars after paying out MPC's 49% retained interest in Pipeline Holdings.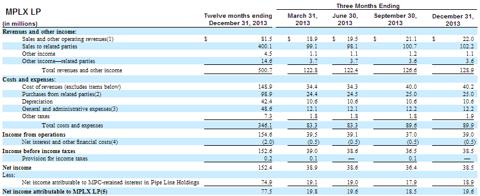 While MPLX has long-term service contracts with Marathon Petroleum, past volume shipments have exceeded minimum commitments for crude oil and product pipeline systems, and are expected to continue at higher than minimum levels going forward.
MPLX could increase revenue by utilizing uncommitted storage and pipeline capacity, by increasing throughput, by cross connecting with other pipeline systems and by identifying and executing expansion projects.
Revenue fluctuations are tied to throughput volumes and tariffs. Expenses primarily include labor, maintenance and repairs, power and fuel, taxes and administrative expenses. Expenses generally remained stable and vary only to the extent of changes in the activities undertaken during the period. The company attempts to manage maintenance expenses through scheduling that minimizes impact on cash flow.
Balance Sheet:
As of June 30, 2012, on a pro forma basis, the company had loan receivables of $391.6 million from related parties, net physical assets of $914.3 million, accrued goodwill of $134.2 million tied to past acquisitions, and total assets of $1.5 billion. Liabilities primarily consisted of $41 million in accounts payable and $10.9 million in long-term debt. Net investment equity, or unitholders equity in simple terms, totaled $1.43 billion.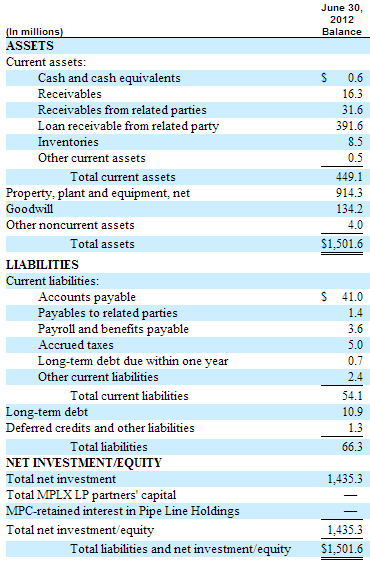 Risks
Business risks include changes in commodity prices and demand for crude oil and refinery products, global economic weakness, contract cancellations or non renewals by Marathon Petroleum's customers, disruptions in Marathon Petroleum or Marathon Oil operations, new regulatory policies, environmental factors and weather related outages.
Asset Details
The map below shows MPLX's office location and various assets.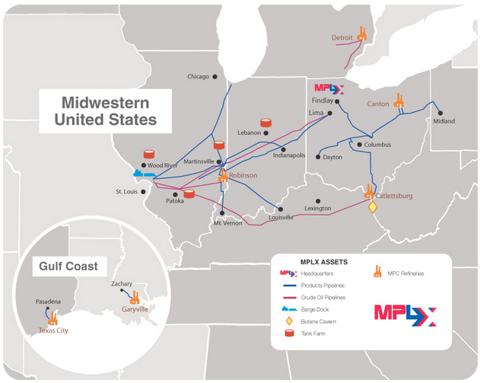 And the tables below detail its crude oil pipeline systems, product pipeline systems, storage facilities, cavern and barges.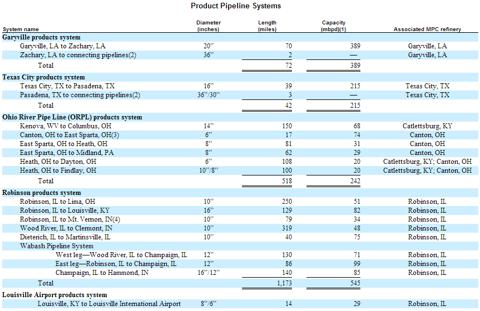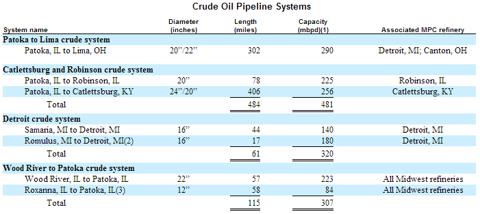 Summary
MPLX has a strong and supportive tier one parent company with all the necessary financial and other resources to support its future revenue, cash distributions and growth. Moreover, Marathon Petroleum sees MPLX as its vehicle for midstream transportation services growth. Therefore, units offer safety from volatile market environments. Units have jumped significantly from their IPO price of $22 and currently offer a distribution yield of 3.5% based on minimum commitments. Distributions will likely go up at least 50% over the next four years based on the company's own requirements for sun-setting subordinate units. So investors can expect significant upside on distribution yield. If unit prices retreat on a broader market pullback, they could make worthwhile investments for long-term holders. Investors will also benefit from up to 80% exemption on taxes payable on distributions. All these factors should benefit unitholders looking for less speculative plays with more reliable income.
Disclosure: I am long MPLX. I wrote this article myself, and it expresses my own opinions. I am not receiving compensation for it (other than from Seeking Alpha). I have no business relationship with any company whose stock is mentioned in this article.