Look at how fast things can change. Just three weeks ago, in its conference call, copper, gold, and molybdenum producer Freeport-McMoRan (NYSE:FCX) told us that pricing for molybdenum (a component for steel and specialty chemicals) "continues to be strong." A few blinks of the eye later, and molybdenum (moly) market prices have dropped 60% since mid-October, from nearly $30 per pound to just $12 last week.
The sharp declines are due to recent & massive production cuts coming out of the global steel producers, as the global recession continues to erode demand for industrial metals, and contracts are being canceled, growing stockpiles.
Further evidence suggests that the short-term picture for moly is deteriorating further, as Platts reports that:
It may only be a matter of time before the $10 barrier is broken, however. "People are buying hand-to-mouth to get through the week in the expectation that prices will fall further," said a third trader. "The consensus is that it can definitely go below $10 on oxide (moly), but not below $8."
Freeport to Cut Production, Delay Upgrades
In an effort to restore some stability to the S/D balance for moly, Freeport will be cutting production by 10 million pounds and delaying the re-start of the existing Climax mine that could produce as much as 30 million pounds. As a frame of reference, Freeport will produce about 75 million pounds of moly in 2008, and will have derived roughly $2 billion in gross sales.
The aggregate costs of production for Freeport on moly aren't readily available, but industry estimates put the figure in the high single digits, in the range of $7-$10 per pound. Due to its scale, Freeport could be expected to have a lower than average cost, so it is probably still able to turn modest operating profits from moly sales above $10/pound. If and when Freeport gets the Climax mine up and running, the company feels it can produce moly for just $3.50/pound. However, in this operating environment, Freeport can't justify spending the remaining construction costs in order to "fast-track" the project.
China Stimulus Boosts Stock
FCX shares were trading higher on the day, Monday, as copper prices rebounded following the news out of China that nearly $600 billion will be spent on infrastructure and "social project" stimulus over the next two years. Given that China is the world's largest consumer of copper, the nation's willingness to use its $2 trillion plus in capital surpluses is a good sign for copper, a major component in nearly everything related to construction and infrastructure.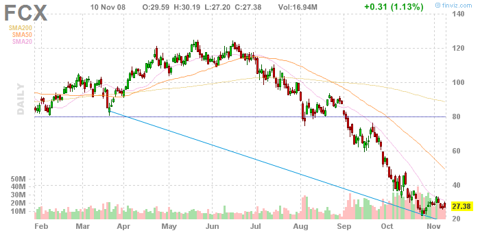 Disclosure: None