Long-term goals for retirement investing remain the same after uneven performance by the stock market in the last decade. The main objective is to grow investment value and its income stream, preferably from increasing dividends. Since 2000, it has been very difficult to earn what used to be considered satisfactory annual rates of return.
At the end of 1999, popular stock averages were near peak values. The Dow Jones Industrials had major selloffs, extreme volatility, and has not been able to reach a new record since 2007. Its graph below shows limited growth and high volatility in recent years:
Dow Jones Industrials - 40 years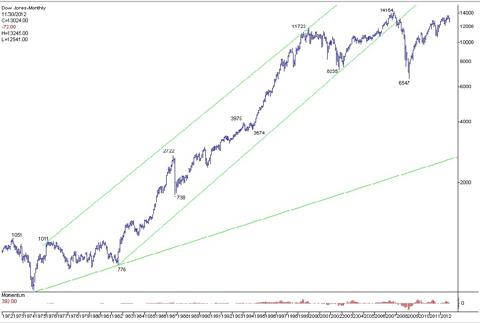 Source: the-privateer.com
While capital gains for many stocks have been limited, dividends generally provided reliable income and the best companies kept raising dividends. The most dependable for increasing income are Dividend Aristocrats - S&P 500 companies which have increased annual dividends for a minimum of the prior 25 years. Many have streaks of 30-40 years, despite recessions.
Below are 10 stocks for retirement accounts in 2013 and going forward. The first 5 with higher incomes are more appropriate for those looking for high income that is growing. While their yields are attractive, dividend increases have been moderate with limited stock price growth. The second 5, with lower yields, are more appropriate for accounts with longer time horizons for retirement. They have at least doubled over the last decade. Their dividend annual increases have been more substantial (around 16¢) and have attractive yields in a low yield environment.
| | | | |
| --- | --- | --- | --- |
| Company | Price | Yield | Divs |
| HCP (NYSE:HCP) | $45.37 | 4.4% | $2.00 |
| Leggett & Platt (NYSE:LEG) | $26.86 | 4.3% | $1.16 |
| Sysco (NYSE:SYY) | $31.83 | 3.5% | $1.12 |
| McDonald's (NYSE:MCD) | $88.48 | 3.5% | $3.08 |
| Johnson & Johnson (NYSE:JNJ) | $70.45 | 3.5% | $2.44 |
| | | | |
| Genuine Parts (NYSE:GPC) | $64.05 | 3.1% | $1.98 |
| Exxon Mobil (NYSE:XOM) | $88.60 | 2.6% | $2.28 |
| VF Corporation (NYSE:VFC) | $152.61 | 2.3% | $3.48 |
| McCormick (NYSE:MKC) | $64.20 | 2.1% | $1.36 |
| Sherwin-Williams (NYSE:SHW) | $148.94 | 1.0% | $1.56 |
(1) HCP Inc is a REIT that invests in senior housing, medical offices, nursing homes and hospitals. Recent annual dividend increases have been 6¢, but in 2012 the increase was 8¢ to $2.00. A portion of the dividend is tax free or taxed at the capital gains rate in taxable accounts.
(2) LEG makes components for bedding, furniture and auto seating. 5 years ago it jumped the annual dividend to $1 just before the recession that hit LEG hard. Since then annual dividend increases have been limited to 4¢.
(3) Everybody knows and has eaten at MCD restaurants. It is committed to global expansion with the greatest growth expected in Asia. The stock is down 12% YTD and the dividend provides one of the highest yields in MCD history. Also, MCD has increased dividends annually since its IPO in 1976.
(4) SYY is the global leader in food products for restaurants, healthcare and educational facilities, lodging establishments and customers who prepare meals away from home. Annual dividend increases have been 4¢ in recent years.
(5) JNJ is the largest healthcare company in the world. Numerous product recalls in recent years for OTC medicines have hurt earnings, but problems are being corrected. Management has survived challenges since 1886 and retains its AAA credit rating. Recent annual dividend increases have generally been 16¢.
6) GPC is a service organization that distributes automotive replacement parts, industrial replacement parts, office products and electrical/electronic materials. Business is conducted across the US, Canada and Mexico. The last 2 dividend increases were 16¢ and 18¢.
7) XOM, a Dow stock, is the largest energy company in the world. It descends from the original Standard Oil founded by John D. Rockefeller. XOM operates 36,000 oil wells and is expanding natural gas production. The dividend is 66% above the 2007 level.
8) MKC sells flavor products and other specialty food products to the food industry worldwide, operating in 2 segments: Consumer (spices, herbs, extracts, seasoning blends, etc.) and Industrial (provides seasoning blends, natural spices and herbs). The dividend is 70% above the 2007 level.
9) VFC is the largest apparel company, a global leader in branded lifestyle apparel with more than 30 brands that include Wrangler, North Face, Lee, Vans and Nautica. The dividend is 56% above the 2007 level.
10) SHW manufactures and sells paint, coatings and related products to professional, industrial and retail customers primarily in North and South America, with additional operations overseas. The dividend is 24% above the 2007 level. The stock reached a record $73 in 2007, fell and recovered to more than double that price!
An unsatisfactory record of stock growth in recent years promotes the value of dividends, and rising dividends, in retirement accounts. Retirees are living longer and have more active lives than in the past. That means higher expenses, especially in later years. These companies have continued raising dividends when many leading companies failed to. They share a commitment to reward stockholders with increased annual earnings and dividends which bring higher stock prices. Reinvested dividends add to investment growth. These stocks can grow and generate rising income in 2013. Even if the US goes over the fiscal cliff, they can be counted on to increase dividends.
Disclosure: I am long VFC. I wrote this article myself, and it expresses my own opinions. I am not receiving compensation for it (other than from Seeking Alpha). I have no business relationship with any company whose stock is mentioned in this article.