Introduction
The tax code is complicated. Congress and the President have promised to fix this mess they created; however, it seems that any fix on the table is going to ultimately make the code even more confusing. Changes in the code will invariably have an effect on taxpayer behavior, primarily in two ways. First, more individual taxpayers will choose to rely upon paid professionals to ensure accuracy and compliance of their tax return. Alternately, taxpayers or small business owners may choose to purchase do-it-yourself software to file their returns. Two companies which stand to benefit from this scenario are Intuit (NASDAQ:INTU) and H&R Block (NYSE:HRB).
The first thought might be that since both could benefit from these changes to the tax law, the companies must be similar. Well, they may share similarities but they are actually somewhat different. Intuit is primarily a company that specializes in products related to financial matters targeting individuals and small businesses. Some of their more well-known products include Quicken, QuickBooks, and TurboTax. All three products are geared towards individuals or smaller business owners, and they are adequate for that purpose. H&R Block, on the other hand, is primarily a tax preparation company that provides in-person services as well as a software version of their service, previously called TaxCut, but now called H&R Block At Home.
Valuations and Earnings
So let's get a little bit into the numbers and see if there are any legitimate investment opportunities.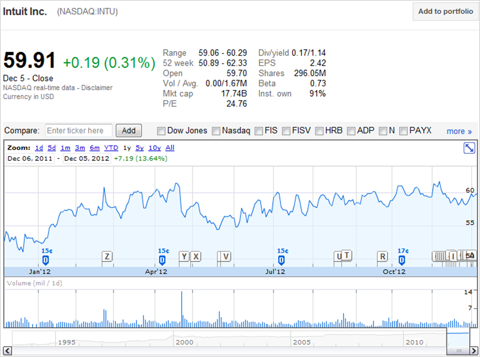 Looking at the one year price chart and key statistics for Intuit, we can see that the stock is up 13.64% in the past year. The stock has hit the $60 level or just above several times, but has not retreated below $55 in about six months. A beta rating of 0.73 indicates it will generally trend with the market overall while muting some of the more extreme movements in both directions, and with 91% of the outstanding shares being held by institutional investors, I would expect it to remain stable -- all positive indications so far. However, I generally look for opportunities based on value relative to earnings or else dividend growth in my initial screening. A trailing P/E of over 24 and a dividend yield of 1.14% aren't exactly neon signs proclaiming "buy me," but there are enough indications of potential to warrant a further examination.

Looking at the past two years worth of quarterly earnings shows that the money follows a cyclical pattern. Q2 and Q3 are typically the strongest with Q4 generally breaking even and a small loss in Q1. It is not surprising since Q2 is reported at the end of February, so this quarter will coincide with those individuals already working on their taxes as well as business owners who upgraded their bookkeeping software with the new calendar year. Q3 is reported at the end of May, following the end of the tax push in April.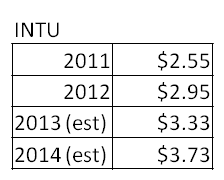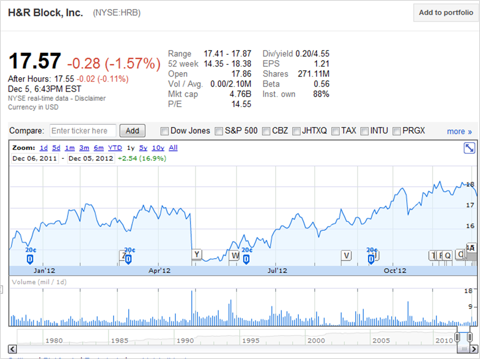 The one-year price chart and key statistics for H&R Block are somewhat different. The stock is up 16.9% from one year ago, but the nearly $2 drop in April 2012 is hard to ignore. This drop coincided with an announcement of a "strategic realignment" as well as a board change. H&R Block is trading at the upper end of its 52-week range, and it also displays some stability-indicating numbers with a beta of 0.56 and institutional ownership of 88%. The trailing P/E of 14.55 places it more in line with what I would generally screen for, as does the dividend yield of 4.55%. That being said, there are plenty of opportunities that don't neatly fit initial screening criteria, so we have to remember to examine each company on its own merits. A company will often fit the screening criteria due to irregularities that are only apparent after a little digging.

H&R Block also follows a cyclical pattern, with the high point following the annual tax season. The earnings are more concentrated into one quarter as the main purpose of the business is tax-oriented, as opposed to how Intuit provides additional software products that meet an ongoing need.

If we continue the examination based on valuation, we can apply current P/E ratios to anticipated future earnings in order to get a feel for some potential price targets. We know that prices and valuations will change in the future, but in order to make a fair comparison we have to start somewhere. Looking at these numbers shows that if the market continues to value the companies in a similar manner as today, each company has the potential to experience significant price growth. In this case, we see about 54% for Intuit and about 50% for H&R Block over a two year period -- pretty similar expectations. We should note that analysts have a mean 12-month target of $64.40 for Intuit, which is well below the application of current valuations to next year's earnings. In contrast, the median 12-month target for H&R Block is $22.13, which is fairly close given the same criteria.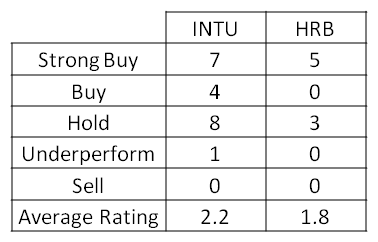 Looking at a side-by-side comparison of the overall analyst recommendations also shows a fairly similar picture. Intuit has a significantly larger number of analysts following the company, but the overall ratings of 2.2 for Intuit and 1.8 for H&R Block are not so different as to be alarming. Intuit's distribution results in a recommendation between Buy and Hold, but closer to Buy. H&R Block receives a rating between Strong Buy and Buy, but also closer to Buy.
Technical Data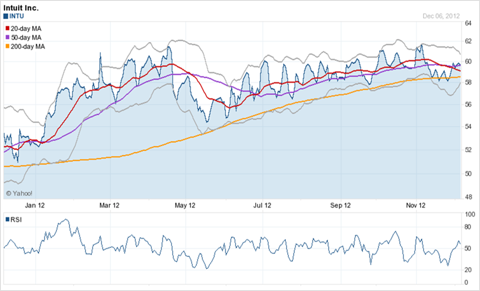 Looking at some commonly used technical indicators shows additional similarities in the two stocks. The moving averages have generally trended along the same paths at the same times, and both stocks are currently displaying RSIs of over 50 and below 80 while nearer the upper Bollinger band. Intuit, however, has tended to remain more in the upper half of the band while H&R Block approaches the lower band more often during the past year. H&R Block currently appears more pronounced in its uptrend, which seems to correlate with the analysts' target prices for the next 12 months.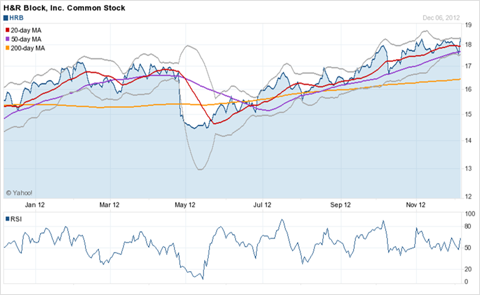 Product Implications
One question which must be addressed concerns exactly how tax changes will affect each company, given that they are slightly different in scope and purpose. For example, small business owners certainly stand to see significant changes to their tax burden. These individuals may now be more likely to purchase up-to-date software to assist in the financial management of their firms. Alternately, they may choose to skip the do-it-yourself method and simply choose to now hire an accountant. The latter course of action could negatively impact Intuit's bottom line as fewer software packages are sold to small businesses in this scenario.
H&R Block covers its customer base slightly differently. Their customers have the option of purchasing the software, or else bringing in their shoebox of receipts into the office for one-on-one tax preparation service. So in effect, an individual's decision to let someone else do the paperwork does not necessarily mean that H&R Block loses the business completely, as it may simply shift to the in-person portion of their business model.
Conclusion and Recommended Actions
The bottom line is that we should expect the US Government to resolve the fiscal cliff issue at the eleventh hour after some more saber-rattling and political grandstanding by both sides. This would result in some type of positive action in the market overall, and either stock could benefit short term just from that alone. Longer term, there will be changes to the code following the compromise or the cliff.
Depending upon the number and types of changes to the tax code and tax burden on different individuals, we can expect either or both of these companies to benefit over the next 12-24 months. At this point, it appears that H&R Block may be in a slightly stronger position to benefit (and pays a significantly larger dividend) than Intuit. That being said, Intuit also seems stable at this time and is likely to continue in an uptrend. Intuit could benefit more over the long term if future earnings match the expectations and the market valuation on the stock remains similar to today.
Those managing dividend-related portfolios should consider going long H&R Block. Those interested in an options-related position can construct a spread on Intuit that profits anywhere from slightly down to upward movement, such as January 2013 calls at $55 and $60 -- potential for about 30% profit if the stock finishes over $60 and breakeven is a little under $59 -- as long as stops are placed accordingly to protect against downside movement. Always remember that options are leveraged and you can lose your money quickly if you are not deliberate in your planning.
I will be taking a few days to complete a more thorough examination of these companies before I make any moves, but there does seem to be more value here than I originally expected.
Disclosure: I have no positions in any stocks mentioned, and no plans to initiate any positions within the next 72 hours. I wrote this article myself, and it expresses my own opinions. I am not receiving compensation for it (other than from Seeking Alpha). I have no business relationship with any company whose stock is mentioned in this article.