When studying option trading basics, we learn that options expire on the third Friday of the month. In the BCI methodology we sell mainly 1-month options. When we view an options chain we see several other expirations available. However, they are not the same for each security. Everyone likes when things make sense. Understanding why things are the way they are has a calming effect on us. When we look at the different expiration months available in our stock options, an explanation is required and demanded by the curious investor. It makes no sense at all! Different stocks have different expiration months. How can that be? We want uniformity, not chaos. Like most things, there is a reasonable explanation.
All options are defined by an expiration month and date (the 3rd Friday of the month except for some quarterly and weekly expirations of some securities) after which the contract becomes invalid and the right to exercise no longer exists. When options began trading in 1973, the CBOE (Chicago Board Options Exchange) decided that there would be only four months at a time when options could be traded. Stocks were then randomly assigned to one of three cycles:
January cycle - options available in the 1st month of each quarter (Jan., April, July and Oct.)
February cycle - options available in the middle month of each quarter (Feb., May, Aug., and Nov.)
March cycle - options available in the last month of each quarter (March, June, Sept., and Dec.)
This proved to be a workable concept until options gained in popularity and there was a demand for shorter-term options. In 1990, the CBOE decided that each stock (with options) would have the current and following months to trade PLUS the next two months from the original cycle (hope your head isn't starting to spin). Let's simplify things by looking at the chart below:
Current (Front) Month

Next Month

Third Option

Fourth Option

January Cycle

January

February

April (1st month)

July (1st month)

February Cycle

January

February

May (2nd month)

August (2nd month)

March Cycle

January

February

June (3rd month)

September (3rd month)
Stock Option Expiration Cycles
If the current month is January, we see that all options are available for both the current (January) and next month (February). The last two option expiration months available will depend on their original placement in one of the three cycles:
January cycle - will also have April and July expirations (1st month of next 2 quarters)
February cycle - will also have May and August expirations (second month of next 2 quarters)
March cycle - will also have June and September expirations (third month of next 2 quarters)
Now if your head has stopped spinning and you're feeling a bit better, I ask you NOT to put away the Tylenol, at least not yet! Here come the LEAPS (Long term Equity Anticipation Securities) which are options with longer term expirations. Only heavily traded securities like Apple (NASDAQ:AAPL) have these types of derivatives. These equities will have options with more than four months of expirations, some up to seven months. LEAPS can further complicate these cycles but that's a discussion for another day. Suffice it to say that a vast majority of stock options will fall into the four month cycle.
Those of you following the Blue Collar System of selling predominantly 1-month options need not be concerned about those dates further out. However, intelligence does breed curiosity and many of you have "peaked" ahead and wondered what was up.
Expiration Cycles- Additional Months Program
Additional Expiration Months Pilot Program
Why do some stocks like Apple have so many more expiration month choices than your average security? Let's look at the screenshot below: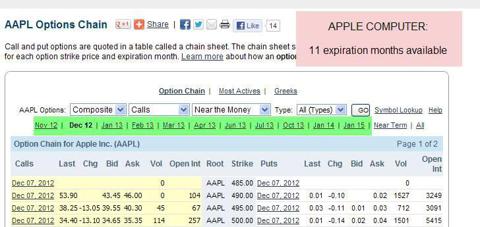 One reason has to do with demand. Weeklys and LEAPS also factor in. But there is another reason for a handful of securities:
On Monday, November 1, 2010, pursuant to SEC approval, ISE introduced additional expiration months on 20 actively traded option classes listed on the ISE on a pilot basis until October 31, 2011. Under the pilot, the ISE added up to two new expiration months in addition to the expiration months the exchange already listed. Pursuant to the pilot, ISE listed four consecutive near-term expiration months plus two months from the quarterly expiration cycle. After the additions were made on November 1, ISE maintained the pilot by adding a single new expiration month at expiration.
Classes selected for the pilot were made available throughout the pilot period. Any class that was delisted at the ISE was not replaced. The pilot program allowed ISE to also list additional expiration months for option classes selected by other exchanges if another exchange adopted a similar pilot program (assuming the option class selected by another exchange was listed on the ISE).
Below are the 20 classes selected for the pilot along with the expiration month(s) that were added:
| | |
| --- | --- |
| Symbol | Additional Months |
| AAPL (Apple) | Feb, July |
| BAC (Bank of America) | Aug |
| C (Citi Group) | Feb |
| CSCO (Cisco) | Feb, July |
| EEM (iShares MSCI Emerging Index Fund) | Feb |
| F (Ford Motor Co.) | Feb |
| GE (General Electric) | Feb |
| GLD (SPDR Gold Trust) | Feb |
| INTC (Intel) | Feb, July |
| IWM (Ishares Russell 2000) | Aug |
| JPM (JP Morgan) | Feb |
| MSFT (Microsoft) | Feb, July |
| PFE (Pfizer) | Feb |
| QQQ (Powershares qqq Trust) | Feb |
| RIMM (Research in Motion Ltd) | Feb |
| SPY (SPDR S&P 500) | Feb |
| T (AT&T Inc) | Feb, July |
| VALE (Vale S.A. American Depositary Shares ) | Feb |
| VZ (Verizon) | Feb, July |
| XLF (SPDR Select Sector Fund- Financial) | Feb |
The pilot program ended and was NOT extended. However, the securities that were originally part of the program still maintain those additional expiration months.
Disclosure: I have no positions in any stocks mentioned, and no plans to initiate any positions within the next 72 hours. I wrote this article myself, and it expresses my own opinions. I am not receiving compensation for it. I have no business relationship with any company whose stock is mentioned in this article.