Apple (NASDAQ:AAPL) stock had a wild ride this year. It started the year around $400 and change, reached a high of $700+ in September only to come back to the low 500s just two months later. I argued several times that the stock has gone too far too fast, so the latest pullback was not a big surprise to me.
Market history is filled with moves that defy logic as the charts "go parabolic." Those moves usually have 3 things in common:
They go further than one would expect.
They never last.
They usually end really, really badly.
It turns out that AAPL is no different from any other stock. What goes up in irrational way, usually comes down hard.
Some people would argue that you can smooth the results by selling covered calls against the stock. The following table compares the results of owning the stock only vs. selling the next month covered calls at the next available strike on options expiration day.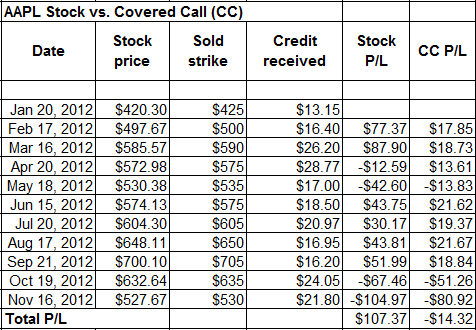 As we can see, the stock would produce a respectful 25% gain in the last 10 months. Selling covered calls would turn this gain into a 3% loss.
The problem with a volatile stock like AAPL is that when it goes up sharply, the covered call significantly reduces the gain. When it goes down, the gain from the sold call is not enough to offset the lost gain from the period when the stock went up. The bottom line is much reduced gain, which in case of AAPL turned into a loss.
Covered calls strategy is much more suitable for a stable or trending slightly up stock. It usually does not work well for volatile stocks like AAPL.
There are many other strategies that can be successfully implemented with a stock like AAPL. I shared few AAPL trades with my Seeking Alpha readers. Here is the full list:
The Bull Credit spread from December 13, 2011 produced a 42% gain in 6 weeks.
The Iron Condor from January 10, 2012 produced a 28% gain in 2 weeks.
The Bear Call Spread combined with the weekly RICs from February 14, 2012 produced a 15% gain in 5 weeks.
The Iron Condor from March 5, 2012 produced a 18% gain in one week.
The Long Butterfly from March 19, 2012 produced a 35% gain in three days.
I did not buy the stock when it was trading above $700 and I'm not going to buy it today. I suspect that those telling you that we have reached the bottom don't know any more than you do. I'm not trying to predict where the stock is going. Instead, I'm implementing options strategies that designed to make money in any market.
Please trade responsibly.
Disclosure: I have no positions in any stocks mentioned, and no plans to initiate any positions within the next 72 hours. I wrote this article myself, and it expresses my own opinions. I am not receiving compensation for it (other than from Seeking Alpha). I have no business relationship with any company whose stock is mentioned in this article.