The actions taken by central banks to improve economic conditions throughout the world have improved the outlook for Europe. There now appears to be a lessened risk of a Euro break-up. European stocks have risen since the June lows indicating increasing confidence in the region. The fears of the past few years in Europe have created a large collection of undervalued companies. Investors who share this newfound optimism can consider an investment in the Vanguard MSCI Europe ETF (NYSEARCA:VGK). By using an ETF, investors are protected from individual price risk as their money is spread out among a basket of companies.
One of the great characteristics of Vanguard ETFs is their low expense ratios. This allows investors to keep more of their investment, while collecting dividends and benefiting from price appreciation. VGK has an expense ratio of 0.14%. This is 92% lower than the average expense ratio of funds with similar holdings.
The VGK ETF owns a total of 455 stocks, so investors of the fund have a large collection of companies under one ticker. The fund is passively managed by fully replicating a benchmark European index.
Let's take a look at the funds top five holdings:
Holdings

as of 9/30/12

Royal Dutch Shell (RDS-A)

Nestle SA

HSBC Holdings

(HBC)

Novartis AG

(NYSE:NVS)

Vodafone

(NASDAQ:VOD)

Weight in Fund

3.3%

3.1%

2.5%

2.1%

2.1%

Forward PE

10.9

16.7

7.81

11.8

10.13

PEG

N/A

2.4

1.29

4.62

1.53

Price to Book

Ratio

1.15

3.4

1.16

2.25

1.13

Profit Margin

5.69%

N/A

22.73%

15%

-3.8%

Operating Cash Flow

$42.69B

$12.8B

N/A

$14.29B

$18.69B
The Vanguard Europe ETF pays a sizable dividend yield of 6.33%. Distributions for the fund are scheduled quarterly.
Like most equities, VGK has bounced back from its bottom in early 2009. The fund has been trading in a range between $40 and $50 per share. Its current price of $47.50 looks undervalued when looking at the trailing PE ratio of 12. This is much lower than the PE of the S&P 500 of 14.
VGK has a one-year return of 19.28%. This has beaten the return of the average Europe Stock fund which returned 18.26% for the past year.
Here is a breakdown of VGK's country diversification:
| | |
| --- | --- |
| United Kingdom | 35.40% |
| France | 14.30% |
| Switzerland | 13.30% |
| Germany | 13.20% |
| Sweden | 4.80% |
| Spain | 4.50% |
| Netherlands | 3.80% |
| Italy | 3.40% |
| Denmark | 1.80% |
| Belgium | 1.70% |
| Norway | 1.50% |
| Finland | 1.10% |
| Austria | 0.40% |
| Ireland | 0.40% |
| Portugal | 0.30% |
| Greece | 0.10% |
The fund is concentrated among the United Kingdom, France, Switzerland, and Germany comprising 76% of the fund.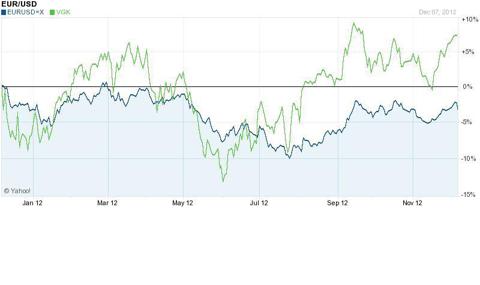 Although high unemployment remains in Europe keeping a certain degree of fear in the market, the Euro has shown increased strength against the dollar since the summer. The Euro has now been trading in a range between $1.28 and $1.30, and has just pulled back to $1.29. I mention this because VGK trades in a similar pattern to the Euro.
To conclude, the low valuation of VGK compared to the S&P 500 creates a buying opportunity for those investors who are bullish on the companies comprising the ETF. There is still enough fear in the European stocks to continue this disconnect. As these companies grow earnings, the stocks should continue to appreciate.
Disclosure: I have no positions in any stocks mentioned, and no plans to initiate any positions within the next 72 hours. I wrote this article myself, and it expresses my own opinions. I am not receiving compensation for it (other than from Seeking Alpha). I have no business relationship with any company whose stock is mentioned in this article.