The year-end stock market rally that began on November 19th came under pressure last week. The market now faces its first test since the reversal day. Uncertainty abounds on a number of fronts. Let's see if the data give us any indication of where we might go from here.
Perspective
Stocks: There was a fair bit of dispersion among returns on the major U.S. equity indexes last week. The Dow Industrials gained just under 1%, the S&P 500 gained fractionally, the Russell 2000 was nearly flat, and the NASDAQ lost over 1%. This spread was due in large part to what I have termed the "Apple effect." Shares of the big market leader, which had led the market up off the November low, were pounded down nearly 9%.
On the positive side, financials led all S&P sectors with a gain of nearly 1.7%. The industrials also put in a solid performance, as did the energy sector - despite falling oil and natural gas prices. At the other end of the table, Apple dragged the techs to a weekly loss, which was exceeded by the fall in the materials stocks; that sector shed nearly 2% on the week.
Moving abroad, eleven of the twelve foreign indexes we follow posted gains. The laggard was Canada's TSX, no doubt held back by the weakness in natural resource prices. Notable items from the week included a new 52 week high on Germany's DAX Composite, and a 4% rally that brought the Shanghai Composite back above the key 2,000 level.
Bonds: U.S. Treasury bond yields were little changed over the course of the entire week, but that does not tell the whole story. Yields were slipping through the week, but popped back up Friday, following lower than expected unemployment claims and an unexpected drop in the unemployment rate. The late selloff did not extend to corporate bonds, which remained steady through the week. Municipal bond rates also remained steady in the face of uncertainty about future tax treatment.
Commodities: The S&P GSCI commodity index tested its 200 day moving average last Monday - and promptly retreated, posting losses each day last week. WTI crude again tested the $90 mark and failed, pulling back to close the week at $86. Natural gas traded between $3.50 and 3.75 but closed nearly flat on the week. The precious metals saw selling pressure, but gold was able to hold just above $1,700, and palladium closed near its September high. Trading in the grains and softs was generally unremarkable, but coffee and sugar do appear to be putting in bottoms.
Currencies: The U.S. dollar index fell below the key 80 level early last week, but rallied back above it. The euro tested $1.31 for the third time in the last three months, and for the third time pulled back from that level. The Swiss franc and British pound also pulled back against the greenback. The Aussie and Canadian dollars, on the other hand, traded higher, while Yen was little changed on the week.
Outlook
The last week brought some encouraging economic data, though it was not without a few points of concern. By now most readers will be familiar with the positive unemployment and private payroll numbers. The Bureau of Labor Statistics reported an upward revision of Q3 labor productivity, and a downward revision in unit labor costs - a winning combination for corporate profits. October durable goods and factory orders also came in better than expected. On the negative side, the November ISM manufacturing index fell below 50, and Michigan consumer sentiment dropped. ISM services, however, came in stronger than expected and topped October's reading. On balance, the data portray a picture of an economy that continues to recover gradually.
Stocks: The bounce that I called for in my article three weeks ago lifted many stocks off their November lows, but since the first week, the market has found it increasingly difficult to make headway. We are seeing some stocks and sectors continue to perform well, while others have gone the wrong way. As I went through my scans this weekend, relatively few blue chip names were looking healthy in terms of price and volume action.
Of note, Apple (NASDAQ:AAPL) shares have been extraordinarily volatile. We took a substantial long position at the open on November 19th, but closed it out last week to book a very modest gain on the trade. Large cap tech is my favorite equity sector, but I am not seeing much that I like there. However the weakness is not limited to Apple and the other tech heavyweights. Looking at the NASDAQ as a whole, less than 50% of member stocks have been above their 200 day moving averages since mid-October, and that percentage started trending back down again last week.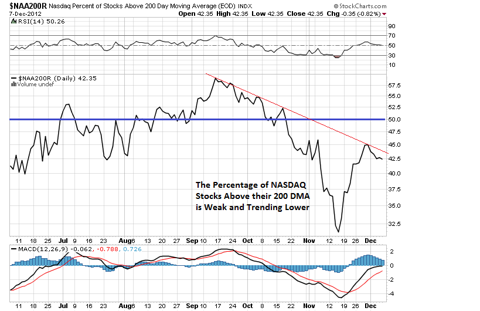 Turning to the positive, there are still some good things happening in the market. Three of our core positions are acting well: Bank of America (NYSE:BAC), which posted a high volume breakout Wednesday, Pfizer (NYSE:PFE), and Procter & Gamble (NYSE:PG). Elsewhere, I continue to find positive action in a number of foreign stocks. In recent weeks I have been calling readers' attention to the relatively stronger action in emerging markets in particular. Examples are Ambev (ABV), China National Offshore Oil (NYSE:CEO), HDFC Bank (NYSE:HDB), and Prudential PLC (NYSE:PUK). I am not recommending any of these stocks specifically; they may or may not be appropriate for any individual investor.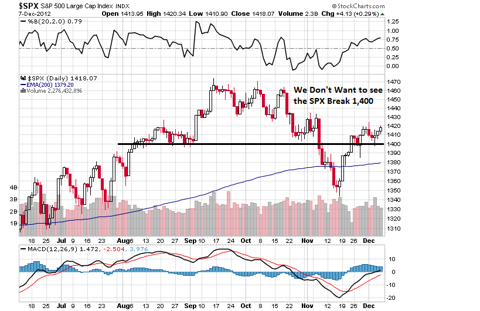 The larger point is that I believe investors have to be choosy in this environment. Buying broad indexes still looks to me like an underperforming strategy. Looking at the broader market, with the divergence between the Dow and NASDAQ, my near term outlook is more cautious but still leans bullish. My plan is to stay with quality names that show constructive trading action, and avoid those that have broken down or show signs of distribution. It's quite a simple approach really.
Bonds: The bond market continues to be relatively quiet, with yields remaining very low. The benchmark ten year Treasury note appears to be consistently finding a bottom at 1.55%. As the U.S. economy continues to mend itself, it is difficult to imagine yields moving much lower than their current levels in the foreseeable future. With the apparently successful resolution of the Greek debt buyback, it seems we could have a respite from the fear trade for a time. In that environment of limited upside and super low yields, I cannot find any reason to put new money into bonds.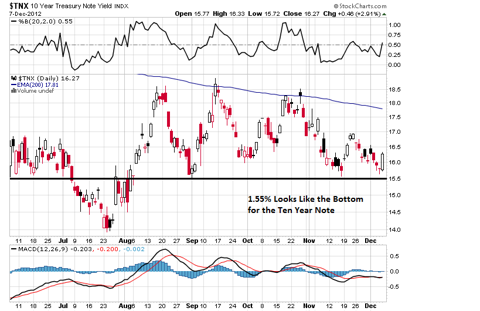 On the other hand, as I have maintained for months, I see little reason to fear an imminent bloodbath in the bond market, so at best bonds are a hold. That is generally the strategy we are following in the income portfolio. We have been rotating out of fixed income and into equity income, but on a small and gradual scale. The Fed still has our backs.
Commodities: The recent failure at the 200 day moving average on the broad commodity indexes, combined with the advance in the U.S. dollar, is a troublesome signal for commodities in general. Oil in particular - both West Texas and Brent - looks like it is rolling over. I have been generally bearish on oil for some time now, and see nothing to change that outlook. Gold also looks a bit unsteady, but we saw a positive turn Friday that kept us in our long position. Gold bulls should be looking for a decisive move above $1,800; I don't see that in the near future. The miners and materials stocks in general also look poor, and the energy stocks don't look very much better. The commodity space just looks like a tough place to put money to work right now. Better options are out there.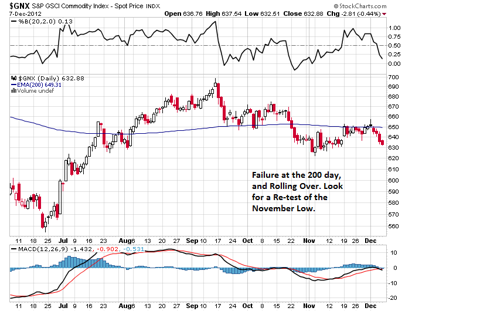 Currencies: There can be little doubt that the political theatrics in Washington have an outsized effect on the dollar index, but dollar bears should note that the post-election pullback has made a higher low and we saw a nice move up late last week. Of course there is always a possibility that the U.S. leadership could blow it, but I am rather more optimistic that a deal will get done.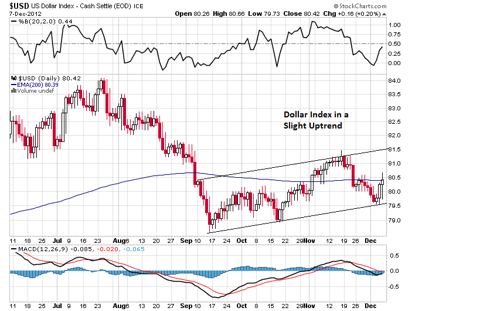 Another major part of the picture is Europe. No sooner had the clever plan to reduce Greece's sovereign debt load been put into motion, than news came of the Monti government's collapse in Italy. It is still too early to create any sort of investment thesis on the basis of these developments; suffice it to say that Europe remains a joker in the global pack of cards. However it seems doubtful that we will see major developments ahead of year end.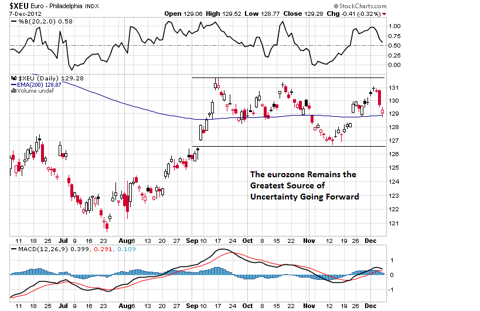 Last week the dollar moved above resistance while the euro pulled back from a third successive lower top. Until something changes, the outlook is for a stronger dollar and weaker euro - which in recent years has generally correlated with the "risk off" trade in global financial markets. Commodities are weakening and U.S. stocks are coming under some pressure.
Disclosure: I am long BAC, PFE, PG. I wrote this article myself, and it expresses my own opinions. I am not receiving compensation for it (other than from Seeking Alpha). I have no business relationship with any company whose stock is mentioned in this article.