Mondelez International Inc. (NASDAQ:MDLZ), formerly Kraft Foods Inc., consists of the global snacking and food brands. MDLZ's international portfolio includes Cadbury, Milka chocolate, Jacobs coffee, LU, Nabisco and Oreo biscuits, as well as Tang powered beverage and Trident gums. In October, 2012, the former Kraft (KFT) management group split the business into domestic grocery, Kraft Foods Group Inc. (KRFT), and global snacking, MDLZ. Mondelez is a Spanish word that can be loosely translated as "Delicious World." Investors should put this new spin-off company onto their watch list as this Company is poised to grow internationally and will continue to lead the global confectionery market with 15% share of the chocolate market, 30% of the gum category, and 7% of the candy aisle worldwide, as well as 18% of biscuit category and 16% powdered beverage market. The market dominance and a diversified portfolio of well-known brands give MDLZ a wide economic moat. MDLZ is expected to grow 6.3% in the next 5 years as estimated by analysts.
Q3 Earnings and Analysts' Calls
On Nov. 7, 2012, MDLZ reported its Q3, 2012 earnings with $0.37 EPS, beating the Thomson Reuters consensus estimate of $0.36 by $0.01. The revenue of $8.33 billion was lower than the consensus estimate of $8.64 billion and was down 5.1% on a year-over-year basis. The gross margin was 36.5%, operating margin was 13.2%, and net margin was 5.1%, where were 160, 40, and 190 basis points better than the prior-year quarter. As reported from Reuters, "MDLZ reaffirmed its fiscal 2013 guidance and expects Organic Net Revenue growth outlook to be at the low end of long-term growth target of 5% to 7%, and Operating EPS to be $1.50 to $1.55, based on average August 2012 foreign currency rates." A detailed Q3, 2012 earnings call transcript for the management discussion from Seeking Alpha can be read here.
Analysts at Canaccord Genuity initiated coverage on MDLZ with a "sell" rating with a target price of $24.00. On Oct. 17, analysts at Argus initiated coverage on MDLZ with a "buy" rating. Lastly, on Oct. 12, 2012, analysts at Janney Montgomery Scott downgraded shares of MDLZ from a "buy" to a "hold" rating with a target price of $28.00.
Management Shuffling in Developing Markets
As reported by Kristin Jones from Wall Street Journal, MDLZ is shuffling the management teams in the developing-markets and its gum businesses. As quoted, "Missteps in Russia and Brazil hurt the company's sales in the third quarter, its first since spinning off its North American grocery business to focus on growing its snack brand globally. In Brazil, the company ran into trouble with its gum business, as slow sales caused inventory to build up. In Russia, Mondelez didn't cut prices on its coffee as fast as some of its competitors, which hurt sales volumes there." A full discussion on emerging markets margins can be read here, as reported from Wall St. Cheat Sheet.
Fundamental Overview and Technical Analysis
With the data obtained from MorningStar, MDLZ's key stats will be compared to its competitors in the industry of confectioners, including General Mills (NYSE:GIS), Kellogg Company (NYSE:K), and The Hersey Company (NYSE:HSY). MDLZ has a higher revenue growth of 9.0 and a trailing EPS growth of 18.0 for the average in the past 3 years, as compared to the industry average of 7.4 and 31.6. MDLZ has a slightly lower operating margin of 12.5%, ttm, and a lesser net margin of 6.2%, ttm, as compared to the average of 12.6% and 7.1%, ttm, respectively. MDLZ generates less ROE of 9.1, comparing to the average of 11.4, with a lower debt-to-equity of 0.8, as compared to the average of 1.0. MDLZ is currently under-valued with P/E of 13.7, P/B of 1.2, and P/S of 0.9, comparing to the averages of 15.7, 1.7, and 1.0. With the recent spin-off from former and the re-aligned focus on the international market, MDLZ is expected to improve its fundamentals over-time.
MDLZ closed at $25.58 with 0.24% gain on Dec. 7. The volume of 10.69M is 22.76% less than the 30 day average volume of 13.84M. MDLZ had been trading in the range of $24.32-$28.48 since its spin-off with a beta of 0.58. MDLZ is currently trading below its 50-day MV of $26.47 and near its 200-day MV of $25.60. The MACD (12, 26, 9) started to show a bullish sign on Nov. 28 and the MACD difference was stabilized in the past two trading days. The momentum indicator, RSI (14), is showing a decreasing selling momentum at 43.94. If MDLZ falls below its 200-day MV, the next support will be at $24.64, the S1 pivot point, followed by $23.40, the S2 pivot point, as seen from the chart below.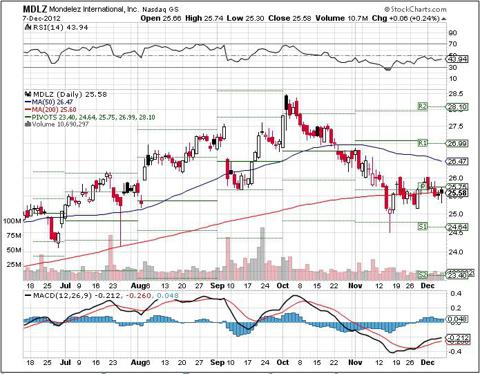 Source: StockCharts.com
Options Play
While the long-term outlook for MDLZ is promising, MDLZ is neutral toward slightly bullish in the near-term, technically, as it approaches its 200-day MV. A credit put spread will be reviewed below for investors who are bullish on MDLZ and would like to purchase MDLZ stock at a discount while trying to gain some upside potential.
Short 1x June 22, 2013 Put at the strike price of $23.00 for the credit of $0.56
Buy 1x June 22, 2013 Put at the strike price of $20.00 for the cost of $0.15
The maximum profit is $0.41, and the maximum risk/margin requirement is $2.59 ($3 loss - $0.41 credit received). If MDLZ closes above $23.00 on June 22, 2013, 15.83% return on margin will be gained. If MDLZ falls below $23.00 upon options expiration, the cost to acquire MDLZ stock will be $22.59, which is 11.69% lower than the current price of $25.58.
Note: All the prices are quoted from the closing of December 7, 2012 and all calculations are before fees and expenses. Investors and traders are recommended to do their own due diligence and research before making any trading/investing decisions.
Disclosure: I have no positions in any stocks mentioned, but may initiate a long position in MDLZ over the next 72 hours. I wrote this article myself, and it expresses my own opinions. I am not receiving compensation for it (other than from Seeking Alpha). I have no business relationship with any company whose stock is mentioned in this article.