We were surprised that Richard Schulze was willing to pay $24-$26 per share for the 80% of Best Buy (NYSE:BBY) that he doesn't own, especially after he was pressured into stepping down as Chairman of the Board in May. However, he may be able to get it for less than his original offer. Analysts have been speculating that Schulze could offer between $18/share to $20/share. While we think that $20/share ($6.73B) is a rich price for the company, we are aware that Schulze owns 20% of the stock already, which would reduce the funds he needs to raise by $1.36B. We also suspect that it would be difficult for him to cash out of his 20% stake in Best Buy so he has decided to "double-down" on the company by potentially taking it private. At the same time, we can understand why Schulze's offer has not progressed much from his August proposal. We believe that Schulze sees Best Buy as a falling knife and he's looking to see about getting a cheaper price in order to minimize the amount of debt that he and his potential private equity partners will have to lard onto the balance sheet. While Best Buy's new CEO Hubert Joly walked into a bad situation when he recently joined the company, he has not yet found the solution to staunch Best Buy's slipping sales.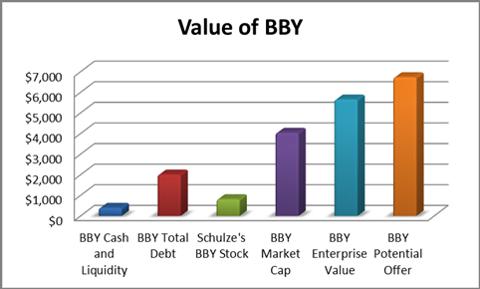 Source: Morningstar Direct and New York Post
Corporate and Business Highlights and Lowlights
BBY's revenue and profits have been steadily declining since the Q4 2011 period and its Q3 2013 results continued this streak. Best Buy saw its quarterly revenues decline in the most recent quarter by 3.5% year-over-year due to a 4.3% decline in comparable store sales. This was worse than the 3.2% comp-store sales decline in Q2 2013, the 3.8% comp-store sales decline in Q2 2012 and the 0.7% comp-store sales decline in Q3 2012. This helped contribute to a 1.6% decline in the gross margin and we were simply shocked that SG&A expenses increased by 2.6% while sales declined by 3.5%. Talk about adding insult to injury. BBY's operating income in Q3 2013 was an astounding 10bp of revenues and a whopping $12M, versus $381M in Q3 2012 (3.4% of revenues). We certainly hope that BBY doesn't feel the need to go on a shopping spree at one of its stores with its mind-boggling $12M in operating profit.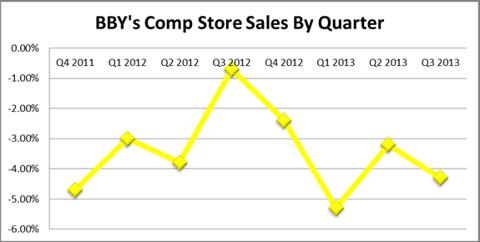 Source: Best Buy's Last Eight Quarterly Results
BBY's adjusted EPS of $0.03 represented a 94% decline from the prior year levels. At least it was the mirror image of the 49% decline seen in Q2 2013. Analysts had expected BBY's EPS to decline by "only" 75% to $0.12 The company previously saw improving trends in its Domestic comp-store sales performance in Q2 2013 versus Q2 2012 (-1.6% in Q2 2013 versus -4.1% in Q2 2012), which unfortunately regressed to -4% in Q3 2013. International Comp Store sales improved on a linked quarter basis (-5.2% in Q3 2013 versus -8.2% in Q2 2013) but regressed on a year-over-year basis (-5.2% in Q3 2013 versus -3.2% in Q3 2012).
The Domestic segment comparable store sales decline of 4% percent was driven by declines in its Consumer Electronics (-8.4%), Entertainment (-18.5%) and Services (-4.6%) revenue categories. One bright spot for Best Buy was that its domestic only sales totaled $431M in the quarter and grew by 10%. Unfortunately, this channel accounted for only 4% of its quarterly revenue. Areas that had strong comp growth were mobile phones, which had a comp of 32%, benefiting from the launch of several new smartphones. There were also continued growth in comp growth -- in comp sales and appliances and in combined tablets and eReader products. This growth was offset by comp sales declines in notebooks, gaming, digital imaging and TVs. We believe tablet and notebook revenues were materially impacted by consumers delaying purchases ahead of the key product launches.
The International segment comparable store sales decline of 5.2 percent was driven by the lower growth in consumer spending in China and the continued impact from the expiration of government sponsored programs, which negatively impacted sales in Five Star. Market softness in notebooks, digital imaging and home theater in Canada also contributed to the International comparable store sales decline. Europe actually had positive comps but this was offset by the aforementioned weakness in China and Canada.
Corporate Asset Management & Valuation
BBY reported a mixed bag of results with regards to its corporate cash flow allocation. On one hand, we were pleased to see that it reduced its capital investment expenditures. Unfortunately, this was due to the fact that its cash flows for YTD 2013 have collapsed versus prior year levels. Operating Cash Flows went from $1.9B in YTD 2012 to -$121M in YTD 2013, which most certainly did not offset the $143M net decline in capital investment expenditures for the period. We were surprised to see the company blame its poor cash flow performance on working capital investments because even if the company has no working capital investments in YTD 2013, its Operating Cash Flows would have only been $1.1B, versus $1.9B in YTD 2012. We were also surprised to see increases in working capital assets considering that the company has seen soft sales statistics in FY 2013. We understand that the company has a seasonal business model in which it generates a disproportionate portion of its revenues and profits in the holiday quarter. However, we can see that the company's FY 2013 free cash flow guidance of $1.05B will be below the $2.5B achieved in FY 2012. Even if we exclude the $700M in working capital reductions in FY 2012, BBY's forecasted FCFs in FY 2013 of $1.05B will fall short of the $1.8B in adjusted FY 2012 FCFs.
The good news is that Best Buy reduced its net share repurchases from $1.056B in YTD 2012 to $255M in YTD 2013. The bad news is that this was also caused by the year-over-year decline in BBY's operating cash flows. At least BBY announced that it would suspend its share repurchase program last quarter. We're willing to overlook the fact that it is doing so in order to conserve cash. We think that it is commendable that BBY is able to come to terms with not being able to buy back shares. Considering that BBY has spent $6.54B on repurchasing shares over the last 10+ years yet BBY's market cap is only $4.04B, it most certainly needs a respite from share repurchases. During this time period, BBY spent an average of $43.65/share on the repurchase program which does not compare favorably with its most recent share price of $12.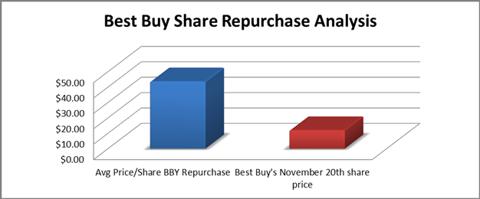 Source: Morningstar Direct
Outlook
BBY announced in Q2 2013 that it was withdrawing its earnings guidance. The only guidance that BBY has given is its free cash flow guidance. Fortunately for us, we can determine that BBY is still a falling knife as its free cash flow is free falling. Best Buy isn't the only Minnesota retailer that has withdrawn all guidance except free cash flows. SUPERVALU (NYSE:SVU) has also withdrawn its guidance for its current fiscal year with the exception of its free cash flow guidance. Although SVU is only expecting to generate $900M in OCFs and $400M in FCFs, at least SVU is taking steps to survive. Plus SUPERVALU can make the claim that it sells necessities and it has made more progress with regards to its takeover chatter. SVU and BBY have both recently hired new CEOs with proven track records in order to turn things around. BBY hired Hubert Joly from the local Minneapolis-area corporate icon Carlson and SVU convinced Wayne Sales to become its CEO after a 6 year retirement from Canadian Tire.
Although Best Buy's management has withdrawn its guidance so as not to under-promise and under-deliver, the sell-side analyst community has graciously stepped in to fill the void left by management's fears of failing to meet a low bar of expectations. We have been tracking the sell-side's consensus EPS estimates for Best Buy and we can see that BBY's forecasted adjusted EPS estimates have been steadily deteriorating since July. Best Buy's EPS Estimates for FY 2014 have also seen a similar steady deterioration as the FY 2013 EPS Estimates. In short, we can see why Dickie Schulze is taking his time with regards to putting together a formal takeover bid (if any). If we were in his position, we'd do the same thing.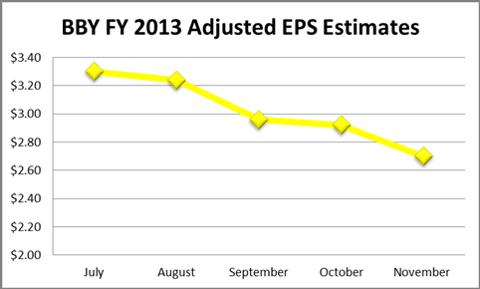 Source: Morningstar Direct
CONCLUSION
In conclusion, we like the fact that Best Buy has been beaten down so badly that it is getting cheaper by the hour. If Best Buy merely meets its FCF projections of $1.05B and merely meets the consensus EPS estimates of $2.70 that Wall Street is projecting, the company will be at a PE of 4.5 and a free cash flow yield of 26%. At the same time, we are not optimistic that the company will be able to hold the line on that mediocre minimum performance level. We remembered that Hubert Joly had a pretty fair record of performance when he was at hospitality giant Carlson from 2003-2012 but he'll have to be more than pretty fair to turn Best Buy into anything resembling a successful company. Unless Best Buy can get Dickie Schulze and his group to extend a buyout proposal, we believe that Best Buy is still not a "Best Buy" for investors.
Disclosure: I am long SVU. I wrote this article myself, and it expresses my own opinions. I am not receiving compensation for it (other than from Seeking Alpha). I have no business relationship with any company whose stock is mentioned in this article.
Additional disclosure: This article was written by an analyst at Saibus Research. Saibus Research has not received compensation directly or indirectly for expressing the recommendation in this article. We have no business relationship with any company whose stock is mentioned in this article. Under no circumstances must this report be considered an offer to buy, sell, subscribe for or trade securities or other instruments.