Let me end my talk by abusing slightly my status as an official representative of the Federal Reserve. I would like to say to Milton [Friedman]: regarding the Great Depression, you're right; we did it. We're very sorry. But thanks to you, we won't do it again. --Ben Bernanke (Speech as Fed Governor given 11/08/2002)
Here we are ten years after that speech given by the man who now is the Chairman of the Federal Reserve. This Wednesday, Dec.12th, Dr. Bernanke will be given another momentous "speech" of sorts. Shortly after the adjournment of the Fed's Open Market Committee (FOMC) quarterly meeting at 12:15 pm EST Wednesday, Dr. Bernanke will give his "policy statement" followed by a press conference.
The question isn't will the Fed pull out all its stops to prevent the next Great Depression. The question is, will they replace Operation Twist with a kind of QE and tell us that the Fed has already begun to buy billions of dollars of mortgage-backed securities (MBS).
Whatever Dr. Bernanke says or promises, it is already clear that corporate America is borrowing billions of dollars at close to zero % to finance some huge acquisitions and surprise takeovers.
That's what we saw last week when Freeport-McMoRan Copper & Gold (NYSE:FCX) shocked shareholders and the media by announcing their intended purchase of Plains Exploration & Production (NYSE:PXP) and McMoRan Exploration (NYSE:MMR). If only we had owned PXP and MMR before the transactions were reported!
Check out the chart below that illustrates how this takeover offer impacted shares of PXP. The lower portion of the chart is the stock's Relative Strength Indicator (RSI).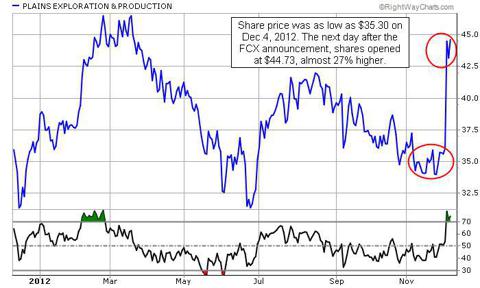 The widely used RSI is a momentum oscillator that compares the strength of gains against the strength of losses over a given period. RSI always ranges between 0 and 100.
Values below 30 and above 70 are typically taken as oversold and overbought respectively. A strengthening RSI indicates that gains are tending to dominate losses. Once the RSI climbs above 70, however, the sustainability of the gains is called into question.
Now let's ask the question, "How do we find companies that may be the next acquisition targets?"
A good place to begin the search for the next takeover candidate is with a technology company that might be on Cisco Systems' (NASDAQ:CSCO) shopping list. I'm referring to a unique company that's taken the lead as the go-to provider of mobile communications solutions.
Citrix Systems (NASDAQ:CTXS), a company I covered in a recent article, surged higher on Friday December 7th on rumors that it may be CSCO's next conquest. CEO John Chambers was recently quoted as saying his company has gone too long without making an acquisition. The chart below illustrates the potential opportunity concerning CTXS shares. Notice the extent of its stock's price correction and the recent rise in its RSI.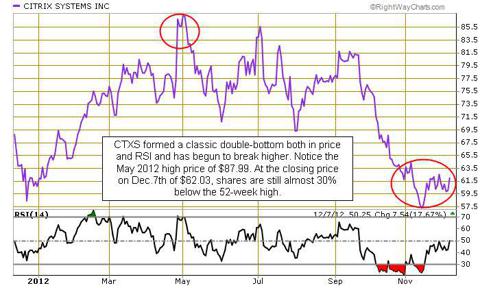 Shares of CTXS are still 30% below their 52-week high. If this quarter exceeds analysts' expectations the shares may soar even if the takeover rumors don't materialize.
Citrix has no debt, $683 million in Total Cash (most recent quarter) and Operating cash flow of more than $761 million dollars. It's also sitting on almost $464 million in levered free cash flow (trailing 12 months).
Another rumored acquisition target is energy company Cabot Oil & Gas (NYSE:COG). Its stellar share performance seems to be tied to persistent stories that a larger energy company wants to own their assets. Here's a look at a 1-year chart which illustrates how far COG's share have risen as well as a possible entry point for potential suitors.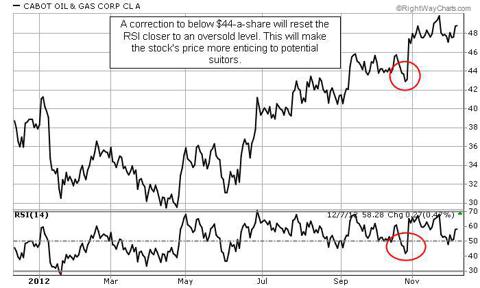 If a takeover offer doesn't happen soon I'd anticipate a well-deserved share price correction. Shares of COG are trading at a current PE of 88 and a forward PE of 36.
With a PEG ratio (5-year expected) of 2.72 the stock's price looks overvalued. COG may want to attract a suitor to help it with its $1.06 billion in debt. As of Sept.30, 2012 it only had $37.5 million in total cash and its levered free cash flow was a negative $230 million.
COG's thesis may be that the sum of its parts is greater than the whole company. There are many angles and approaches that potential acquirers employ to find a good deal in a lucrative sector from a financially cash-strapped company. Let's watch COG carefully.
Other possible takeover candidates include silver producer Alexco Resources (NYSEMKT:AXU). Beside producing silver and gold, AXU provides consulting and project management services concerning environmental permitting and compliance, site remediation and reclamation in Canada and the United States. AXU has no debt, over $27 million in total cash and was recently named a 'best buy' by Casey Research. They noted that recent end-of-year tax loss selling has positioned the stock as a 'bottom- feeder opportunity'. That's true for investors and corporate acquirers.
Another potential name is a small-cap company that manufactures and sells polishing slurries and pads used in the manufacture of advanced integrated circuit (IC) devices within the semiconductor industry in the United States, Asia, and Europe.
Cabot Microelectronics (NASDAQ:CCMP) has a market cap of over $746 million, manageable debt and in its recent quarter ending Sept.30th increased its year-over-year quarterly earnings by over 25%. Their stratospheric RSI and 17% share price gain since Nov. 15th suggests it's under accumulation and may be due for a pull-back.
With $428 million in annual revenue and $178 million in Total Cash, CCMP may attract suitors like Intel (NASDAQ:INTC) and Atmel Corp (NASDAQ:ATML). ATML may want to expand its semiconductor integrated circuit product line. If the share price corrects Cabot may become even more enticing.
Remember, if you decide to speculate on the shares of these companies, use predetermined disciplines. It's a smart idea to set trailing stop losses that incorporate a timely alert system.
Corporate America is borrowing billions of dollars at close to zero % to finance some acquisitions and surprise takeovers. Hopefully some of those companies will be ones whose stock we own ahead of time.
Disclosure: I am long AXU, FCX, INTC. I may initiate a long position in CTXS over the next 72 hours. I wrote this article myself, and it expresses my own opinions. I am not receiving compensation for it (other than from Seeking Alpha). I have no business relationship with any company whose stock is mentioned in this article.