There has been so much recent chatter regarding Apple (NASDAQ:AAPL) and its share price swings that the noise is muting any clear picture of what is the cause. It seems that the decline in share price has spawned an entire industry of media pundits proclaiming the end of Apple and innovation. If the negative press isn't enough, we have the "dreaded" fiscal cliff and an entire media industry dedicated to telling everyone what they think is going on. It's exhausting and has turned investing in Apple seem risky and perhaps a full time enterprise due to the varying opinions and data references that are bent to support the thesis of the day. At times like this it's good to take a breath and review both your position and thesis.
One of the rewarding aspects of being an investor is the menu of tools and tactics available to generate profit. These tools can be used to support your position, end your position, or make money in a downtrend. Which tactics you choose depends on your thesis. For us now is the time to reset our thesis on Apple, and list trading tactics that support the adjustment looking forward. We do this each December for all portfolio holdings. AAPL has grown to an overweight position in a portfolio designed for income and growth. We evaluate each holding comprising over 10% of portfolio value on a monthly basis. AAPL fits this criteria.
To facilitate a thesis revision we focus on getting back to basics by asking the following simple questions. This exercise tends to focus attention back to our investment prerequisites and away from mass-market media. We keep it simple to avoid getting lost in the hype of the day, as well as guesswork on outcomes and inaccurate predictive math. We do use technical analysis but if investing was as easy as reading a chart we wouldn't need to work as hard as we do. After reviewing the questions a thesis revision is crafted and then, and only then, do we prepare a trading plan-of-action. As simple as this sounds it is a critical element to success and helps block out transitory noise and the emotional response to news.
1. Why did we invest in the first place?
2. What has changed in the past 12 months that affects our conviction?
3. Is the share price within an acceptable value ranges?
4. What changed in the competitive environment in the past 12 months that poses a threat for the next year?
5. Have financial metrics changed and do they raise or lower risk of ownership?
To keep this article brief I will reference only excerpts that add directional clarity. In practice each of the five questions involves multiple discussion points and cross-references.
1. Investment in Apple was initiated because there was a gap in both the computer and the mobile technology sectors that Apple could fill with innovative products that were profitable and built consumer value over the long term. The position was scaled up as Apple proved that they were dedicated to competing in sectors showing significant global growth. Key to our investing decision is product design. Apple positioned itself with upscale "luxury" products in a market trained to rely on price to grow market share.
2. We do not see any aspects of our thesis that meaningfully changed in the past 12 months or is likely to change in the next 12 months. Apple still markets in an explosive mobile technology sector, is growing share in computers, and has maintained luxury status.
3. Yes, historical P/E ratios are inline and do not look to expand in 2013. Share price is down from its high and more volatile but debt and revenue appear in-line.
4. Major threats in non-luxury mobile technology appeared providing more consumer choice, and a broad array of fundamentally similar functionality. There remains a luxury quality differential and an ecosystem designed and scaled for future consumer unit loads and support.
5. Yes, key metrics have changed. Gross margin is one metric that is critical to assessing fair pricing and profitability. It is declining but not at a level that causes us to question our position. It does add risk to ownership from a share price perspective. If traders key in on gross margin and overweight its importance we could see significant share price decline in the short term.
Below are some charts used in the analysis.
Share price compared to P/E over 5 years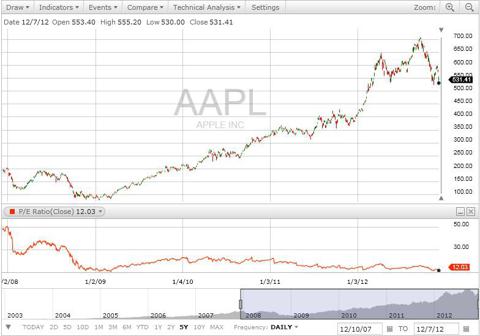 Gross Margin from Y-Charts over 5 years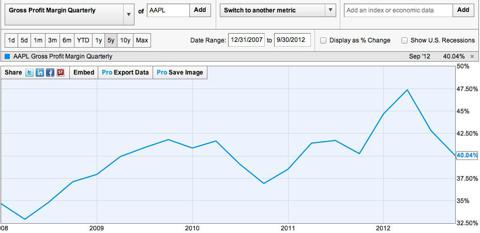 Gross Margin compared to S&P 500 over a 5-year period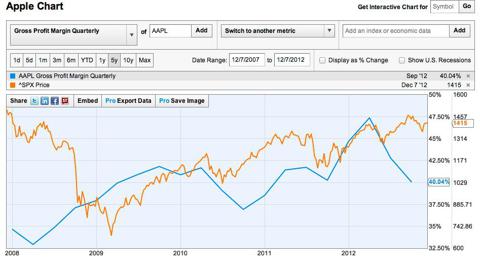 EPS over 3 years provided by Edgar Online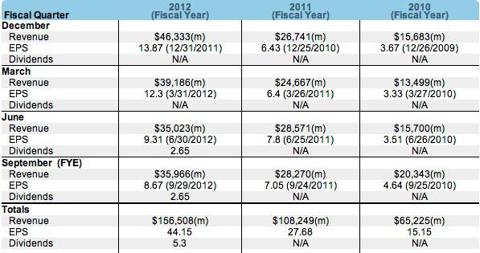 1 Year Chart with RSI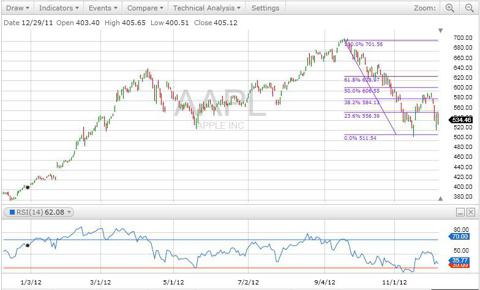 Trading tactics and strategy
The result of the thesis revision is the addition of opportunistic options to support a long AAPL position. To take advantage of price volatility we will closely watch long dated Deep in the Money Calls on big down days. Purchases will occur following a "positive" change in price action. Calls purchased on down days will be sold on big up days. We have no intention to use the options to buy shares. This is a profit support tactic. An example of this is today's Jan 2014 Strike 400 Call which traded down $11.85 to $153.50.
We have also added Covered Calls to our tactical plan. On big up days we will select Covered Calls that are long dated and far enough out of the money to minimize risk of assignment. An example of this is a January 2014 with a strike 700 Call trading today at $26.9 down $3.60. The position will be closed through the buy back of the option as share price declines. If we had sold one contract yesterday and bought it back today we would have profited $360.
We will discontinue Selling to Open Cash Secured Puts because of artificial share pricing decline threats.
Because we don't recognize exactly what events are precipitating the current share volatility we will diminish option trading to minimize both loss and risk. It appears logical that Apple is currently at the mercy of profit taking prior to year-end and declining gross margin concerns. The effect of programmed computer trading is unknown, but we can imagine that it is a significant contributing factor. We expect price to vacillate at least until March and are positioned to take advantage of both up and down trends. Apple is held at a large number of institutions. We view this as a situation poised to reflect increased volatility that is disconnected from the actions of the company or market changes. We remain strongly convinced of our long Apple position.
Disclosure: I am long AAPL. I wrote this article myself, and it expresses my own opinions. I am not receiving compensation for it (other than from Seeking Alpha). I have no business relationship with any company whose stock is mentioned in this article.