I hope investors looking for great growth stories for 2013 noticed the news last Friday in regards to UniPixel (NASDAQ:UNXL) formalizing a multi-million dollar preferred pricing and capacity agreement with a major PC manufacture. The agreement allows the PC manufacturer to use UniPixel's UniBoss metal mesh touchscreen solution in the notebook segment of the company's product lines. The license can be extended to the PC maker's supply chain, including third-party manufacturing partners, touch panel module manufactures, controller manufactures, LCD makers and original design manufacturers. The terms of the agreement and name of the PC maker are confidential.
For those not familiar with UniBoss, the advantages of UniBoss touch screen technology include higher touch response and sensitivity, superior touch distinction, better durability, lower power requirements, and extensibility to many sizes and form factors. It also promises lower production costs versus standard ITO-based touch technology, including lower material costs, fewer steps in the manufacturing process and a simplified supply chain. An industry shift is about to take place in touchscreen manufacturing and UniPixel is at the forefront of that shift.
When this shift starts to unfold it should launch UniPixel's stock price. The company stands to reap huge revenue and profits from UniBoss as it gets adopted for use in tablets, smartphones and other touchscreen applications. With only 9.7 million shares of stock outstanding the price appreciation should be nothing short of amazing! Let's look at this closer.
According to research firm DisplaySearch, revenues from touchscreen modules will hit $15 billion in 2012.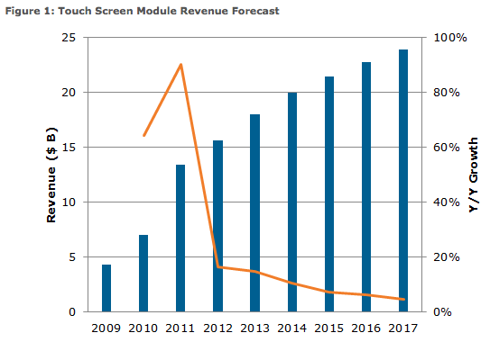 Projected capacitive screens have seen the largest growth since Apple (NASDAQ:AAPL) made them popular on the iPhone in 2007, and DisplaySearch expects capacitive displays to account for 70% of all touchscreen revenues this year. Capacitive display shipments are also expected to jump more than 100% year-over-year. DisplaySearch said the greatest display growth was in the tablet PC industry, where 26 million touchscreen modules were shipped last year. That figure is expected to jump to more than 100 million units in 2012. Jennifer Colegrove, PhD, vice president of emerging display technologies at DisplaySearch said "In addition, we see strong touchscreen growth over the next several years driven by demand in larger display applications such as all-in-one PCs, notebooks PCs, and consumer gaming."
It's evident that touchscreen growth will continue to have significant growth for years and is and will be a huge growth market for the foreseeable future. According to UniPixel's CEO Reed Killion, UniPixel already has four design wins with tablet manufacturers and is working with numerous OEM's and ODM's to integrate UniBoss into other products. To really get to know the huge possibilities for UniPixel and it's products I would highly recommend listening UniPixel's 3rd Quarter conference call and reading through the company's most recent presentation.
Now, if UniPixel's UniBoss could capture just a miniscule 1.3% of the projected touchscreen module market the annual revenue to UniPixel would look something like this:
UniPixel's Revenue From UniBoss Assuming 1.3% Market Share

| | | | |
| --- | --- | --- | --- |
| Touchscreen Sales (Global) | 2013 | 2014 | 2015 |
| Total Market | $17 Billion | $20 Billion | $23 Billion |
| UniPixel (1.3%) | $221 Million | $260 Million | $299 Million |
As you can see, pretty nice revenue growth is possible even with a very small percentage of the market. However, if UniBoss captures a larger percentage of the touchscreen market and is adopted by other manufacturer's, UniPixel's percentage of the market share could be substantially larger than that of my ultra conservative 1.3% market share used in the example above. You can manipulate the numbers yourself to calculate whatever percentage you like but the bottom line is that the revenue possibilities for UniBoss are massive.
In addition, UniPixel has been working with Texas Instruments (NYSE:TXN) and has successfully integrated UniBoss with Texas Instruments touchscreen controllers. A formal sales and marketing agreement is expected before the end of the current quarter. UniPixel also recently started working with N-trig to integrate UniBoss with N-trig's DuoSense touchscreen controllers.
As I write this article UniPixel's market cap is about $94 million. When revenues start to be realized through this new agreement and additional deals its market cap should easily rise to the upper threshold of the Micro-cap range - $250 million. With only 9.7 million shares outstanding, and 40% of those owned by institutions, that would put the stock price around $25 a share. This won't happen overnight but it will take place faster than most people would imagine.
Conclusion: There are very few investment opportunities out there in the market today that offer the possibility for the type of capital appreciation that UniPixel does. The stock price has nearly doubled since I first wrote about the company in late May of this year. In my opinion this is still a great entry point to initiate a long position. Go long now and prosper for years on UniPixel's future growth.
Disclosure: I am long UNXL. I wrote this article myself, and it expresses my own opinions. I am not receiving compensation for it (other than from Seeking Alpha). I have no business relationship with any company whose stock is mentioned in this article.