There always seems to be some reason why shares of Netflix (NASDAQ:NFLX) keep bouncing back, despite serious fundamental problems with the company. Back in July, shares jumped nearly $10 to $85, extending a rally from $67 just a few days earlier, after CEO Reed Hastings bragged that Netflix subscribers had surpassed 1 billion viewing hours in June. At the time, I questioned that statement, and recently, the SEC is now looking into the matter.
A few months later, shares rose again after Whitney Tilson doubled down on his Netflix position. We then got multiple analyst upgrades, causing a $20 jump in Netflix. The stock had returned to predictability. Then, despite a so-so Q3 earnings report and guidance below expectations, shares rose on the hopes of a Netflix buyout. Carl Icahn said he held a large position, and everyone thought that Netflix was going to be bought out. Shares, which tumbled to nearly $57 on October 24th, were back above $80 by November 8th. For those looking for a complete history on the name, I encourage you to read all of my Netflix articles going back more than a year.
So recently, Netflix shares spiked after the company announced an exclusive deal with Disney (NYSE:DIS). The agreement will begin with 2016 theater releases from studios under the Disney umbrella including Pixar, Marvel and Walt Disney Animation. Subscribers will be able to watch select titles about seven months after release, and Netflix will also gain access to Disney's older titles. For Netflix, this is a shot at Starz, which has the Disney agreement until 2015. If you remember, Netflix and Starz were unable to reach an agreement earlier this year, and Netflix dropped Starz.
Netflix shares nearly hit $90 this past week, and there are plenty of bulls out there that say Netflix is a great investment. They even say that the Disney deal is a game changer. But these bulls don't see the full picture, which is why I want to prove some of the bullish myths wrong here today, and show why Netflix is not in great shape.
The Disney Deal - not all it is cracked up to be:
Everyone jumped on the Netflix bandwagon when the deal was announced, sending shares up more than $10 in a matter of minutes. On the face of it, getting exclusive Disney content seems great. But there's a few issues. First, exclusivity doesn't start until 2016. That's three years plus away. Does anyone know what this industry, let alone Netflix, will look like in three years? If you do, please send me your crystal ball.
The second issue is cost. How much will this deal cost Netflix? Terms of the deal were not announced, which is not surprising. When a content deal is announced, we usually don't get the terms. Some estimate the cost at $300 million per year, which leads some analysts to believe Netflix will need to raise capital. But remember, as Netflix says in all of its filings and investor letters about content liabilities and purchases: "these represent the known minimum obligation amounts, but do not include obligations we cannot quantify but could be significant". Most of Netflix's content liabilities aren't even on the balance sheet yet, a balance sheet that's not in great shape to begin with.
Investors need to remember that content is king, that those who sell the content have most of the leverage. Netflix has to compete against other firms looking to land content deals, like Amazon (NASDAQ:AMZN). The content providers have the leverage. This is why in the past year alone, Netflix lost Starz content, and the exclusivity on Epix content. Netflix wouldn't pay for it, and thus the content went to someone else. Plus, as I recently described, the competitive battle is heating up. While the Coinstar (NASDAQ:CSTR) and Verizon (NYSE:VZ) partnership may not be here as soon as originally thought, it is still coming. More players in the arena mean more bidders for content. Those that believe that Netflix holds the cards because they have the most subscribers are mistaken. Content providers can use that against Netflix to drive prices up. Plus, if Amazon is offering you $5 per movie, and Netflix is offering you $3, who do you think the content provider will sell to?
Margins will remain pressured:
I keep coming back to the following table because it shows the main issue for Netflix, and that is profitability. Netflix's plan to kill off its DVD segment, along with the huge upfront costs associated with international expansion are driving margins lower and lower. The following table shows where Netflix margins have gone over the past two years. Right now, Netflix is making less than one penny on the bottom line for every dollar of revenues.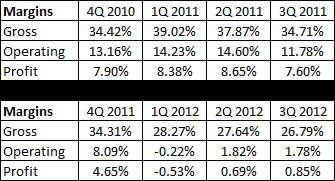 Now bulls will tell you that Netflix's margins will likely rebound going forward. This is because streaming contribution margins are likely to come up, and if Netflix stops expanding internationally for a while, losses from the international segment will subside. Those are true, but only to a point. Netflix is looking to increase its own original programming, which they said is very expensive, especially upfront.
Bulls also miss a fundamental issue here, and it is simple math. As Netflix goes away from the extremely profitable DVD segment, margins are hurt because streaming margins are lower. In their most recent quarter, DVD contribution margins were 48.15% and streaming contribution margins were 16.36%. It doesn't take an advanced degree in mathematics to figure out how this works.
In the following table, I describe how this has taken down margins. For this argument, I'm showing you only the profitable US segment, because the international losses don't apply just yet. For each segment of the business, I've provided the revenue, contribution profit "CP", and contribution margin "CM" for each quarter. I also combined the two for totals in each category. The last breakdown shows the percentage of the company's US contribution margin from each segment, as well as Netflix's overall gross margins for the period, which does include the international side of the business.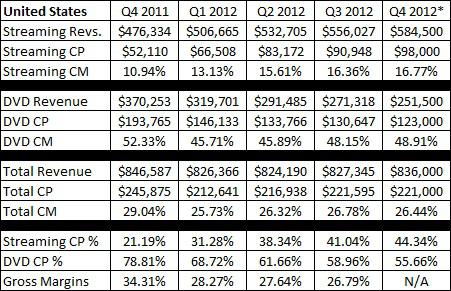 *Q4 of 2012 numbers based on midpoint of company's provided guidance in Q3 investor letter.
Now in Q3, the total contribution margin ticked up, because the company saw a huge rise in DVD contribution margin. Despite the rise in contribution margin, overall gross margins still fell. As you can see from the Q4 guidance, they are looking at contribution margins going back down, despite projecting rises in both segments. That's because the percentage of contribution margin coming from the more profitable DVD segment is falling. The company has already told us that Q1 DVD contribution margins will decline from Q4 levels, due to usage rates and a postage rate hike. Plus, as the number of DVD subscribers continues to fall, streaming contribution margin will be more of the total, and that is the lesser margin business.
The numbers are likely to continue lower next year, as Netflix loses more DVD customers, and DVD contribution margins decline due to the postage rate increase. With gross margins under 27% now, net profit margins are under 1%. What happens if gross margins drop to 25%, or lower? Don't forget, for the first 9 months of 2012, Netflix's operating expenses were 26.41% of revenues, compared to 23.62% in the first 9 months of 2011. Unless they can start to get some relief on operating expenses, net profit margins could go negative. Netflix is guiding to a net loss for Q4 due to their launch in the Nordics.
Projecting out into 2013 - best case:
So what is the likely scenario going forward? Well, I put together a best case scenario for Netflix in 2013, just to prove a point.
The assumptions for this scenario are as follows:
Total revenues of $4.5 billion.
Gross margins of 28%.
Operating expenses, as a percentage of revenue, are 24%.
Other expense (primarily from interest) of $10 million.
Tax rate of 34%, diluted shares of 59 million.
In this best case scenario, Netflix revenues of $4.5 billion and earnings per share of $1.90 are well above current analyst estimates of $4.07 billion and $0.43, respectively. But again, this assumes everything goes right for Netflix, and then some. Revenues have to come in more than $400 million above expectations, meaning they have to get a ton more subscribers. Gross margins actually have to rebound, which I'm not sure is possible, based on the above. Operating expenses also have to subside to levels better than those of 2011. Also, interest expenses have to come down, the tax rate has to improve mightily, and the diluted share count basically stays flat. Given that the company isn't buying back stock, executive options dilution is possible going forward.
Here's the best part. Even at $1.90 in earnings next year, the company still posts a more than 50% drop in earnings per share over the company's $4.26 profit in 2011. Also, with that level of earnings, Netflix would still be trading at 45 times forward earnings. So you can see how Netflix has to have so much go right just in order to maintain some order of profits, and still they are way down from the past. You're talking about earnings per share below the $1.98 posted in 2009, and that was on just $1.67 billion in revenues.
Those that expect a huge earnings rebound for Netflix anytime soon are sadly mistaken. How can this company turn things around when they are killing off their most profitable business segment, and content costs seem to rise almost each quarter? Don't forget, their move to more original programming carries a lot of expenses.
Don't forget that most of Netflix's revenue growth is coming exclusively from the growth of the international segment. Netflix had Q4 revenues in 2011 of $876 million, with $29 million in international revenues. For Q4 this year, Netflix guided to a revenue midpoint of $931 million, with international revenues of $95 million. So a $55 million overall increase, with an increase of $66 million internationally. This means that for Netflix to continue growing revenues, it will need to keep expanding internationally. International expansions are expensive, so they will keep losing money internationally for quite a while. Since US profits aren't rising thanks to DVD declines, profits will be kept down for a while. It may take 5-10 years for Netflix to regain the earnings per share level from 2011. That's probably only after the DVD segment is completely gone and international expansion has stopped, at which point overall revenue growth will be sluggish.
What's the worst case?
As I stated above, that was a best case scenario on everything going right for Netflix, and then some. But what happens if things don't go well? Well, if you start taking down the revenue numbers and increase the expenses, the numbers can get quite ugly. Just for one example, holding all other numbers constant in the best case, gross margins 1% lower (27% overall versus 28%) would impact earnings per share by $0.50, or more than 25% of the expected profit.
So I put together a flip side, the worst case scenario, to show what happens if things continue to get worse. Here are the assumptions.
Total revenues of $3.9 billion.
Gross margins of 22%.
Operating expenses, as a percentage of revenue, are 28%.
Other expense (primarily from interest) of $20 million.
Same tax rate and diluted shares as above.
In this case, Netflix's growth story does not materialize as much as many expect, and 2013 revenues of $3.9 billion fall short of current expectations for $4.07 billion. In this scenario, the gross margins continue their decline and operating expenses continue to increase as a percentage of revenues. As the cash position declines, Netflix doesn't generate as much interest income, causing so-called "other income items" to be larger expenses than forecasted. In this situation, Netflix loses approximately $2.84 per share, a huge loss compared to where expectations currently are.
Now, there are some questions here as to why I used the same tax rate and diluted share count. You might think that if I'm saying conditions are getting worse that I would increase the tax rate and the share count. In this case, because Netflix is losing money, an increase in the tax rate would actually benefit the company. Think about it this way. If you have a pre-tax loss of $100 million, and your effective tax rate is 30%, your net loss is $70 million. But if under that pre-tax loss your effective tax rate is 35%, your net loss is only $65 million. The same is true about the share count. With more shares out there, the loss is spread out more amongst more shareholders, so the loss number would actually improve with a higher share count.
To be completely fair, I don't see Netflix losing close to $3 a share in 2013, but I wanted to show everyone how things could look if numbers continue to get worse. I will say this though. Although the probabilities of each are extremely small, I think there is a better chance of Netflix losing say $2 a share than making $2 a share.
Conclusion - Netflix remains a short candidate:
With Netflix, you have a stock at its highest level since April, and yet, what is getting better? Other than revenue growth, most of Netflix's other metrics are getting worse. Margins are getting worse, and increased costs with original programming plus the shift to a streaming business will only make things worse. Netflix's balance sheet will also worsen as the company burns through cash and more liabilities are added to the balance sheet. Although the company says they don't need any more capital, they said the same thing in 2011's Q3 investor letter. The following month they raised $400 million, which included selling stock at $85 just months after buying back stock over $200.
Netflix remains a very good short candidate on pops, like the one we've seen recently. This business just doesn't work right now, and the company needs some serious improvement before shares can recoup any of last year's fall. The valuation doesn't fit now, and I wouldn't buy at this price even if they hit my best case scenario, which seems more than unlikely. The one negative for short sellers here is the constant buyout rumors, which if one ever came true would crush the shorts. But for now, I think Netflix goes lower in the long run. That doesn't necessarily mean you have to run out and short Netflix today, but it is one you might consider doing so with at some point.
Disclosure: I have no positions in any stocks mentioned, but may initiate a short position in NFLX over the next 72 hours. I wrote this article myself, and it expresses my own opinions. I am not receiving compensation for it (other than from Seeking Alpha). I have no business relationship with any company whose stock is mentioned in this article.
Additional disclosure: Investors are always reminded that before making any investment, you should do your own proper due diligence on any name directly or indirectly mentioned in this article. Investors should also consider seeking advice from a broker or financial adviser before making any investment decisions. Any material in this article should be considered general information, and not relied on as a formal investment recommendation.