Certain things are true of all REITs: their value and profitability depend on property-specific issues, such as location, lease revenues, property expenses, occupancy rates, prevailing market rents, tenant quality, and replacement cost; real estate issues such as market "cap rates" and supply/demand conditions; competition from nearby properties; and such "macro" forces as the economy, employment growth, consumer and business spending, interest rates, and inflation.
Although it is not impossible to eliminate all of these specific property-level risks, a REIT investor can minimize his or her risk by filtering out the disadvantageously positioned securities from the outset. Accordingly, this "vetting out" process is the primary reason that "intelligent investors" have proven to be successful. After all, it takes only a few large losses to decimate overall investment performance, even if many other investments prove successful.
Selecting REIT securities with a significant "margin of safety" remains the value investor's definitive precautionary measure and by surveying the list of filtered (or "vetted") investment opportunities, the value investor considers which (if any) of the remaining companies are worthy of ownership. This involves some consideration of the company's industry, its current competitive position within that industry, and the "economic moat" around the company; that is, a sustainable competitive advantage that helps preserve long-term pricing power and profitability.
In his million-selling classic The Intelligent Investor, Graham wonders what his reply would be if he were to distill the essence of sound investing into a single phrase. In response to the self-directed challenge, Graham writes three words all in caps: "MARGIN OF SAFETY".
With REITs today trading at elevated multiples, finding a risk-averse REIT with a safety margin is especially rare. As Graham defined it, that margin of safety constitutes a "favorable difference between price on the one hand and indicated or appraised value on the other."
Windy City REIT Has a Favorable "Wide-Moat" Value Proposition
Inland Real Estate Corporation (NYSE:IRC) is one of the Midwest's largest owners and operators of community, neighborhood, power and lifestyle shopping centers and single-tenant retail properties, with nearly $2 billion in asset acquisition value. The Oak Brook-based REIT owns interests in 150 properties totaling approximately 15 million square feet of space, many of which are grocery-anchored centers.
Approximately 60% of Inland's square footage is located in the Chicago metropolitan area and northwest Indiana.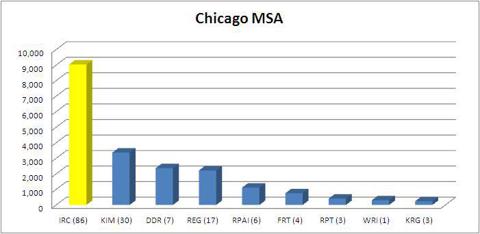 Inland also has a substantial presence in the Minneapolis-St. Paul area, where 18% of the company's retail square footage is located.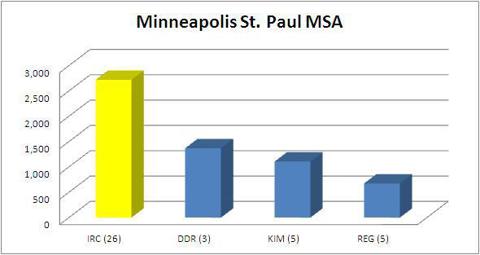 Inland also owns assets in other areas of Minnesota, southern Wisconsin, downstate Illinois, Indiana, Ohio, Nebraska, Kentucky, Tennessee and Florida.

Inland's concentrated Midwest retail footprint is targeted in trade areas with strong demographics and high barriers to entry. Accordingly, Inland focuses its investments on #1 and #2 market share grocers and in-demand national retailers. The company's balanced acquisition strategy - of locating in primary and strong secondary markets - is driven by the compelling demographic fundamentals. Inland's 3-mile household income of $67,400 is in the higher percentile of its peer group.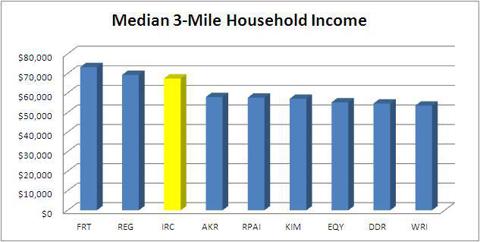 In addition, Inland is able to generate higher returns (50-100+ basis points) by investing in secondary Midwestern markets. This value proposition of investing in high-quality shopping centers has enabled Inland to generate exceptional risk-adjusted returns. Here is a snapshot of the company's average 3-mile population (compared with the peer group):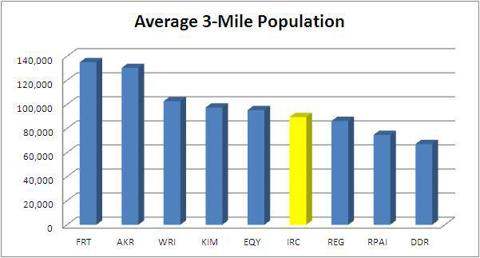 Predominantly Necessity and Value-Based Focused
Although traditional neighborhood shopping centers have had to contend with these other, newer competitors, Americans still love their conveniences, and proximity is a great time saver. For certain run-ins and errands, such as grocery shopping, buying take-out sandwiches, picking up drug prescriptions, dry cleaning, and shoe repair, most people don't want to be bothered with a mall, or power center.
Most of Inland's neighborhood and community centers are anchored by one or two major stores - most often a supermarket or a drugstore - and contains a number of additional stores that offer other basic services and necessities. As a result, these centers tend to be relatively resilient even in the face of recessions.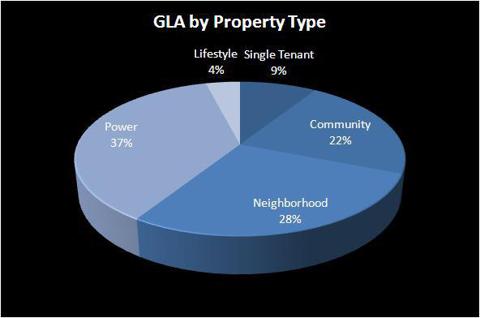 Inland's tenants range from large national retailers to local chains to small independent stores. For the total portfolio (excluding properties held in the joint venture with IPCC - more on that below), the three largest tenants are SuperValu, Inc. (NYSE:SVU) (Jewel-Osco/Cub), which occupies 8.4% of the space and provides 7.5% of ABR (annual base rent); Roundy's (NYSE:RNDY), which occupies 4.9% of the company's square footage and comprises 5.1% of ABR; and Dominick's Finer Foods, a subsidiary of Safeway (NYSE:SWY), which occupies 3.2% of the company's space and provides 3.4% of ABR. Here is a snapshot of Inland's tenants (above 1% of ABR):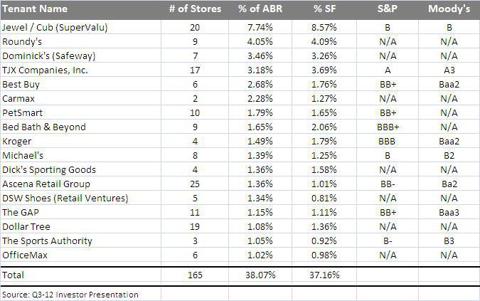 A majority of Inland's tenants are national retailers (71%) with a defensive focus on necessity, discount and value-based retailers. Inland's centers are comprised of a majority (77%) of properties that include either a grocer, drugstore, or a discount chain. National and regional retailers comprise 75% of the company's total portfolio ABR.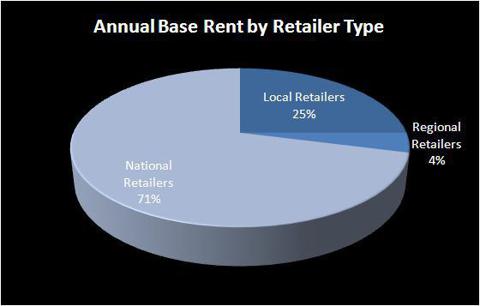 Inland's Geographic Differentiation
As mentioned above, Inland owns a majority of properties in Chicago and the Twin Cities. Unlike many of the other "national" shopping center REITs, Inland has focused its brand dominance in the resilient Midwestern US. By concentrating in these primary markets, Inland is able to produce higher "ground level" interaction that results in a more efficient platform. This geographically-focused investment strategy was explained by Scott Carr, Executive VP and CIO, on the company's latest earnings call:
I would like to note that our density within our Midwest markets gives us more visibility and firepower with retailers than our size might otherwise indicate. The leases we signed with Ross Dress for Less, the new entrants of the Chicago market exemplify this competitive advantage.
Accordingly, Inland's market concentration facilitates multiple lease signings for retailer market launches, expansions, and relocations (snapshot below lists leases signed from 2004 to Sept. 2012).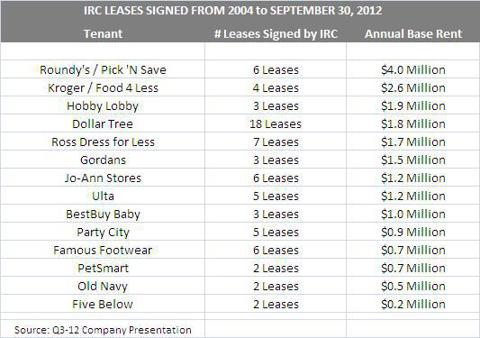 Inland's core geographically-focused platform has also enabled the company to acquire premium properties making the flagship Inland brand a desirable location for retailers. Conversely, leased occupancy rates of Inland's portfolios in primary markets are consistently higher than overall rates for those MSAs.

Inland Still a Small Fish in a Big Pond
With a market cap of around $741 million, Inland is still a "small fish" in a "big pond". The company was formed in late 1994; qualified as a REIT for federal income tax purposes commencing with the tax year ending December 31, 1995; became self-administered and self-managed in 2000; and listed on June 2004. Here is a snapshot of Inland and its peer group (based on market cap):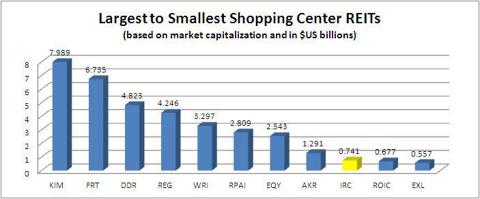 Here is a comparison of Inland and its peer group based upon properties owned: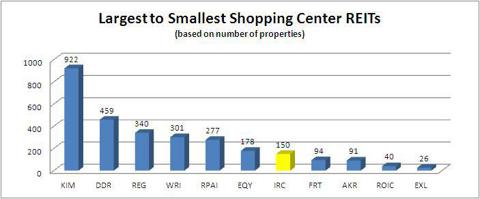 However, when comparing Inland's dividend yield of 6.87%, the pond gets much smaller. Simply said, Inland has one of the highest dividend yields in the shopping center sector.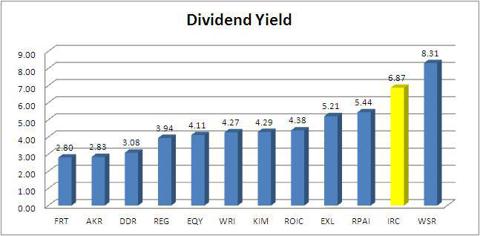 Inland's leased occupancy is at its highest level since year-end 2011. The total portfolio leased occupancy was 93.1% at quarter end, an increase of 20 basis points over last quarter and 40 basis points over the first quarter. At latest quarter end (Q3-12), Inland's total portfolio leased occupancy rate for anchor space was 95.3% and for non-anchor tenants it was 87.7%.
Inland's leased occupancy rate for non-anchor tenants is one of the highest within the peer group. As Scott Carr (Executive VP and CIO with Inland) explained in the third quarter conference call:
We attribute this to the strength of our locations, our dominant presence within our Midwest markets, allowing us to do multiple deals with retailers and the resiliency of those markets overall, which have recovered more quickly than other areas of the country.
Inland's overall portfolio occupancy is still at the lower-end of its peer group.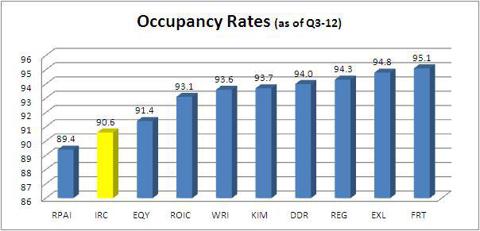 During the latest quarter Inland's consolidated same-store NOI rose 5% for the quarter and 5% year-to-date over the prior year periods. This is the seventh consecutive quarter of gains in same-store NOI as performance was fueled by gains of financial occupancy, as new tenants began paying rent.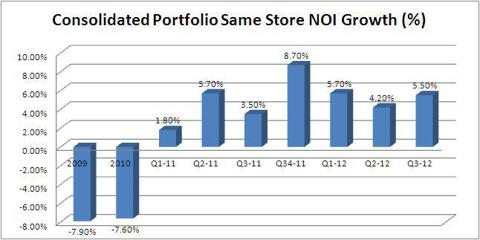 Turning to Inland's balance sheet, the company strengthened its financial position by securing amendments to its consolidated unsecured credit facilities. These amendments increased total capacity of the facility by $50 million to $350 million. They also reduced the company's cost of borrowing and extended its debt maturity profile.
Additional liquidity provided by the agreement enhances the company's financial flexibility to take advantage of opportunities - including paying off higher rate loans or debt at a discount. At quarter end, Inland had assets of $1.246 billion and debt of $757 million. The company's debt-to-total market capitalization rate is 47.2%, which compares favorably to 59.8% at the end of the third quarter of 2011.
Inland's debt level is still higher than most of its peer group; however, the amended credit facility further reduces the rate on borrowings by 35 basis points to 55 basis points which is expected to provide $1.3 million in annual interest expense savings at current debt levels and amounts outstanding on those facilities.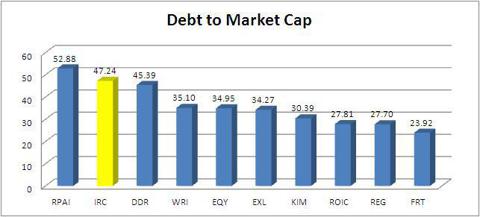 Inland's Differentiated JV Platform
Although some of the larger-cap REITs engage in JV relationships, it is not as common for a small-cap REIT like Inland to participate in the use of such value enhancement strategies. Inland has utilized several such JV strategies to diversify its resources and leverage its expanding retail platform.
PGGM: Formed in 2010 and upsized in 2012, Inland's PGGM venture allows the REIT to grow its asset base using institutional capital at a time when it's not necessary to issue equity given particular market conditions. Also, Inland is able to build its Midwest asset base concentration faster and on a scale that Inland may not be able to on its own. Buying properties to the joint venture allows Inland to increase its yield on those investments by 100 basis points through the fee income earned. (Inland maintains 55% ownership).
NYSTRS: Formed in 2004 and JV through 2022. Similar to PGGM and Inland utilizes institutional capital to acquire assets. Inland's ownership in the JV is 50% and the partnership has around $347 million in assets under management (as of September 2012).
IPCC: Established in 2006 and created as more of a "feed and seed" platform to wholesale assets for a sister company of Inland (its fractional 1031 platform). Inland essentially acquires assets for IPCC using its credit facility and later transfers 100% ownership to IPCC when the sister (1031) company has broken escrow. This partnership is generates fees to Inland of around $2.5 million per year and recurring management income of around $1 million (as of 2012).
Inland's use of joint venture projects generated around $26 million of fee income from 2006 through the third quarter of 2012. In addition, Inland generated around $13.5 million in JV management fee income in the same period.
Inland's Monthly Dividend Model
Like a few other REITs (O, WSR, AHT), Inland pays a monthly dividend and the company recently announced that it paid a cash distribution of $0.0475 per share on the outstanding shares of its common stock to common stockholders of record at the close of business on October 31, 2012. (I plan to write an article later this week on REITs that utilize DRiP and the "power of compounding")
Inland has declared a cash distribution of $0.0475 per share on the outstanding shares of its common stock, payable on December 17, 2012, to common stockholders of record at the close of business on November 30, 2012.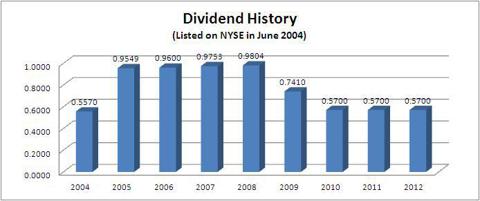 As noted above, Inland's dividend yield of 6.87% is one of the highest in the shopping center sector. Conversely, Inland is "undervalued" and has one of the lowest P/FFO ratios in the sector.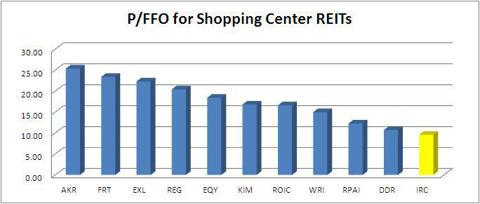 As Michael Terry explained back in February, Inland re-opened their 8.125% series A $25 par perpetual preferred. Inland issued 50 million in 2011 at 8.125% and then reopened it in 2012 for another 60 million at 8% even. (Sold it at a little over the $25 par to get a yield of 8% even). It is trading above par because the market values Inland's credit at a lower cost today.
As Terry wrote:
As a result of the comparison to their peers (operating model, secured debt and issue features), I believe that this issue has value and should be considered by preferred stock, REIT or income investors.
So Why Does the Windy City REIT Have a Wide-Moat?
Ben Graham said,
In security analysis the prime stress is laid upon protection against untoward (unfortunate) events.
As I see it, there are two specific risks (and potential opportunities) related to Inland and both are likely reasons that the shares are trading at a discount.
First, and as noted above, Inland has concentrated its assets in two major markets: Chicago and the Twin Cities. Thus, having a highly concentrated portfolio can certainly be risky, especially when you are in the eye of hurricanes like Sandy or Katrina. However, here is what I "Googled" (and found) on the National Weather Service website:
Some facts about Chicago's Significant Tornadoes
There were 92 significant tornadoes in the 8 county Chicago metro area between 1855 and 2008.
The deadliest tornado occurred on April 21, 1967 during an outbreak of 5 significant tornadoes. A violent F4 tornado formed in Palos Hills in Cook County and traveled through Oak Lawn and the south side of Chicago. 33 people died and 500 people were injured by this 200 yard wide tornado that traveled 16 miles and caused over $50 million in damage.
The most recent significant tornadoes occurred on June 7, 2008 over Will and Cook Counties.
The only F5 tornado to ever strike the Chicago area was on August 28 1990. This tornado formed near Oswego and passed through Plainfield, Crest Hill, and Joliet. The tornado killed 29, injured 350, and caused $165 million in damage along a 16 mile path.
There are other REITs with concentrated portfolios such as Washington REIT (NYSE:WRE) and SL Green (NYSE:SLG) and they have not been impacted because of significant portfolio risks related to catastrophic events. In fact, Chicago and The Twin Cities are considered "Top 20" markets and I consider the concentration levels for Inland to be more advantageous than disastrous.
Second, and the more likely risk, are Inland's two major tenants: SuperValu and Roundy's. Based on ABR, these two tenants represent almost 12% of the company's portfolio. In a recent Seeking Alpha article, Saibus Research wrote:
We are of no illusions as to the challenging competitive environment both grocery retailers face. Both (Supervalu and Roundy's) are facing strong and significant industry headwinds as well as operational issues which have negatively impacted the performance of those firms. However, we believe that Supervalu has begun to make more progress in its turnaround situation than Roundy's and we believe that SVU will recover more for its investors than Roundy's. The last two reasons why we tout SVU over Roundy's because its new CEO Wayne Sales had an immaculate record of achievement and performance when he led Canadian Tire (OTCPK:CDNAF) from 2000-2006 and because SVU has already tapped Goldman Sachs and Greenhill to assist it in pursuing strategic alternatives and it has drawn assorted bids from a number of players, most notably Cerberus.
Further Saibus Research went on to explain,
The last item that enables us to conclude that SuperValu has a better chance of turning itself around and adding value to shareholders is its real-estate portfolio. Supervalu owns about 40% of its traditional grocery store locations. While the company has pledged a portion of its real estate as part of an asset-backed term loan, it can always decide to sell the stores to another grocery chain and use the proceeds to Supervalu down or pay off the loan. We've had a series of discussions with other investment firms in comparing Supervalu versus Roundy's and one thing we agreed on was that the real estate SVU owns gives it a better chance to survive and turn around than Roundy's. Roundy's only owns two of its 160+ stores and one of its distribution centers.
As mentioned above, Supervalu is the largest tenant in Inland's total portfolio based on percentage of annual base rent and square footage, and the B rated (S&P) chain announced its intention to explore "strategic alternatives" for the company, primarily the sale of all or some of its assets.
Supervalu is a tenant in both the Minneapolis/St Paul and Chicagoland markets under the Cub Foods and Jewel-Osco brands, respectively. Cub Foods and Jewel-Osco represent two of the strongest and well established brands in the Supervalu group of grocery operators and should maintain their relevance as grocery operators. In addition, Inland's grocery portfolio is extremely well-positioned and its top grocery tenants enjoy substantial market share (over 35%) making the real estate values more "critical" and much more valuable.
In summary, the risks for Inland could also be opportunity. Inland's shares are undervalued as Mr. Market anticipates the risks related to geographic and tenant concentration. In my opinion, these combined risks are also the forces that could eventually propel Inland's stock price and provide investors with rewarding capital appreciation.
Seeking Alpha in Inland
Inland's recently announced (Q3-12) positive portfolios trends were a direct result of the company's effective management and leasing strategies in the premier shopping center locations: core Midwestern markets. As the largest shopping center REIT operating in the greater Chicago and Minneapolis metro area, Inland has carved out a dominating presence.
Inland's experienced leadership team - including President and CEO, Mark Zalatoris; CFO, Brett Brown; EVP & CIO, Scott Carr; and Senior VP, William Anderson - have collectively 95 years of experience at Inland (senior management team averages 24+ years of real estate experience).
In addition, Inland started in 1994 as a non-traded REIT; however, the company has ties to Inland's flagship and Conglomerate Company known as The Inland Real Estate Group of Companies, Inc. Although not directly related (from a legal ownership perspective) to Inland (Real Estate Corporation), The Inland Real Estate Group of Companies, Inc., with a 40 year history as an industry leader and one of the nation's largest commercial real estate and finance groups, has close ties to Inland (Real Estate Corporation) and all related entities.
As a business incubator, The Inland Real Estate Group of Companies, Inc. specializes in creating, developing and operating companies that provide real estate services. Inland also develops and operates real estate-related investment funds as well as businesses to support those efforts.
The companies that make up The Inland Real Estate Group of Companies, Inc., which are headquartered (on a 28 acres campus) in Oak Brook, Illinois, cumulatively employ more than 1,400 people nationwide. With $20.2 billion of assets in 47 states and more than 115 million square feet of commercial real estate in our various portfolio.
Both Inland (Real Estate Corporation) and The Inland Real Estate Group of Companies, Inc. are distinctly separate companies, however, they often share market knowledge and experience with one another in the areas of leasing, property management, land development, commercial real estate brokerage, acquisition, commercial lending and other areas of real estate. (This is has tremendous ALPHA for investors).
Daniel L. Goodwin is Chairman and CEO of The Inland Real Estate Group of Companies, Inc. and he is also the largest individual shareholder on Inland (Real Estate Corporation) (Goodwin is the majority owner of IREG). According to Yahoo Finance, Goodwin owns over 12 million shares (estimated value of around $100 million). Also, according to SNL Financial, insiders of Inland have purchased over 245,000 shares over the last six months (valued at around $2 million).
As Warren Buffett has said,
If they become part of your DNA when investing, you really can't go wrong.
For The Inland Real Estate Group of Companies, retail investing is in the company's DNA. For Inland investors, there is no better margin of safety than buying this wonderful REIT at a moderate price - especially when management interests are strongly aligned. Here is a snapshot of Inland's year-to-date total return (16.08%) compared with peers (all peers returned in excess of 20% YTD).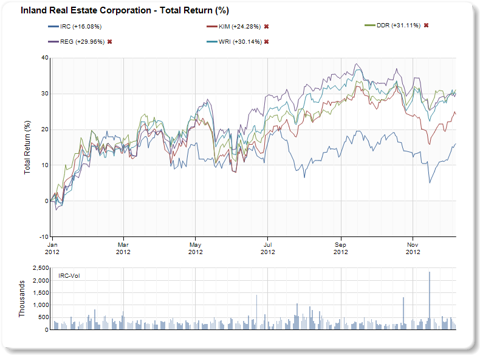 As noted above, the two primary risks - geographic concentration and tenant concentration (i.e. SUV) - appear muted given the company's high-quality properties and dominating retail presence (of IRC and Inland Real Estate Group). Inland's common shares are trading at $8.30 and analysts' NAV consensus is $9.50 (around 15% discount) while I value the shares closer to $10.00 utilizing a cap rate of around 7.15% including the sustainable income generated by the JVs (mentioned above).
In summary, and stripped to the essence, I find Inland to be one of the few shopping center REITs that has a moderate "margin of safety". (Note: I also like KIM - see article here - and I also like WSR - see article here). Inland is clearly undervalued by around 15% and the dividend yield of 6.87% (pays monthly too) is solid and sound. I consider Inland to be an "intelligent REIT investment" and the wide-moat REIT from the Windy City can be summed up best by the prominent value investor and Columbia finance Professor Joel Greenblatt (who framed the concept in a 2011 Barron's interview):
It's about figuring out what something is worth, and then paying a lot less for it.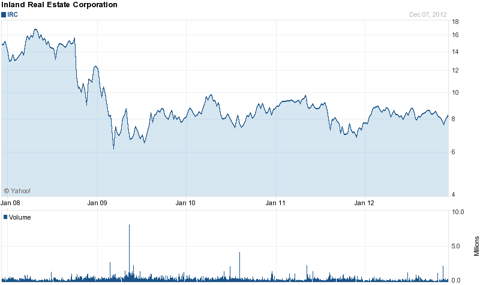 Source: SNL Financial, Inland Presentation, Yahoo Finance.
Disclosure: I have no positions in any stocks mentioned, and no plans to initiate any positions within the next 72 hours. I wrote this article myself, and it expresses my own opinions. I am not receiving compensation for it (other than from Seeking Alpha). I have no business relationship with any company whose stock is mentioned in this article.