Cisco (NASDAQ:CSCO) is one of the most prominent and prolific acquirers, and has completed over $67.7B in M&A, and that's just deals with announced price tags. This isn't simply historical, Cisco is still on an M&A roll. Three deals long in the making have been signed by Cisco in the last month: Cariden, for $114M; Meraki for $1.2B; Cloupia for $125M. This is a good opportunity to consider Cisco's M&A strategy, and just what is has done for Cisco.
Cisco has a golden reputation when it comes to M&A, and not without reason. Cisco acquired Crescendo for $95M in 1993, and Mike Volpi, Cisco's Chief Strategy Officer, said earlier in 2012 that the Crescendo product line gives Cisco $10B in revenue with good margins. Not bad. Deals like that have created a halo around Cisco's dealmaking, and in the early years, say 1993-2001, Cisco seemed to have a magic touch for M&A. Books were written on how Cisco really did it.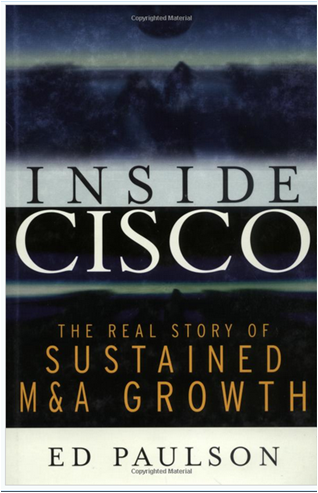 Cisco's M&A integration is legendary, and is the focus of Paulson's book. Indeed, Cisco appears to have managed some M&A risks practically into oblivion. HR, IT and manufacturing integration are some prominent examples. On the day a deal closes, new employees have access to Cisco IT, have new Cisco business cards, health plans, bonus plans etc. This greatly reduces the Time-Cost of M&A. Likewise, Cisco quickly converts all acquirees' bills of materials into Cisco's MRP database, employs Cisco's forecasting, and adopts Cisco's New Product Introduction methodology.
But there are indications that as the bubble burst, Cisco reassessed the effectiveness of its M&A strategy. And I suggest that there is good evidence that Cisco's M&A strategy is not nearly as effective as is generally thought.
Firstly, Cisco may have had some strokes of good luck, as is evidenced by some prominent crashes and near misses. Pirelli Optical Systems ($2.15B), Monterey Networks ($500M), Clarity Wireless ($157M), HyNEX ($127M), Maxcomm Technologies ($143M), Amteva ($170M) were all complete failures. That's $3.25B in purchase prices down the tube, to which considerable integration expense (in-process R&D is often as high as 25% of the acquisition price) must be added.
More recently Cisco has likewise had its share of sour deals. Cisco acquired Pure Digital, maker of the Flip, for $590M in 2009. That particular deal was a share-swap. Cisco shares traded at about $16 per share at the time, compared with Cisco's average buyback price of $19 in Fiscal 4Q 2009 in which the deal closed. So unless the number of shares were swapped based on value at closing, which is unlikely, the real price was closer to $700M. Ned Hooper, then senior vice president of Cisco's Corporate Development and Consumer Groups, said: "The acquisition of Pure Digital is key to Cisco's strategy to expand our momentum in the media-enabled home and to capture the consumer market transition to visual networking." This was bad strategy, and Pure Digital was shut down, and over 500 employees went home.
Now, Pure Digital wasn't a monstrous foul-up on the Cisco scale of things. (A rumored attempt at an acquisition of Nokia (NYSE:NOK) was, Yes Nokia, in 2005, when NOK was valued at over $70B, would have been a veritable train wreck. Nokia's market cap is now $12B. But Cisco has messed up many billions of dollars in big deals for over a decade.
So how skillful is Cisco? By all appearances, the team at CSCO has had some lucky breaks, and some unlucky ones, and seems to at least have integration down to a fine art. But we couldn't agree more with Volpi: "No matter how good of an acquisition process you assemble, the odds are stacked against you that any given deal will succeed. Fundamentally, companies are not created to be bought or integrated." Nicely said. M&A is not easy. Volpi also graciously added: "The truth is, we got a bit lucky. Historical data shows that the majority of acquisitions fail." Again, right on. Cisco has had its share of luck, and has really managed M&A at the highest level of professionalism. Something that would be interesting to explore (another time, and it is hinted at here) is if the early deals, pre-2001, got Cisco into an M&A habit, and that habit became very, very hard to stop.
Second, and more importantly, Cisco publicly states that it "seeks acquisitions where there is not only a strong business case but also a shared business and technological vision, and where compatibility of core values and culture foster an environment for success." Ok, let's then consider the following graph by Andy Rachleff, presented by Volpi. Volpi brought this graph to support the notion of a portfolio approach to M&A. This slide is very important since it demonstrates nicely that a large majority of the value from acquisitions is extracted from a small minority of deals (about 90/10).
The slide does not show whether the value created exceeds the price paid, let's just assume that according to Rachleff/Volpi, it does. The bigger problem with this chart is that according to Volpi, this seems to reflect Cisco's strategy. In contrast with the statement on Cisco's site quoted above, Cisco treats M&A as an asset class, and not just as an asset class, but a hit-and-miss shotgun approach to the M&A asset class.
Let's run with it and see how Cisco plays out as an M&A trader. Cisco spent $67.7B on M&A, and is today worth $102B, or a 50% gain taken roughly. Obviously that is a gross oversimplification for so many reasons, and we don't have the data to assess the actual return on Cisco's M&A (even the company may not be able to do that, though I hope they try).
But before considering the asset-allocation of Cisco's M&A portfolio, let's see another major asset in the same class - tech companies - that Cisco is spending on: Cisco shares. "As of July 28, 2012, Cisco had repurchased and retired 3.7 billion shares of Cisco common stock at an average price of $20.36 per share for an aggregate purchase price of approximately $76.1 billion since the inception of the stock repurchase program." That's $76.1B already spent on share buybacks. Buybacks are controversial (would someone please tell Yahoo (YHOO) CEO Marissa Mayer, who has committed three quarters of the cash from the Alibaba deal to buybacks). Though in theory they should give a message that management thinks their company is the greatest investment out there, there are some contrary indicators too. It shows that management is out of good ideas (or NPV positive projects); it shows that management wants company options to be more valuable; and it shows that the company is busy manipulating the 'S' side of EPS instead of the 'E' side.
Many investors would prefer that a company give cash to its shareholders and let them decide whether to reinvest it in the company, than have the company make that decision for them. We can actually assess the impact of the stock repurchase program broadly: The company bought back at an average of $20.36, and the stock price at the moment is $19.46, that's a 4% drop. Let's call it even; the company spent $76B on about $76B of shares. (Obviously, there is a lot more analysis to be added, including stock option issuance etc, but this is a fair, if crude, measure of the buyback program's effectiveness).
Let's then say that $76.1B of the company's present valuation is from share buybacks; that means that $24B of today's market cap for Cisco is from the rest of the company's investments - including R&D, and… M&A, over $67B in M&A. That suggests a destruction of 65% of the M&A value, which is just a little better than the 70% value-destruction that is reportedly average in the market (to hear more on solutions to the chronic and pervasive M&A failure rates, hear this interview).
Let's sum up so far: Cisco has spent over $143.8B on tech companies - $67.7B on M&A and $76.1B on buybacks, of which over half was in just one company (Cisco). It received about 100 cents on $1 paid for in buybacks; meaning that the M&A was about 65% value destructive. If your hedge fund manager showed long-term returns like that, hopefully you'd fire him very quickly (and maybe move to Rachleff's Wealthfront).
To put that briefly: Cisco seems to be a very poor asset manager. The shareholders would have done better if Cisco would have exploited its current markets and thrown off cash to its shareholders. In other words, if Cisco had taken all the cash spent on M&A and buybacks, and put it in the bank, the company would have more cash today than its entire market cap. Of course, it is conceivable that the company never could have generated the cash without having undergone some acquisitions. But its oldest business units are still doing all the heavy lifting for the top and bottom lines, namely Switching (40% and 48% of revenue in 2012 and 2002 respectively) and Routers (23% and 48% in 2012 and 2002), which anecdotally suggests that Cisco could have been much more valuable as an ATM.
Finally, Cisco's golden M&A gleam seems to have dimmed a little. John Chambers has traditionally had a very low base salary and preferred to get his compensation mostly in stock options (which, of course, become much more valuable with a buyback). Apparently next year his base salary will triple, and assuming that means his stock options will form less of his compensation. Perhaps Mr. Chambers and others at Cisco are waking up to the reality that they're doing amazing integration of poorly matched companies (for more on the 'It's all in the Integration Fallacy' read this blog).
We think Cisco is a great company, and has done very well despite burning mountains of cash on ineffectual M&A. We hope Cisco stops empire-building, and goes back to core strategy to guide its M&A.
Disclosure: I am long CSCO. I wrote this article myself, and it expresses my own opinions. I am not receiving compensation for it (other than from Seeking Alpha). I have no business relationship with any company whose stock is mentioned in this article.