It took long enough, but Friday afternoon the Canadian government finally approved the takeovers of Nexen Inc. (NXY) and Progress Energy (OTC:PRQNF) by CNOOC (NYSE:CEO) and Petronas (OTC:PNADF) respectively. After a wild ride down to a low of $21.07 (down 16%) in the last 45 minutes of regular trading on Friday's big 28.5 million shares, Nexen's stock price went higher to $27.00 in after hours trading once the news of approval hit just before 5pm.
TSX trading in Nexen was halted briefly by IIROC (The Investment Industry Regulatory Organization of Canada) due to the intense volatility but restarted again with the shares closing at $23.28 down 6.4%. We still don't know what caused this bungee jump but someone was whipsawed pretty badly no doubt. The CNOOC offer for NXY is $27.50 USD in cash. It should be noted that U.S. CFIUS approval is still required due to Nexen's Gulf of Mexico assets, but most would consider this a "done deal" now.
Progress Energy's stock price closed down 88 cents or 4.35% to $19.35, on equally frenetic trading of 6.6 million shares. Trading was spooked by the action on Nexen. No other regulatory approvals are required so I expect Progress to open on Monday near the $22.00 deal price.
Shareholders, governments, investment bankers and other advisors of the involved four companies are obviously relieved. But what does this mean for other Canadian oil and gas stocks come Monday?
The Harper Conservative government (for the most part) did what I expected them to do: they plan to limit further state-owned enterprise - aka SOE -involvement in the oil sands to joint ventures and minority interests, and cited what I thought was the main fear - these deals would have been just the beginning of a domino effect with more down the pike.
The surprise factor for me were the two approvals - essentially the "grandfathering" - of these two transactions that had caught the government napping without having finished a game plan for how to handle major foreign investment since they kiboshed the BHP Billiton (NYSE:BHP) bid for PotashCorp (POT) just over two years ago.
The Harper government played to both the pro-business Calgary and Bay Street constituency, and the anti-takeover nationalist vote, in one fell swoop.
No doubt the Chinese government (or Indian or others) had wished they had launched a bid or two for Canadian energy companies before the announcement, because future deals will be heavily nixed under the new foreign investment rules that were sketched out by Canadian Prime Minister Stephen Harper in his brief address on Friday evening.
Some of the many reports on the Nexen/Progress news stated the oil industry is very pleased with the new rules laid out. But in my view, the rules threaten to stymie the buyout potential of a number of larger Canadian oil and gas firms, particularly in the oil sands of Alberta.
The shareholders should decide what bids to accept or deny, unless national security interests are at stake. I said that when they denied BHP's bid for Potash and those shares have yet to recover, so speaking for an investor and owner, what good was that decision?
Now let's get to the action we can expect for the energy sector come Monday, once the premiums on takeover plays adjust to the new rules. I am a firm believer that industry fundamentals are going to reassert themselves again, which haven't been great for the oil and gas patch. We've been slow to realize that the U.S. is already self-sufficient in natural gas, and soon to be less dependent on Canadian oil imports.
Compounding the problem is a weak demand picture for refined oil products, because the Obama administration has been pushing for more efficient vehicle fuel consumption standards or CAFE (Corporate Average Fuel Economy).
Pipeline congestion to the south and delays in approving new pipelines, have made a bad situation worse for Canadian oil exports to the United States. Although an interesting idea, it could be a while before plans to send Western Canadian oil to Eastern Canada, come to fruition. A hurdle to that plan is that Eastern refineries are small and cannot necessarily use heavy sour crude grades typically produced out west.
As one pundit put it, Western Canada is threatened with having its oil stranded the same way it historically produced "stranded gas" before the Alliance Pipeline relieved the gas oversupply situation in the early 2000's. AECO hub Canadian gas again trades at a discount to NYMEX due to waning U.S. export demand, a casualty of the shale gas revolution. And Western Canada Select heavy sour crude was priced at only $55.81 CAD/barrel Friday, or almost $30 less than WTI, itself heavily discounted from North Sea Brent.
As a side note: CNOOC will now be a position to influence the Brent international price of oil due to Nexen's 43.2% ownership and operatorship of the Buzzard oil field in the North Sea. That should all pause for deliberation on the merits of using this narrow, unreliable source of crude to price oil derivatives, swaps and contracts globally.
Both commodity oversupply problems have put a damper on Canadian oil and gas company valuations and I don't expect that situation to change until we get closer to realizing more pipeline capacity to the U.S. or the West or East Coasts of Canada to alleviate the glut. The new federal policy disallowing SOE's from buying oil sands outright and making it more difficult for private foreign takeovers of Canadian oil sands companies have negative implications for stocks such as Cenovus (NYSE:CVE), MEG Energy (OTCPK:MEGEF), Athabasca Oil Sands (OTCPK:ATHOF) and other smaller or private developments.
We own Canadian Oil Sands (OTCQX:COSWF) because I believe it was never seriously considered takeover bait due to its size and so doesn't have a takeover premium attached to the stock price.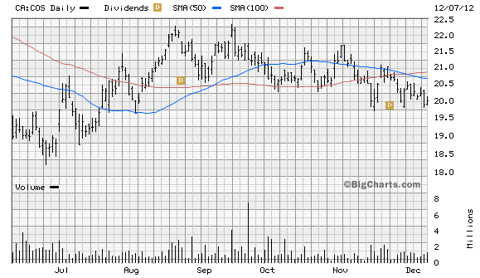 It is a pure play on SCO (Synthetic Crude Oil) pricing through their 36.74% interest in the giant Syncrude oil sands operation, and has growth prospects with their Mildred Lake expansion. Now two Chinese SOE's (CNOOC and Sinopec) will own a combined 16.26% of Syncrude, the oldest oil sands operation in the country, but they will most likely not be able to increase that interest under the new rules regime.
Teck Resources (TCK) might have a tougher time developing getting value for its interest in the Fort Hills oil sand project being developed by leading Canadian oil sands producer Suncor (NYSE:SU).
Since the Harper government generalizes about state-owned companies and organizations and the degree to which private companies are controlled or influenced by their governments it raised many questions.
We have to wonder if they will be fair in applying the rules to all SOE's, not just those from communist or dictatorial countries. For example, should Total S.A. (NYSE:TOT) of France be considered a state-owned enterprise controlled by a socialist government? They are the third partner in the Fort Hills oil sands.
Is Statoil, 67%-owned by the Norwegian state, also going to be disallowed from making additional acquisitions in the oil sands? Will the government of Kuwait be allowed to increase its investments? How will the new more stringent rules impact Canadian foreign policy and investment abroad?
The rules will continue to require value judgments about the regime from which a bid is emanating, to be made by the Harper government. It is strange that Prime Minister Harper said that SOE's will now have the burden of proof that their acquisitions will provide a net benefit to Canada. That was already the case under the Investment Canada Act.
The "new" rules outlined on Friday seem to continue to be somewhat vague, inconsistent (why are the oil sands singled out rather than other resources) discretionary and vague, and maybe that's just the way they should be. Talisman (NYSE:TLM) which we own, is not an oil sands player, but certainly a bid by an Asian SOE for the whole entity, the most likely name being Sinopec (NYSE:SHI) their JV partner in the North Sea, is now not possible.
But we never thought that Talisman's price was trading on such a deal, because the U.S. would never have allowed Sinopec or any other Asian company to own Talisman's extensive Marcellus shale gas and Eagle Ford oil lands. Talisman is a play on higher natural gas prices in the U.S. and has a significant interest in the Montney natural gas play.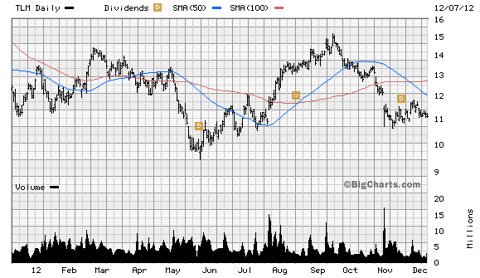 Some enterprising major oil company will buy Talisman for its Corridor natural gas production in South East Asia and the natural gas plays in North America, with side deals to dispose of its other assets to those who would value them the most and/or have the least regulatory obstacles to climb.
Winners from yesterday's announcement are undoubtedly land holders in the Montney and Duvernay natural gas plays. Not much was said about the huge shale gas reserves in N.E. British Columbia and N.W. and Central West Alberta.
CNOOC will gain Nexen's position in the undeveloped Horn River and Liard plays which are farther north than the Progress Montney lands. I assume more natural gas property acquisitions can now be made, but perhaps not by Asian SOE's. The rules increased the size of private company takeover bids to $1 billion in size from $330 million but left the SOE's at the lower limit.
ExxonMobil's (NYSE:XOM) offer to purchase natural gas player Celtic Exploration (OTCPK:CLTFF) should go ahead with no problem and lead the charge by U.S., British/Dutch, and other western world organizations. The more likely outlet for this natural gas is obviously to the west to planned coastal LNG (Liquified Natural Gas) plants, rather than to the south.
We have and continue to like natural gas players such as Birchcliff Energy (OTCPK:BIREF) and NuVista Energy (OTCPK:NUVSF) for possible takeover by consolidators in the Montney and other northern Canadian gas plays. Two other areas that could see continued interest due to attractive fundamentals and location are the Alberta Cardium and the Bakken and Saskatchewan Bakken plays.
These should continue to benefit from their closer proximity to U.S. and domestic markets with better pipeline and rail access than the oil sands. Plus, they produce lighter oil. We continue to like companies such as PetroBakken (PBKEF.PK), Legacy Oil + Gas (OTCPK:LEGPF), Surge Energy (OTCPK:ZPTAF) and Whitecap Resources (OTCPK:SPGYF). We built up a major position in PetroBakken and its parent (see below)last October to December but unfortunately sold it by year end and it subsequently went to $15. That hurt. Here's another chance to buy it.
PetroBakken has been suffering again due to the major spinoff of shares owned by its parent PetroBank (OTCPK:PBEGF) which will occur in January. In the meantime, PetroBakken shares are softening due to the impending supply, and getting back to prices seen a year ago. Although we are buying some now, I think PBN may crack $10 CAD at some point and then would be even greater value. You might want to hold off until the end of tax loss season in Canada to accumulate some (i.e. between Christmas and New Year).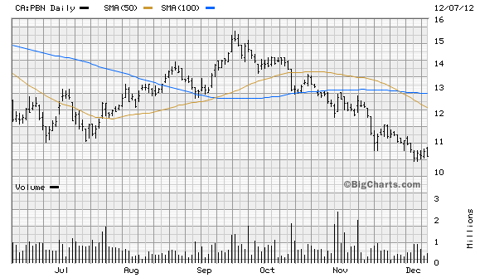 On Whitecap and other mid-sized energy stocks converting to a high dividend model such as the entity from the merger of Pinecrest Energy (OTCPK:PNCGF) and Spartan Oil (OTC:SRTNF):
My feeling is junior oil and gas companies should be growing with their capital, not paying it out, especially if they are suffering from high well production decline rates. Whitecap has some takeover appeal for me.
A controversial stock in the Bakken is Crescent Point Energy (CSCTF.PK). We've been watching this former trust from its infancy. The biggest consolidator in the area, the stock rises slowly to the low $40's only to fall sharply again as they do yet another acquisition and share issue.
I think the company has pushed share holders too far with the huge size of the recently closed 20 million share deal at $40 for $800 million CAD to buy privately owned Ute Energy and this is evidenced by the underwriters taking up only 45% of their over-allotment.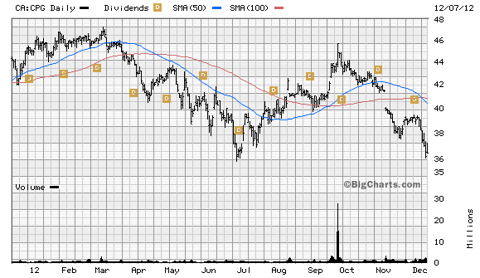 Although you may get some recovery on higher oil prices back to $40 CAD, Crescent Point has zero takeover chances for me and I would avoid it in spite of the seemingly enticing 7.6% yield. The yield is illusory because their DRIP program means they have to issue over a million shares a quarter to support it. In effect, they are constantly diluting your share ownership and the monthly 23 cent cash dividend has not been raised for over four years now.
But I hope Crescent Point takes a shot at Legacy Oil+Gas or even PetroBakken one of these days. PetroBakken could be criticized for some of the same reasons I pointed out with CPG, paying a lot of the dividend via the DRIP program, but at least it has takeover appeal.
You are probably wondering how I feel about the shallow gas players such as Penn West (PWE), Pengrowth (NYSE:PGH), Advantage (NYSE:AAV) and even Enerplus (NYSE:ERF), which have fallen on harder times.
I was an early player in these stocks over a decade ago when they were on the upswing as income trusts. But I think anytime you are having to sell assets to pay down debt, you are running in reverse if you are an energy company. I would ignore the yields and stay away.
Other large gas players that seem to be able to stay alive without cutting assets are Encana (NYSE:ECA), Peyto Exploration (OTCPK:PEYUF) and Bonavista Energy (OTCPK:BNPUF). I just haven't managed to analyze them all; but they could be good for a combination with another domestic energy player.
To conclude, I think Canadian energy stocks will now trade on their merits, access to markets, and the prices of the commodities, rather than be fixated on whether the two oil and natural gas takeovers will or will not be consummated. The Chinese manufacturing and other economic numbers continue to signal a bottoming of that economy. Plus, we may have a colder than expected winter and you could see some good upside on these stocks.
Another boost to the energy stocks would obviously be the over $20 billion that will want to find a home once the proceeds are paid out. Some of these funds are of course going to stay outside the country because Nexen and Progress are now held in a big way by hedge funds.
Hopefully some of this cash will be redeployed into some of the names I have mentioned above. In spite of the looming oversupply of Canadian oil and gas in the patch, takeover prospects continue to be good for smaller players as consolidators position themselves for new oil pipeline and LNG plant construction during the rest of the decade.
Disclosure: I am long PBKEF.PK, TLM, OTCQX:COSWF. I wrote this article myself, and it expresses my own opinions. I am not receiving compensation for it (other than from Seeking Alpha). I have no business relationship with any company whose stock is mentioned in this article.