I am not the biggest fan of mutual funds or ETFs, but there are times when I can actually embrace them when they make sense. I firmly believe that 2013 will be a year of recovery for a slow growth economy. In that environment, the financial sector has almost always led the way.
The problem is which stocks to buy. There are so many ways to play the financial sector that I tend to get a really bad headache when I just look at all of the stocks. Even though I spend much of my time doing research on stocks and writing about what I find, for Seeking Alpha readers, the financial sector is perhaps the most daunting research I face. Team Alpha is weak in the financial sector however, and a basket of preferred stocks fits very well indeed.
I wanted to write about the "usual suspects" like Bank of America (NYSE:BAC), or CitiGroup (NYSE:C), just to be with the rest of the gang, but the deeper I looked the more I gravitated to an ETF that actually makes sense to me - the iShares S&P U.S. Preferred Stock Index Fund (PFF).
What Is PFF?
From Yahoo! Finance:
"The investment seeks investment results that correspond generally to the price and yield performance, before fees and expenses, of the S&P U.S. Preferred Stock Index. The fund generally invests at least 90% of its assets in securities of the underlying index and in depositary receipts representing securities of the underlying index. The underlying index measures the performance of a select group of preferred stocks listed on the New York Stock Exchange, NYSE Arca, NYSE Amex, NASDAQ Global Select Market, NASDAQ Select Market or NASDAQ Capital Market. The fund is non-diversified."
Having an ETF that only holds preferred stocks gives me sort of a warm and fuzzy feeling these days. With everything going on between the Fed, the housing sector, and all of the banking issues, having a fund that actually pays a very healthy dividend while being diversified within the financial sector makes plenty of sense to me.
First of all, preferred shares always get paid first when it comes to dividends. There also seems to be far less volatility in them as well. If we can own shares of one fund that trades like a stock, has options available for covered call writing, and pays a dividend of 5.72%, how bad could this be? Even the cost to manage the fund is reasonable at .48%.
PFF is heavily diversified in the financial sector, and they have over 200 holdings in total: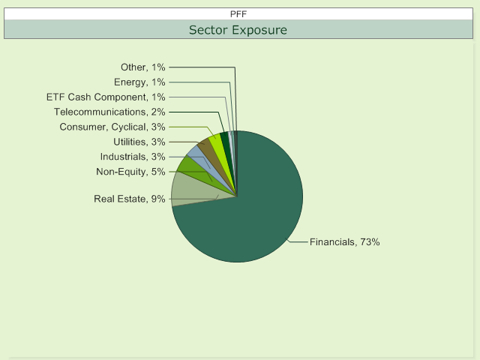 *Charts are from XTF Rating Service public access.
According to this chart, 73% of PFF holdings are in the financial sector. I would toss in the real estate sector along with the pure financials, bringing the total up to 82%.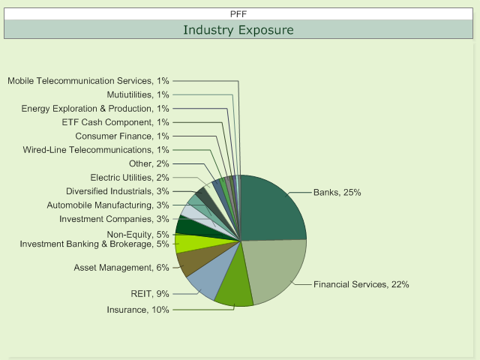 *Charts are from XTF Rating Service public access.
This chart has a more detailed breakdown of the holdings of PFF. I think the fund is balanced even with the heavy weighting in the financials. Keep in mind that with a growing economy, the financial sector has just about ALWAYS led the way. 2012 has been a solid year for the sector (aside from the agency mREITs perhaps) and that has occurred even with the Fed pulling the strings.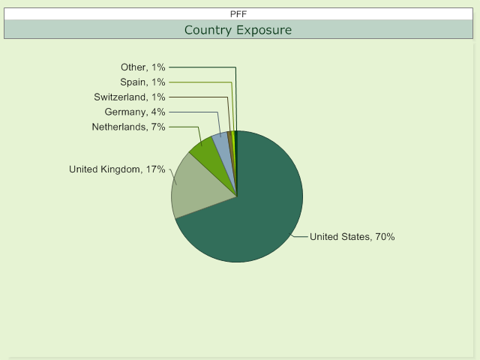 *Charts are from XTF Rating Service public access.
I also like the fact that the fund has a global footprint. Some really great dividends on preferred stocks can be found around the globe, but with 70% of all holdings based in the US I have a greater sense of safety also.
Top 10 Holdings
| | |
| --- | --- |
| Stock | % Held |
| HCS/PB | 2.44% |
| GM/PB | 2.41% |
| ALLY/PA | 1.64% |
| BCS/PD | 1.56% |
| WFC/PJ | 1.45% |
| C/PN | 1.45% |
| HCS | 1.33% |
| DTK | 1.31% |
| IGK | 1.19% |
| BAC/PH | 1.04% |
The top 10 holdings as of 12/6/2012 is not heavily weighted in one or the other stocks. That also gives me a sense of security if one of their 200+ actual holdings goes bad.
The share price has remained quite stable since the bottom of the recession. Between a share price range of less than 10% in either direction since 2010, also gives me some SWAN "feeling.".
My Opinion
I could take some flack from the die-hard DGI fan club, but anyone that has been following the Team Alpha portfolio knows that I have sort of a hybrid approach. I think being nimble and flexible during this environment makes sense.
If I can get a great yield of 5.72% with an ETF made up of preferred stock in a sector that I feel will actually lead an economic recovery, then I am going to consider it. Not just for Team Alpha, but for all of my families portfolios as well. The stock has paid monthly dividends for 66 consecutive months as of now, and I expect this performance to continue for quite some time. The stock is precisely what dividend seeking investors search for, with a lower risk profile than the individual stocks within the sector focus.
While PFF makes sense for just about any investor, for those seeking some really sweet dividends, this should fit nicely in a well balanced portfolio. Capital appreciation is a secondary focus with this investment, but with a growing economy, I can see a 10-15% upside from the current share price in 2013.
Do your own research of course and do not rely on any article written to make any investment decisions. Perhaps PFF will make sense for you.
Team Alpha will be buying 100 shares as of this writing.
Disclosure: I have no positions in any stocks mentioned, but may initiate a long position in PFF over the next 72 hours. I wrote this article myself, and it expresses my own opinions. I am not receiving compensation for it (other than from Seeking Alpha). I have no business relationship with any company whose stock is mentioned in this article.