Over this past summer, my research team scanned and uncovered Audiocodes (NASDAQ:AUDC) as a company trading at a call option price. Like any good research team, the members worked diligently and endlessly until they felt the stock was worth a trade or an investment. As a result, we have concluded that Audiocodes should be a full position in the fund due to its credible management team, strong cash position, extensive VoIP experience and an expanding product portfolio that has transformed it into a comprehensive networking company. We have a price target of $6 and a takeover price target of $8.
Israel has long been known for its entrepreneurial spirit and technological prowess. This has never been more apparent than over the past month when Israel's government announced that its Iron Dome anti-missile defense system had a 90% success rate in knocking Hamas missiles out of the sky. Iron Dome was built by a collaboration of Israeli defense firms (with funding from the U.S.) and is the most successful anti-missile defense system out there. According to American experts, the most salient feature of Iron Dome is the software. I see many parallels between Iron Dome and Audiocodes, an Israeli VoIP player, in the Unified communications (UC) market whose software, experience and technology has made its UC products key to the main players in the sector.
AUDIOCODES HISTORY
(click to enlarge)

AUDIOCODES AT THE PRESENT
Audiocodes has been expanding its product portfolio and becoming a pure play networking company.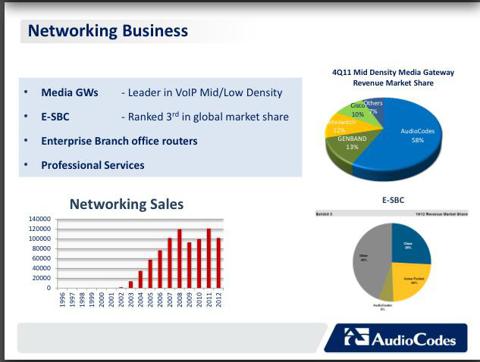 Enterprise-Session Border Controls (E-SBC) - Audiocodes entered the E-SBC market last year and is already the number three player with a 6% market share, taking business from Cisco Systems (NASDAQ:CSCO) and Acme Packet (NASDAQ:APKT) the number one and two players. The E-SBC is essential in bringing all enterprises to the cloud or for SIP Trunking (a VoIP enabled PBX). It secures the calls from malicious spam and connects the call effectively. It is important to note that both of the names above, along with Sonus Networks (SONS), sell strongly into the service provider market with Session Border Controls (SBC) unlike Audiocodes, which predominately concentrates on the enterprise market. Audiocodes is the new kid on the block with this product, but if history is any indication, I believe Audiocodes could gain a 13%-17% market share in a market estimated to grow from $200 million in 2012 to $500 million by 2016.
Session Enterprise Management SEM - SEM is an Audiocodes software application that resides within the E-SBC that monitors the quality of VoIP calls within an enterprises network. This software allows IT managers to get timely updates on the functionality of the network and the location of any interference. In the near future this program will self correct the call quality on the fly - a game changing event when put into service. This will save IT managers many man hours and lower the stress level in managing the network. Big savings for the enterprises means big advantages to Audiocodes. This software should ignite the market share gains for its E-SBC as corporations look for peak performance and less oversight.
Multi-Service Business Router (MSBR) - This is a new product that is an all-in-one multi service access solution for Service Providers. This router provides data and voice services for businesses and gives them connectivity to the internet, while handling their voice calls with superior voice quality. This is a product that the Service Provider will give to businesses so that they can connect to the server, much as a cable company gives you a router to connect to the internet in your house. This product could be a sleeper type product, but the company needs more customer wins like the deal it signed with Israel's leading telecommunications service provider Bezeq this past October.
Mobile OTT VoIP (Over the Top Voice over Internet Protocol) - For security reasons, enterprises want their employees connecting through its intranet. This also applies when the employees are mobile and using their smartphones. Audiocodes has a software based application (high margins) that allows the employees to make VoIP calls on their smartphones by routing their calls off the cellular network and onto a WiFi connection. This reduces the cost of each call and it also reduces traffic on the already congested cellular network.
Mobile PBX - Audiocodes with its MobilityPLUS Solution server, extends fixed-line PBX functionality to mobile devices such as cellular handsets, smartphones and PDA phones by provisioning them as extensions. Mobile PBX systems are different from other hosted PBX systems that simply forward data or calls to mobile phones by allowing the mobile phone itself, to control PBX phone functions and to manage communications without having to call into the system first.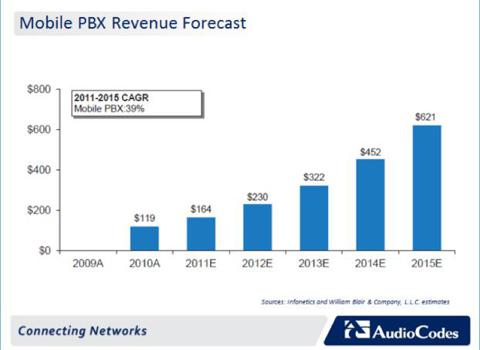 IP Phones - Audiocodes' HD IP Phones should achieve Microsoft (NASDAQ:MSFT) Lync certification by year end. This mundane, commoditized, unexciting product is actually the product that could bring Microsoft and Audiocodes together. The way I see it, Audiocodes' IP phones allow some company like Microsoft, which has had great Lync success on presence but is falling short on voice, to beef up its offering and be a stronger challenger to Cisco. An Audiocodes certification will be a windfall to all investors of Audiocodes because as a Gold Star partner to Microsoft it will open the door to not only 1000-5000 seats enterprise deals, but to 50,000-150,000 seat enterprise deals. The revenue explosion could result in a hockey stick growth in revenue as the market for IP phones is predicted to grow from $2.5 billion in 2011 to $3.2 billion in 2015 (source: Infonetics)

Services - This division is the accumulation of 20 years of VoIP experience. Over this time frame Audiocodes engineers have worked on Avaya phones with a Lync Platform, Polycom phones with Avaya servers, BroadSoft servers with Avaya phones, Cisco phones with Genesys software and Cisco servers with Avaya phones. Audiocodes has encountered all combinations of existing and purged players in this competitive market. Voice quality is not a given anymore when there are so many moving parts in an organization's network. Remember the smartphone is becoming the desktop of the enterprise and the standard call will no longer be standard in the very near future. Voice calls are being sent via packets over a data network and these VoIP call needs to be routed correctly, by the millisecond, otherwise clarity is compromised. This concern wasn't a priority two or three years ago when the cloud was just being constructed, but now it is paramount. Audiocodes has been a leader in VoIP voice quality for over 20 years and it is now seeing increased attention from UC players, system partners and IT and CIO officers as migration to the cloud has hit respectable growth.
UNIFIED COMMUNICATIONS (UC)
Unified communications is the integration of real-time communication services such as instant messaging (chat), presence information, telephony (including IP telephony), video conferencing, data sharing, call control and speech recognition with non-real-time communication services such as unified messaging (integrated voicemail, e-mail, SMS and fax). The goal of UC is for a business (with multiple locations) to be able to run voice, data and video communications over a single converged network.
The UC market is dominated by a few well known key players: Cisco Systems, Microsoft, Avaya, BroadSoft (BSFT) and in the contact call center market, Genesys. The main player is Cisco Systems as it is the only one to have a complete suite of UC products. While Microsoft, Avaya, BroadSoft and Genesys have their own UC products, none of them has a complete package. As a result, only Cisco Systems can enter into a bid/pilot for a complete UC program installation and give a price per seat (phone line). When any of the other players enters its bid price per seat, they have to add a caveat that in addition to its price per seat, you have to calculate in the cost per seat for each of its suppliers' products. This creates a serious road block as it leaves IT and CIO managers scratching their heads over the cost of all the moving parts. Cisco's complete system and single, easy to understand price per seat looks appealing.
Microsoft, Avaya, BroadSoft and Genesys all want to be like Cisco Systems and be able to offer businesses a complete UC package along with a single price per seat when bidding on a UC program. In order to do this, each of these companies needs Audiocodes products, expertise and technology.
Microsoft: Microsoft is a serious player in the UC market with its Lync Server. Microsoft's commitment to owning the UC market began when it paid $8.5 billion for Skype back in May 2011. The next step was recently taken when it took Lync out of the Microsoft Office division and moved it to the independently run Skype division. I believe that we will soon see Lync and Skype technologies come together to dominate the space. This is something that I have been hearing from many industry analysts who are predicting that Lync is on its way to becoming a Private Branch Exchange (PBX) replacement.
As a Microsoft Gold Partner, Audiocodes is its most comprehensive 3rd-party product partner. As Microsoft's Senior Director, Jyoti Black, recently commented "Once Audiocodes IP phones are qualified, partners can benefit from simplifying purchase, training, and support by procuring phones, gateways, SBAs and E-SBCs from a single vendor." I see Microsoft wanting to strengthen and deepen this relationship and go so far as to bundle Audiocodes products and services into Lync when bidding on UC programs. Being able to offer a complete suite of UC products along with a single price per seat would increase Microsoft's close rate when competing head to head with Cisco Systems.
Avaya - Avaya, which is privately held, is another pure play UC company with its own server. Avaya also makes its own IP phones, however it turns to Audiocodes to provide the gateways that offices need to connect to its servers. This is a perfect example of the technical expertise at Audiocodes as its gateways smoothly handle the traffic from Avaya IP phones to Avaya servers. Avaya could see Audiocodes as the cog in the wheel as it looks to be a one-stop shop in the UC field as it goes up against incumbent Cisco and the new 800lb-gorilla Microsoft.
BroadSoft - BroadSoft is one of the hottest stocks in the sector. Through its BroadWorks servers, BroadSoft delivers unified communications over IP-based networks. While BroadSoft provides the servers, Audiocodes provides the media gateways, E-SBCs, MSBRs, and HD IP phones. Both companies have worked closely so that Audiocodes' products are fully integrated into BroadSoft's VoIP environment. The potential for this relationship to grow and become much stronger has been increased by Audiocodes' recent introduction of new MSBRs and SBCs. We have the potential to see big revenue growth over the next three years.
Genesys - Genesys [spun-off from Alcatel-Lucent (ALU) to a private-equity firm] is a pure play in the contact center market. Audiocodes' gateway is the only one recommended by Genesys. The contact center market is aggressively going to the cloud. The more contact centers that go to the cloud the more Audiocodes is needed by Genesys to connect the multiple sites. Audiocodes provides Genesys' customers with gateways, E-SBCs and IP phones. Audiocodes is the only vendor to achieve full certification with Genesys. The theme we see is that the world is unifying its communications, but doing so is not as simple as it sounds. Contact centers are not a physical central hub anymore as the cloud is now the hub and the call centers are now in people's homes saving corporations millions in overhead. To unify its offering to clients, Genesys could see Audiocodes as an attractive acquisition.
BUSINESS CATALYSTS
I believe that Audiocodes has structured itself for growth and more importantly for increased profits and cash generation over the next three years. The completed buyback, the restructuring plan and the operational realignment of the company allows it to remain lean and focused on shareholder value in the quarters to come. Here are some business catalysts that highlight why I find Audiocodes attractive here.
Audiocodes is one of the few companies whose products can fill in the gaps of the key UC players' (Microsoft, BroadSoft, Avaya and Genesys) product lineup as they go up against the number one competitor Cisco. I believe the company is seeing a larger deal flow as these key players feel more comfortable relying on Audiocodes to complete its total price per seat to the end customer like Cisco has been doing for years.
Audiocodes' recent IP Phone updates will allow the company to convince MSFT and Genesys to change their approach in bidding for corporate Unified communication programs. I believe that the two companies now see Audiocodes as a strategic compliment to their programs as opposed to being simply a partner/supplier to its licensing models. I believe Microsoft and Genesys will have better close ratios when they tie Audiocodes in on their price per seat. This will be the biggest driver of revenue for Audiocodes in 2013 and we can hopefully see large deals announced in the months to come. I see Audiocodes being able to deliver Fortune 100 deals with its partners for the first time. We had a snapshot of how this could play out on the last conference call, when Audiocodes announced deals with Ernst & Young and Honeywell (NYSE:HON) (over 100k seat deals) in partnership with Microsoft.
Audiocodes' two main competitors Sonus Networks and Acme Packet are bringing Audiocodes into the focus of the key system players. Many corporations want second sources for their networks, but prior to Audiocodes' Mediant 4000, Acme Packet held court in many large enterprise deals with key system players as they had nowhere else to go. Audiocodes recently announced some customer wins for the Mediant 4000 and this could be proof that BroadSoft, Avaya and Alcatel-Lucent among others have been second sourcing from Audiocodes. Sonus was previously more of a SBC player to the Service provider (NASDAQ:SP) market and not to the enterprise market. However, Sonus recently acquired Network (NET) in order to jump start its enterprise market and be able to target MSFT Lync business. Many in the industry believe AUDC is a much stronger player than NET and only time will tell whether Sonus puts the necessary resources behind the NET division. For now, I believe this is an area where Audiocodes can broaden and deepen existing partnerships and forge potential new ones.
On April 4, 2011 Alcatel-Lucent and Audiocodes announced that they were collaborating on an E-SBC for mid-size enterprises. We believe that Alcatel-Lucent has finally cleared the way internally to start to aggressively market Audiocodes' E-SBC product line. We are looking for new wins, an expended partnership, or increased revenue from Alcatel-Lucent.
With an extensive product portfolio, 20 years' experience, and a long history of working with its partners, Audiocodes could be an attractive target to any of the following companies - Microsoft, Genesys, Avaya or Alcatel-Lucent. We have seen how Audiocodes could aid each company in their bidding process and any one of them snapping up Audiocodes makes sense. I believe that at today's price the company would be looking for $8.00 per share.
INVESTOR CATALYSTS
A new chairman could be named at the company's annual meeting on December 20. Israeli law now makes it illegal for one person to be both the CEO and the Chairman of a publicly traded company. Current CEO and Chairman Shabtai Adlersberg founded the company and by all accounts it's his baby. A new Chairman could signal which way Shabtai intends to lead the company; an industry veteran could mean that the company is digging in to become a networking powerhouse. A finance guy could mean that the company is open to selling itself or merging with a formidable partner.
Needham Conference Jan 15 - A strong outlook together with a well mapped out vision could be the catalyst needed to get funds to buy this value play. If the company confirms my sentiments that the migration to the cloud has reached a level where IT and CIO managers need a VoIP expert and that they are reaching out to Audiocodes then we can expect to see a boost in business for its UC business.
Earnings Call - Audiocodes should report earnings the first week of January, however the Needham Conference could push it back a week or two. A better-than-expected release could wake up the masses to this value play and growth stock.
Microsoft Lync Conference - Microsoft will host its annual LYNC 2013 conference on Feb 15-18 in San Diego. Not sure what announcements will come out of this, but I'll be looking for news on a renewed partnership, a few Lync deals closed by the two companies (Fortune 100) and (a long shot) news of a takeover of Audiocodes by Microsoft.
Mobile World Congress - Audiocodes has been working diligently on some OTT VoIP applications for enterprises wanting their employees' smartphones calls to be made via VoIP, rather than on the cellular network. This is the venue where the company could announce some new deals or new applications. This should be especially pleasing to investors as we could see a new growth driver with high margins (80%+) and large volume (~750 million enterprise smartphones). Audiocodes could release new mobile products to address the demand of BYOD to enterprises networks and the massive cost savings smartphone WiFi access saves corporations by utilizing VoIP on their devices.
Sell-side Coverage - We could see Needham initiate coverage in the near term since its analyst has been engaged on Audiocodes' recent earnings calls and since Audiocodes has been a participant at Needham's recent conferences. In addition, an Oppenheimer upgrade could be imminent. On the analyst's last note, he highlighted the meeting with management in early November and by all accounts, it sounded more like a buy rating than a hold rating.
Non-Deal Road show - There is the potential that Audiocodes will participate in a multiple city non-deal road show post solid results on its Q4 2012 earnings release.
FUNDAMENTALS
I'm updating my Q4 2012 and full-year 2013 estimates post my Q3 review article.
I now have Q42012 revenue at $33 million, which is $100k above consensus and above Oppenheimer's estimate and a profit of .02 cents.
I am raising my 2013 estimates to $139 million in revenue and EPS of $0.18 up from my previous estimate of $134 million in revenue and $0.14 in EPS. I believe this could prove conservative if the company delivers on some of the business catalysts.
I'm releasing a conservative 2014 estimate as this could come into play post Q4 2012 results.
2014 revenue estimate: $155 million
Shares Outstanding: 38.6 million
Market Capitalization: $108 million
Price to sales: 0.78 times 2013 estimate
: 0.70 times 2014 estimate
Cash on hand: $54 million
Cash from operations 2013: $6 -$8 million estimate
Book value: 2.48 per share
Short Interest: 184,000 (2nd-largest short position over the past 12 months)
VALUATION
Acme Packet and Sonus Networks are the most direct competitors to Audiocodes, but it is important to note that they also play a dominant role on the service provider side of the equation whereas AUDC is more focused on the enterprise side.
ACME PACKET(APKT-$20.40)

$310 million estimate for 2013 sales

Market Cap: $1.3 billion

EPS estimate for 2013: $0.60

Price to sales: 4

P/E: 35 times

Cash: $5 per share.

SONUS (SONS-$1.71)

$270 million estimate for 2013 sales

Market cap: $468 million

EPS estimate for 2013: $0.05

Price to sales: 1.8

P/E: 35

Cash: $1 per share.

AUDIOCODES (AUDC-$2.85)

$139 million estimate for 2012 sales

Market Cap: $108 million

EPS estimate for 2013 $0.18

Price to sales: 0.79

P/E: 18

Cash: $1 per share
In looking at the above table, I believe that Acme Packet deserves the highest multiple of the group, but unless it gets acquired or starts to ramp up its VoLTE sales to carriers, its multiple can be considered lofty as revenue and EPS growth hover around 18%-20% or half its growth rate. Acme Packet serves both service enterprises and service providers. This can be a double-edge sword as it could easily step on some of its customer toes, which could steer orders away from it and toward Audiocodes and Sonus Networks. In my opinion, a cautionary flag. Sonus is focused mostly on the service provider side and the company and holds a respectable 2x revenue multiple. However, I believe its enterprise business is not on a par to Audiocodes and the company is susceptible to losing some business to Audiocodes after its recent acquisition of NET. Acquisitions don't always integrate smoothly and Audiocodes is poised to pick up any deals that a combined Sonus/Net fails to deliver on. Audiocodes trades at discounted levels to the sector. A deserving place since its legacy business unexpectedly dried up, creating several quarters of poor results. However, as highlighted in numerous articles, the company proactively bought back 10% of the shares, has fully implemented its 10% cost reduction plan and recently provided quarterly results that proves its products and strategic game plan have begun to gain traction. As a result, I believe that Audiocodes should trade at 1.75 times its 2013 estimate or $6.00 per share. That multiple is still less than half of APKT's 4x multiple and equal to SONS' 1.75x multiple. I further believe that Audiocodes has more upside catalysts than negative catalysts versus its peers.
CHARTS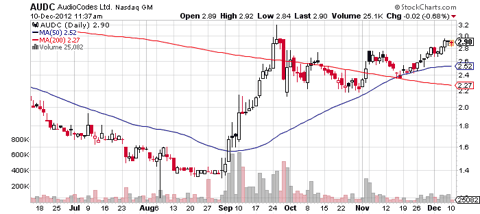 Looking at the daily chart we can see that after its run up in the month of September from $1.35 to $3.20, the stock has consolidated and moved sideways in a symmetrical triangle (coil) pattern. It has strong support in a rising 50-day moving average. It looks like the end of the pattern is nearing as we see the trading range dry up. I would look for a 300k- to 500k-share day above $2.80 to confirm the next move up that should take the stock to $6.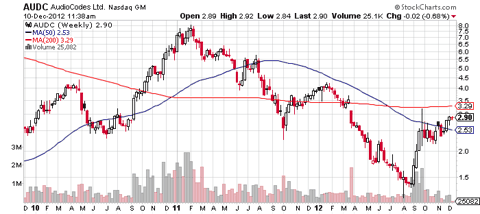 Looking at the weekly chart, the run up in September and subsequent sideways move broke the downtrend that had been in effect February 2011. The stock looks to be forming a flag here and a break out should see it break above its 200-day moving average on its way to $6. If any of the catalysts listed above are achieved then it could easily bring institutional funds into the name along with a subsequent increase in volume.
CONCLUSION
Management has the expertise to make Microsoft, Avaya, BroadSoft and Genesys a complete system integrator very much like Cisco Systems. The recent moves by Audiocodes' management to buy back stock and cut expenses tells me that management knows that these key players need it more than investors realize at this juncture. I truly believe that VoIP is a high priority to IT managers and enterprise CIOs as the cloud has formed over the past 2-3 years. The density of the cloud has now made these IT heads realize that it's now raining voice on their networks. I also believe the key system players I mentioned are now seeing their vulnerability as it pertains to voice and UC and that they are reaching out to Audiocodes to help them improve their close ratios on deals. Hopefully, in Audiocodes I'm bringing a name that for both new and old investors will be an Iron Dome investment for 2013.
As always, investors should do their own homework and due diligence before making any investment decisions.
Disclosure: I am long AUDC. I wrote this article myself, and it expresses my own opinions. I am not receiving compensation for it. I have no business relationship with any company whose stock is mentioned in this article.