On Friday, December 7, 2012, QR Energy LP (NYSE:QRE) announced that an additional 12 million units would be sold for $16.25 each. At this price, the MLP will yield a very attractive 12%. MLPs with yields this high almost always have special risks, and QRE is no exception. In this article I will point out these risks but show that they are worth taking.
I see three main risks with QRE:
QRE will be exposed to additional expenses next year,

There is a good chance QRE will have to do another secondary next year, and

There are special risks for MLPs because of tax reform
Additional Expenses
When QRE announced its 3rd-quarter 2012 results, it noted that a new method would be used to determine G&A expenses starting in the first quarter of 2013. Higher cash expenses will result and QRE estimated that it would be $8 - $9 million for first quarter 2013, and $29 - $32 million for the full year.
Currently, cash G&A expenses paid is limited to 3.5% of adjusted EBITDA. For the 3rd quarter of 2012, adjusted EBITDA was $52.2 million, so cash G&A charged was about $1.6 million. Thus, we can expect additional cash expenses in 1st quarter 2013 of about $7 million.
This increase is sizable, since Distributable Cash Flow (NYSE:DCF) for 3rd quarter 2012 is $22.1 million. The increased cash G&A expense will flow directly into DCF, so that if the new expensing method were used now, the DCF would be cut by almost a third. QRE is currently paying distributions of $0.4875 per unit, and it will be difficult for QRE to maintain this distribution rate with the current level of revenue.
Fortunately, QRE has just completed an acquisition of properties in East Texas, and it is in the process of purchasing more oil-producing properties from its sponsor (the Jay field). CEO Alan Simpson said on the 3rd-quarter conference call that the revenue from these acquisitions would be sufficient to get the distribution coverage ratio up to 120%, even with the new level of G&A expense (i.e., the higher level of revenue would make the DCF 120% of the amount paid as distributions even with the higher expenses). For comparison, the actual coverage ratio for the 3rd quarter of 2012 was 110%.
Additional Secondaries
Secondaries are part and parcel of the MLP business. MLPs grow by acquiring more property, and they normally get the funds to buy these properties by a combination of borrowing and issuing new units to the public. As I explained before, many of these secondaries can be very attractive opportunities. The units are usually offered at a discount, but the unit price returns to the old value relatively quickly (often in about a week). As is common, QRE used this method for the East Texas acquisition that was completed last week.
On November 1, QRE announced the $215 million transaction, which "was expected to be financed with cash on hand and borrowings under its bank credit facility." When the current secondary was announced on Friday, it was disclosed that up to $215 million was expected to be received. It is not uncommon for a purchase to be initially financed with borrowings, which are subsequently paid back using a secondary.
In this case, we know that QRE will need two acquisitions to pay for the increase in G&A expense described above. When the Jay field acquisition is closed, then it is possible that a secondary will be needed to pay for it as well. If this happens then the units purchased now will be diluted by that Jay field secondary.
Risks to MLPs from Tax Reform
MLPs enjoy special tax benefits that make most of the distributions tax deferred until sale. There is currently a lot of discussion about changing the tax code to eliminate many of the special tax breaks, and the price of MLPs units has suffered. This is shown by the experience of QRE and two of its peers, Breitburn Energy (BBEP) and Vanguard Natural Resources (NYSE:VNR):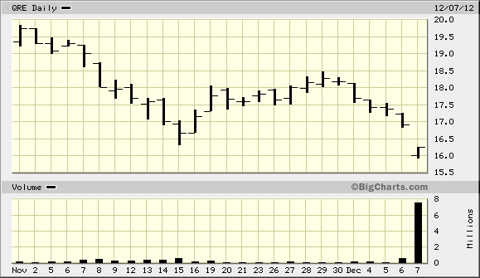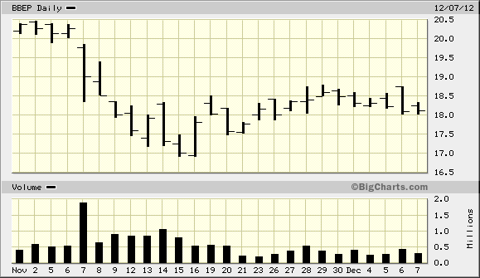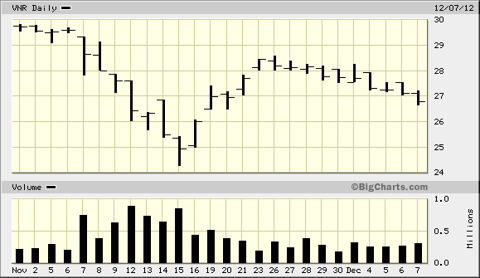 In all of these cases, there was a steep drop in November as the market became concerned about the effect of tax reform, and then there was a partial recovery, perhaps as cooler heads have prevailed.
Sad as it is to say, the wrangling over tax reform has only begun and it may be with us for months. I see three sources of uncertainty regarding MLPs during this period:
It is quite likely that dividend income, especially for people with taxable incomes of over $200,000 ($250,000 for married couples) will be taxed at higher rates in future years.

The special tax deferrals for MLP distributions may be eliminated in future years.

Oil and gas companies enjoy special tax breaks at the corporate level, and these breaks may be reduced or removed. If so, it will be harder to continue to generate the same level of distributions.
The first two of these concern individual tax returns. They are more likely to settled relatively quickly. I believe the last risk, related to corporate tax reform, may take longer to be settled and is less certain to be enacted.
Regardless, during this period of uncertainty there will a discount to MLP prices as shown above.
Risky but Worth It
I think that QRE's current 12% yield is more than sufficient to compensate for these risks. The market seems to agree with me, since over 7.5 million of the 12 million units QRE put up for sale traded hands on Friday, December 7. There are still plenty of shares left for Monday, but at this rate the entire 12 million lot may be gone quickly, perhaps as soon as another day or two. As I noted in an earlier article, both VNR and BBEP had secondaries in September of this year. Both secondaries were quickly absorbed by the market, and the unit price had returned to the pre-offering value within about a week. I believe that this QRE offering will be similar.
A good rule for investment advice is to "watch what they do, not what they say." In this case, I'm doing what I say. I bought some units on Friday at $15.93 and I intend to buy more units on Monday before the price rises significantly from the current level of $16.25 per unit.
Disclosure: I am long QRE, BBEP, VNR. I wrote this article myself, and it expresses my own opinions. I am not receiving compensation for it (other than from Seeking Alpha). I have no business relationship with any company whose stock is mentioned in this article.