Since ConocoPhillips (NYSE:COP) completed the spin-off of its refining and marketing (R&M), chemicals (CPChem) and midstream segments into a separate company quite rightly named Phillips 66 (NYSE:PSX), all eyes have seemingly been focused on the new company. And why not? PSX has been an absolute monster since becoming independent in May - its stock price is up around 50%.
In addition to the stock price appreciation, PSX has raised its dividend twice since the spin-off. The dividend is now up to $1.25/share annually from $0.80/share initially. As if that isn't enough, PSX announced a $1 billion share buyback program back in August and expanded that program by an additional $1 billion when it announced the latest dividend increase. Management is clearly following its promise to focus on shareholder returns.
But what about the mother-ship COP? Its stock price has been relatively flat since the spin-off in May.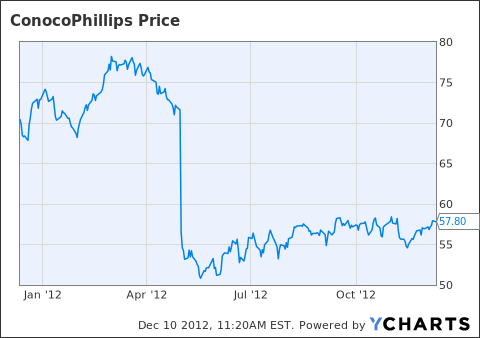 COP = $57.80
Mkt Cap = $70 billion
EPS ((ttm)) = $5.56
P/E ((ttm)) = 10.4
Div (Yield) = $2.64 (4.6%)
Some ConocoPhillips shareholders are frustrated by the lack of performance in COP shares. Should they sell their COP shares and plow the money into PSX? I think this would be unwise for a number of reasons.
First off, COP itself pays a sweet dividend of $2.64/share which currently works out to a 4.6% yield.
Secondly, if you held COP shares prior to the PSX spin-off, you have roughly 2x the investment in upstream as you do downstream. This is a good mix going forward and is, in total, more diversified. I would be concerned about selling COP while it is undervalued (in my opinion) and moving it into PSX after it has had such a nice run.
Third, and most important, I believe COP has been misunderstood and is currently quite undervalued by the market. Throughout its asset disposition plan, it's been tough to get a handle on production metrics. Production interruptions in Libya and China didn't help matters. Investors see headlines that production is down at COP, and it bothers them even though the declines have been due to asset dispositions and production interruptions largely out of the company's control. That said, asset sales have in large part been on the high-end of expected selling prices. Production in Libya and China is for them most part back online.
Going forward, the company has a low-risk production growth plan based predominately on:
Exploitation of existing plays rather than needing discoveries
Exploitation of low-risk (geographically and proven) oily assets
Expanding margins
COP can achieve this plan because it is the largest independent producer in North America and holds a massive asset base.
The slide below was taken from COP's recent presentation at the Jefferies Energy Conference in November. The entire presentation and webcast is available here.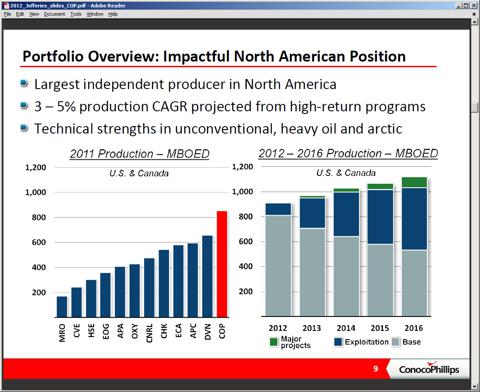 Note the growing component of future production due to "Exploitation" - the dark blue portions of the bar graph on the right side.
ConocoPhillips has a huge acreage position in North American unconventional assets. The company has 21 million net acres in the lower 48 and Canada. Current production and future organic growth will come primarily from the company's positions in the Permian, the Bakken and the Eagle Ford plays. Most of the acreage is in liquids rich plays and is summarized in the following slide.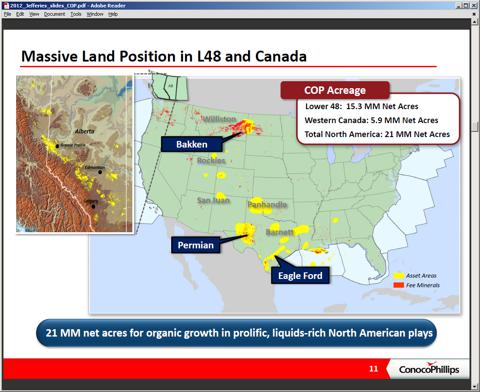 The Eagle Ford Play Is An Upside Catalyst For COP
Today I'd like to focus on the company's Eagle Ford position - a sometimes overlooked jewel of the company's asset base. While the Bakken shale gets much of the press these days, it is the Eagle Ford which is generally considered by industry experts to be the most economic shale play in the United States. The well economics are excellent, the quality of the crude is light and sweet, the geographic location (close to Gulf Coast refining capacity) is a plus, and equipment and labor are easily obtainable in south Texas.
COP was early into the Eagle Ford and has assembled arguably the best acreage position in the liquids rich section of the play at very cheap prices. Today, it has approximately 230,000 net acres located primarily in the "Condensate Fairway," which the industry recognizes as the best part of the play. The company's Eagle Ford position is summarized in the following slide.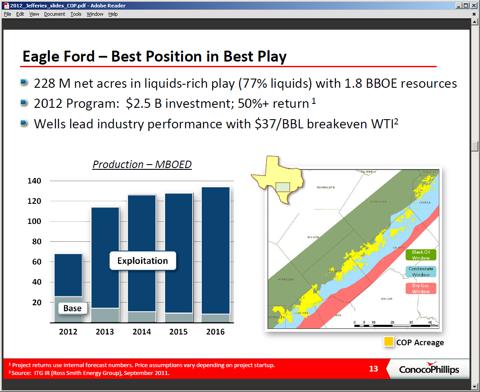 Note the break even bullet: $37/barrel. That's amazing.
During Q3, the company was running 14 rigs in the Eagle Ford and the average daily production was 76,000 BOE/day with 79% liquids. The peak production rate achieved in Q3 was 86,000 BOE/day.
On the Q3 conference call, management said they expect a peak rate of 100,000 BOE/day in Q4. The company is adding infrastructure to maximize light crude sales at the pipeline spec and to maximize its capture of NGLs. The company anticipates the entire Eagle Ford possession will be held by production by the mid 2013. That is important because it allows the company flexibility to find new technologies and to thoughtfully determine the most capital efficient way to exploit the play.
Technically, the company expects ultimate well spacing to be about 80 acres. Laterals are typically ~5,000 feet. Current 30-day IP rates are in the range of 1200+ BOE/day, which compares very well compared to the industry average. The company currently estimates about 1.8 billion BOE associated with this play. But it has several pilot tests going on and continue to work on technology and spacing. The company expects to see proved reserves in the Eagle Ford to increase.
Exploitation Budget
ConocoPhillips recently released its 2013 capital budget of $15.8 billion, which is expected to be relatively flat compared to its 2012 capital program.
Approximately 40 percent of the capital budget is allocated to the company's highly profitable exploitation programs. Approximately two-thirds of this slice will be spent in the Lower 48, primarily focused on liquids-rich unconventional reservoir drilling programs and infrastructure development in the Eagle Ford, Bakken, Barnett and Niobrara, as well as conventional and unconventional plays in the Permian Basin.
2013 Eagle Ford Production Growth
On the Q3 conference call, the company said it expected Eagle Ford peak production in Q4 to come in around 100,000 BOE/day. This is what really caught my eye. Looking at the slide above, the company estimates 2012 average production in the Eagle Ford to be somewhere shy of 70,000 BOE/day (far left bar on the bar chart). The 2013 bar shows average production will average somewhere north of 110,000 BOE/day. This is an increase in production of over 50% in the most economical play in the United States and is achieving, according to the company, returns of over 50%+.
Since Eagle Ford peak production was estimated to hit 100,000 BOE/day in Q4 of this year, I can only assume the majority of the average production estimate of 110,000 BOE/day will be reached early in 2013. Considering COP's margins in the Eagle Ford, this should be very bullish for COP's earnings going forward.
Eagle Ford Infrastructure
We've all heard about the trouble Bakken crude has had reaching end markets. A lack of pipeline infrastructure in North Dakota has producers turning to railroad transport. You can read my recent article on this topic here. A recent Bloomberg article, Permian Gushers Squeeze Texas Profits as Pipes Lag Output, shows transport infrastructure problems are also affecting Permian crude realized prices as well.
The Eagle Ford shale has the geographic advantage of being closer to Gulf Coast refiners and petrochemical companies (think NGLs). Phillips 66 recently announced an agreement with Kinder Morgan Energy Partners (NYSE:KMP) to transport Eagle Ford crude and condensate to Phillips 66's Sweeny Refinery in Brazoria County, Texas.
Under the agreement, KMP plans to build a 27-mile, 12-inch diameter lateral pipeline to extend its Kinder Morgan Crude Condensate (KMCC) pipeline. Kinder Morgan will provide Phillips 66 with a significant portion of the lateral pipeline's initial 30,000 barrels per day (bpd) of capacity, which is expandable to 100,000 bpd.

KMP will invest approximately $90 million in the project, which also involves adding associated receipt facilities by constructing a five-bay truck offloading facility and three new storage tanks with approximately 360,000 barrels of crude/condensate capacity at Kinder Morgan's DeWitt Station in DeWitt County, Texas, and Wharton Pump Station in Wharton County, Texas.
Note KMP's storage tanks and station in DeWitt County, TX are smack dab in the middle of COP's Eagle Ford acreage. Pipeline construction is scheduled to begin in Q4 2012 and to complete in early 2014.
Summary Opinion
There are many reasons to consider ConocoPhillips as an oil patch investment. The healthy dividend and low valuation are two. Another is its large position and very profitable exploitation of the Eagle Ford shale - arguably the best shale play in the United States today.
Disclosure: I am long COP, PSX. I wrote this article myself, and it expresses my own opinions. I am not receiving compensation for it (other than from Seeking Alpha). I have no business relationship with any company whose stock is mentioned in this article.
Additional disclosure: I am an engineer, not a CFA. The opinions expressed in my articles are my own. Please do your own research. I cannot be held responsible for investment decisions you make. Thanks for reading and good luck!