Wind the clock back a couple of years and you wouldn't think of the Brazilian stock market as a value play - if anything it was part of the emerging market super-growth bloc that promised permanent double digit returns. But is it time to review the situation? Does the Brazilian stock market present a compelling value opportunity or has the market simply priced in a new lower-growth higher-risk environment?
In this article we will review some of the recent economic data, the political situation, the economic outlook, and the market outlook. The key takeaway is that Brazil's share market does present a compelling value opportunity, and while some risks have increased, the growth outlook is positive, in fact we might be looking at a broad market GARP (Growth At a Reasonable Price) story.
The recent data: green shoots
The Brazilian economy briefly dipped into a minor recession in 2011 on the back of aggressive monetary policy tightening and slowing global demand for its key commodity exports. Since then growth has been somewhat sluggish with quarterly GDP growth averaging about 0.3% over the past year (compared with around 1-2% per quarter prior to the global financial crisis). So the question we'd be interested in for this article is will growth pick up to a more rapid pace ... and when? The chart below shows the HSBC/Markit manufacturing PMI for Brazil, which rose to 52.2 in November (50.2 in October). The key point is that the short-term trend is upwards, but it is still below the 55 point which is where you would expect the usual high Brazilian GDP growth. Nonetheless it is a promising sign, and a return to 55 would definitely be bullish.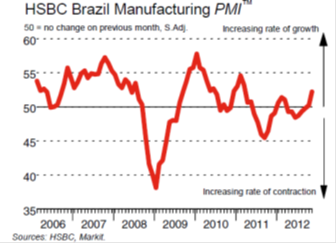 Brazilian politics: an "interesting" mix
Perhaps most troubling, and perhaps also then a key source of the re-pricing of risk in the Brazilian stock market is the mixed record of Brazil's first woman President, Dilma Rousseff. A former Marxist guerrilla, she is a staunch socialist and recently has let her true colors shine with a series of interventionist micro-meddling macroeconomic policy maneuvers. In spite of this she has recognized the need to address the "Brazil Cost" - a "combination of red tape, heavy taxes, expensive credit, creaking infrastructure and an overvalued currency." The plus side of course is that in order to be re-elected she will be focusing on full employment and growing real wages, and that should be a further positive for the rising Brazilian consumer story (as part of the wider growing emerging market middle class theme). On balance, like China, the political and regulatory situation in Brazil merits close and continuous monitoring.
Brazil's economic outlook: long term bullish, short term…?
In the longer term Brazil has several factors in its favor, to name a few: raw demographics, a growing middle class, urbanization, commodities and resource endowments. In the medium term it also has a couple of key events that will likely need to spur investment in infrastructure, e.g. the 2014 FIFA world cup and the 2016 Olympics. So the long-term themes should be favorable for Brazil's economy (barring any policy mistakes), in the immediate term conditions are ripe for a rebound in growth. The official interest rate has been slashed 525 basis points from the recent peak, while improving growth prospects in other emerging markets and stabilizing growth in developed markets should be supportive for external demand in 2013. But with interest rates at record low levels and the unemployment rate also at record low levels there is a risk of a pickup in inflation, which would require monetary policy tightening.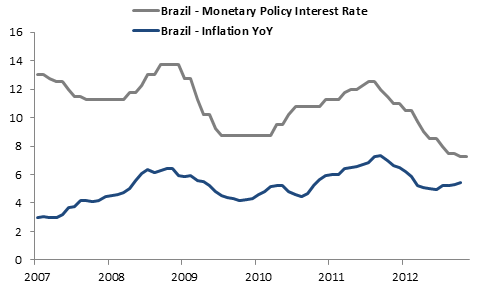 The market outlook: is it GARP?
In the early-to-mid part of the 2000's Brazil's stock market was one of the top performers, with the (NYSEARCA:EWZ) ETF rising around 4 times to a peak in 2008. At that time valuations reached historical highs and were far in excess of the historical average. Meanwhile the most recent valuation indicators (PE ratio and price to book) are near historical lows. Normally this would present an interesting value opportunity. What's more, on a relative basis, the Brazil ETF has lagged far behind the SPY S&P 500 ETF so far this year, and has also lagged about 20% behind the FXI China ETF. Add to that supportive monetary policy conditions and economic green shoots, it could well be that the Brazilian stock market is a GARP opportunity.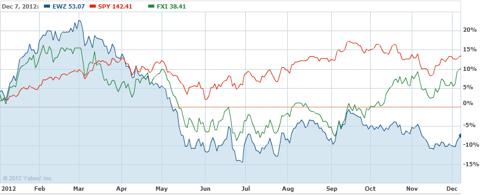 Strategy
Brazil looks like a relatively short-term (6-months) opportunity to get some broad market performance as the economy rebounds. But as the inflation outlook will likely spur monetary policy tightening late in 2013 the near-term market upside may be capped. So for the next 6-12 months owning broad market beta should be effective, e.g. through the EWZ ETF. EWZ also has a reasonably liquid options book with longer term (Jan 2014 and Jan 2015) expiries, so using appropriate timed options could be useful for leveraging exposure.
In the longer term EWZ, or broad market beta, is probably adequate for accessing the long-term growth themes in Brazil. But more targeted beta like the (NYSEARCA:BRAQ) Global X Brazil Consumer ETF should capitalize on the demographics and growing middle class story. Also using a small-cap exposure will down-weight the risk associated with government intervention in the larger companies and financials, e.g. (NYSEARCA:BRF) Market Vectors Brazil Small-Cap ETF.
Disclosure: I have no positions in any stocks mentioned, and no plans to initiate any positions within the next 72 hours. I wrote this article myself, and it expresses my own opinions. I am not receiving compensation for it (other than from Seeking Alpha). I have no business relationship with any company whose stock is mentioned in this article.