Most Seeking Alpha readers do not have the pleasure of going into work and having their city smell like Cheerios. While I currently reside in Buffalo, NY, General Mills (NYSE: GIS) produces some of its cereal right down the street from where I work. There are many days, especially on those warm summer mornings, which a Buffalonian can get the whiff of Cheerios. It's a cereal all Americans have had or grown to know.
Readers do know what GIS produces though, with products ranging from frozen pizza, cereals, ice cream, soups, frozen meals, baked goods, vegetable mixes and yogurt. Its brand names include Chex, Quaker Oats, Cheerios, Progresso, Nature Valley, Green Giant, Haagen-Dazs, Pillsbury, Yoplait, and Cereal Partners Worldwide. It has two joint-ventures, Haagen-Dazs Japan (HDJ) and Cereal Partners Worldwide (CPW). In 2012, CPW grew sales 4% and HDJ grew 11%. The combined sales growth for these JVs was 5% as CPW has a greater sales base and a heavier affect on income. It has these joint ventures and various alliances with two other major food producers: Nestle S.A (PINK: OTCPK:NSRGY) and J.M Smucker (NYSE: SJM). Nestle holds the exclusive right to use Haagen-Dazs' trademark in the US and Canada on ice cream and frozen desert products. SJM holds royalty-free license to use Pillsbury's brand and the Doughboy character himself, in dessert mixes in the United States, and in certain circumstances in Canada and Mexico (Source: 10-K). The joint-ventures are not important though to the overall bottom line and cash flow of GIS. In 2012, income from equity investments were only $88M compared to $2.4B in cash flow from operations. What drives this company are the operations they are in and the acquisitions that they have. GIS is a constant player in mergers and acquisitions in order to drive long-term shareholder value.
The company is everywhere and in a variety of food products that are most likely in every home. From an investment standpoint, GIS is one of the "safest" companies to invest in out there. When I was new to investing, it was one of my first purchases. I had the cereal growing up, my grandfather worked for them, and I felt like they were a part of my community. The safety of this investment is evidenced in its beta. S&P Capital IQ quotes its 5 year beta against the S&P 500 at 0.17. The average Food Manufacturer's beta is around 0.5, as this sub-sector is relatively risk-free compared to the equity market. People need to eat. Another way of looking at the riskless sense around GIS' stock is that it has a 5 year standard deviation of 4.29% and a 3 year standard deviation of 1.44%. Most investments are not this low. To put this into perspective, McCormick Inc. (NYSE: MKC), a favorite-of-mine and food manufacturer, has a 5 year standard deviation of 9.35%. This is more than double that of GIS. Unfortunately, what investors are gaining with this low risk, also translates into lower-return. However, that is the balance that investors or potential investors must take. Risk-management is a huge key to the success of money managers and they use GIS as a less risky investment and "backbone" to their equity portfolios. The reasons to own GIS: long-term shareholder value appreciation, a relatively risk-free equity investment, the 3% average dividend yield, and the consistent consumer demand for its products. The dividend yield over the last 5 years is shown below (Source: Capital IQ):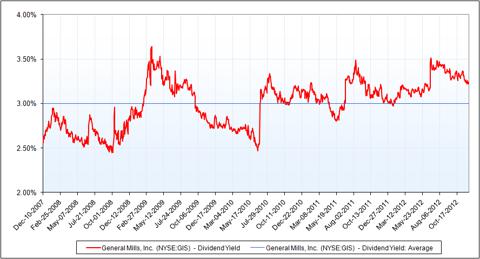 GIS' latest drive of long-term shareholder value is the Yoplait acquisition in 2011. Yoplait is one of the biggest names in yogurt. GIS is hoping to take this brand and make it into one of the biggest Greek yogurt plays, as Greek yogurt is the fastest growing segment due to the "health" perception with it and the strong dollar market share of Greek yogurt (Source: GIS Morgan Stanley Conference):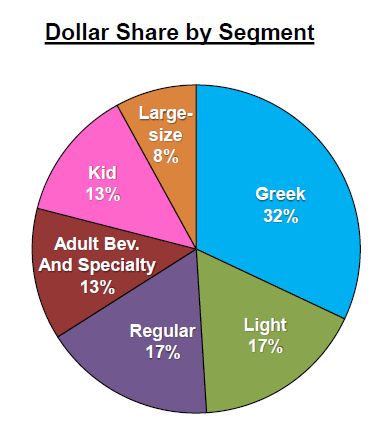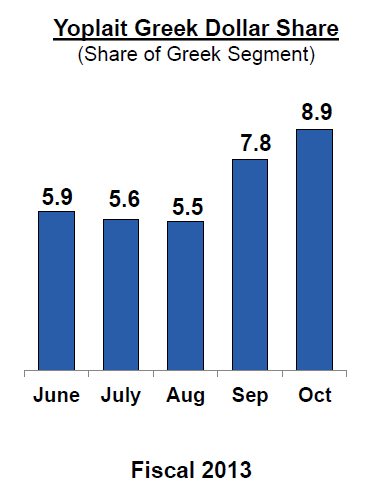 As shown, Yoplait is generating higher dollar share over the last few months in FY13. On top of those market shares, GIS is generating strong cereal market share as well (Source: GIS Investor's Annual Meeting):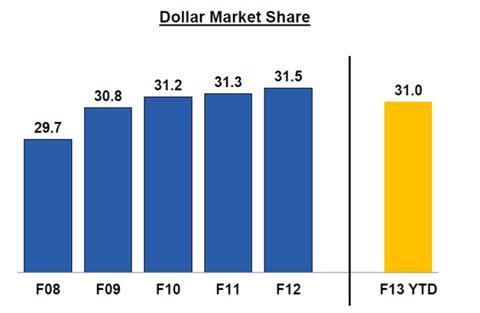 GIS competes with a number of companies in the cereal segment, including private labels, Kellogg (NYSE: K), and recently spun-off Post Holdings (NYSE: POST). It is a market leader in cereals. The danger right now with cereals is in developed markets with regulation relating to sugar and calorie intake. Consumers are becoming more health-conscious in these areas, which is why GIS has reduced sugar in its cereals, acquired Yoplait, and launched various new products like Chex Gluten-Free cereal.
Costs have been a big issue for GIS. COGS rose 370 bps between FY11 and FY12. This was a problem for all manufacturers in the food business, as the various weather patterns and thus lack of supply, increasing demand, and higher transportation costs drove costs higher. An investor in this sector should really be reading all of the earnings calls for food companies to get an idea on where food costs have been and where they are going. Most companies this year have seen lower food costs. The long-term average for GIS' COGS is 4-5% growth. The United Nations Food and Agricultural Organization showed on December 6, 2012, that food prices dipped 3% Y/Y and 1.5% M/M, with sugar, oils, and cereal leading the decline for November (a chart from the release is shown below). This is extremely good for a company like GIS that deals with all three of those items as major inputs. With the price of sugar rapidly decreasing since last year, GIS' margins should improve this year.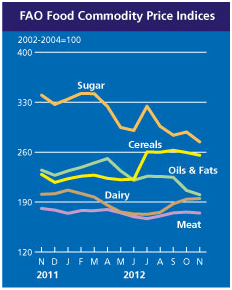 Valuation:
In my approach, I looked at GIS on a Bear, Base, and Bull case scenario. With it being a more mature company and lacking any catalyst, sales were grown 4%, 5%, and 6%, respectively. On its recent call, management highlighted that it expects mid-single digit net sales. COGS decreased for the Base and Bull scenarios, but remained at the elevated levels for the Bear case. The hardest part for me was really determining a required rate of return. By using the CAPM approach solely using GIS's beta, I would only get a required rate of 5.72%. This could be acceptable but given that even I like a higher rate of return than that and would want ~10% rate of return with this sort of investment, I adjusted the beta upwards to the Food Manufacturer's average. This led to a required rate of 7.24%, which if you add the dividend yield to it of ~3%, would mean an expected return of 10.24%. The following are the price targets based on my analysis and using the inputs above: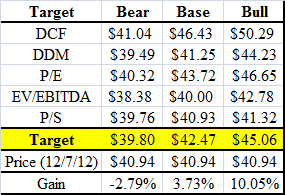 In other words, my target ranges from $40 to $45, with an expected price target of $42.50. If one were to invest in this company, they would have to believe the bull case scenario. The price targets in each column are very closely related, showing that GIS is fairly easy to figure out. The leading targets all came from a FCFF method. The CFO from this had a 5-year CAGR of 4%, 9% and 11%, respectively. In the recent earnings call, management said CFO had a 5-year CAGR of 7%. Thus, my assumptions could even be a little aggressive if GIS doesn't increase efficiency and especially reduce COGS. When looking at the Present Value of Growth Opportunities (PVGO) of GIS over the last few years, the growth is not yet factored into the stock price though: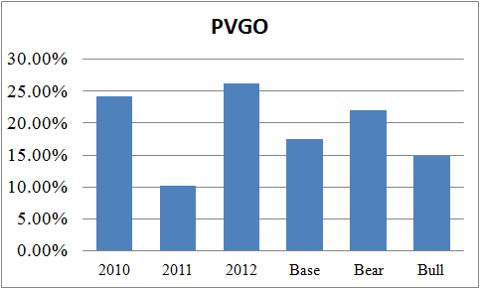 The conclusion from the PVGO chart is that the market is factoring in low growth, as the bear case is closest to the average of 20.2%. If the company can execute its growth strategies and continue to drive bottom-line growth, this stock could appreciate more than usual. However, my opinion as of now is to wait for the December 19, 2012 conference call to see some more recent results and get a "half-time" look at GIS before an investment. If it pulled back to $39-$39.50 before earnings, I would look to enter a long position as that would mean my base price target is above my required rate of return. Until then, I'm sticking to the sidelines and waiting for the earnings release.
Disclosure: I have no positions in any stocks mentioned, and no plans to initiate any positions within the next 72 hours. I wrote this article myself, and it expresses my own opinions. I am not receiving compensation for it (other than from Seeking Alpha). I have no business relationship with any company whose stock is mentioned in this article.