Intel (NASDAQ:INTC) has so far had a horrible Q4. Its stock has declined to about $19.25 before recently recovering above $20. Technically, Intel's chart is a mess. It has blown past many support levels. Even the 4% yield mark ($22.50), which has usually been a support level for many other stocks, was not able to stop Intel's decline. I believe that at the moment, Intel is way oversold. It is currently sitting with a 8.8 PE and 4.5% yield. Intel also generates massive cash flows and has recently raised $6 billion in debt. It is widely assumed that the purpose of this debt offering was to buy back stock. At the current price of $20.16, Intel will be able to purchase about 297 million shares. With a yearly dividend of $0.90, this could lead to saving of about $267 million in dividend payments. Considering that the debt Intel issued will pay about $111 million in interest, this debt offering should provide an increase to Intel's cash flow.
However, Intel hardly needs help with its cash flow. Intel has over the last 8 quarters generated an average of $4.92 billion in free cash flow per quarter. Last quarter's free cash flow was about $5.15 billion. As we can see, except for Q1 2009, Intel has been able to generate significant cash flows.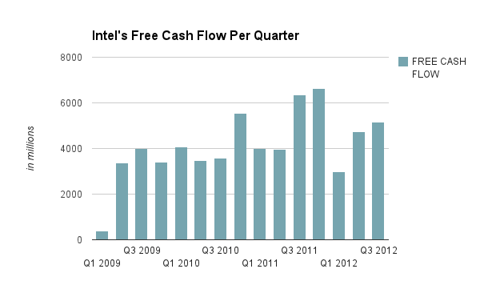 Intel has been growing its dividend since 2008. The current $0.225 per is a 76% increase from the level paid in 2008.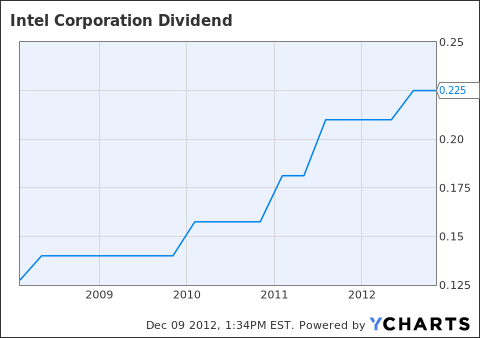 INTC Dividend data by YCharts
Excluding Q1 2009, dividend payments have averaged 24% of free cash flow since 2009. Using free cash flow to determine the dividend payout ratio is a more accurate reflection of a company's ability to pay its dividend. Earnings tend to fluctuate more due to non cash charges. Using FCF eliminates most of this noise. We can see that Intel is more than capable of paying its dividend. In fact, it can easily afford to raise it. Please remember that Intel also uses its FCF for other uses, such as share buybacks and capex.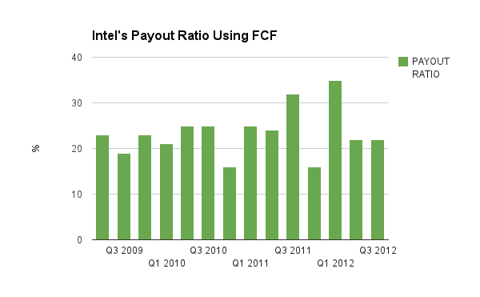 Speaking of buybacks, we can see how aggressively Intel has bought back stock since 2008. Shares outstanding have been reduced by nearly 15%, or by about 500 million shares.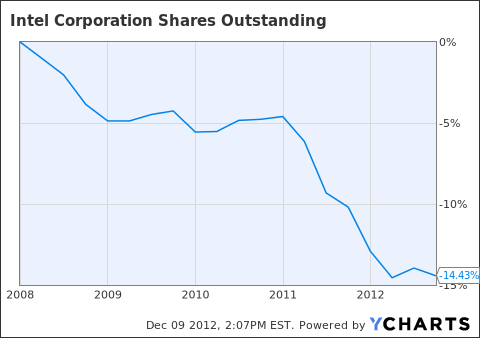 INTC Shares Outstanding data by YCharts
We can also see that Intel's revenue has grown substantially since 2009. Revenues have grown by about 60% since the lows of 2009. However, revenue for 2012 has lagged 2011 revenue. Assuming Intel's Q4 guidance is accurate, FY 2012 revenue is expected to be about $400-900 million less than FY 2011 revenue of $54 billion.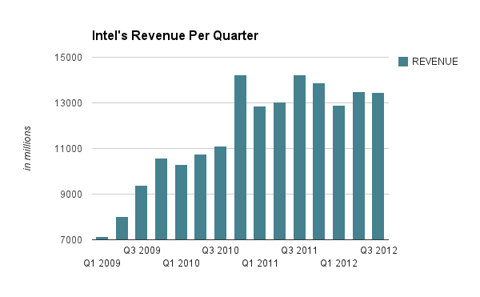 Gross margins for Intel have also grown since 2009. Gross margins have grown nearly 270% since the lows of Q1 2009. Gross margin last quarter was $8.5 billion. For the first 9 months of 2012, gross margins have been $25.2 billion, a slight increase from the $24.9 billion for the similar period of 2011. Intel has not provided guidance for gross margins for Q4, but it is widely expected to decline.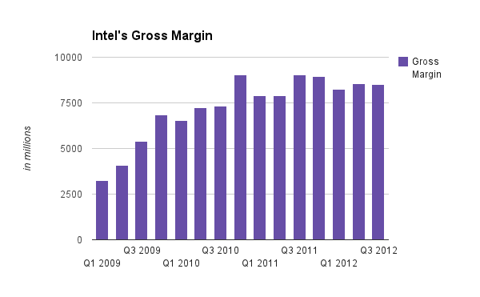 EPS for Intel have rapidly grown since 2009. However, it has declined since the highs of 2011. The average analysts estimate is that Intel will generate $0.45 of EPS for Q4 2012. Using this number we can estimate that Intel's FY 2012 EPS will decline about 14% from FY 2011 EPS.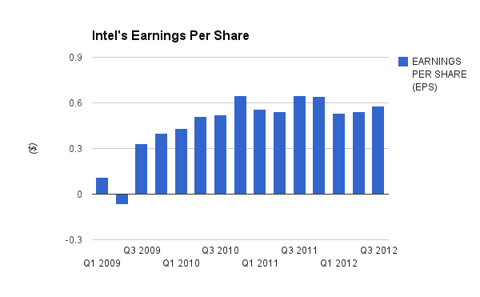 Intel currently has a much lower PE and higher dividend yield than other tech companies. For example: Microsoft (NASDAQ:MSFT) currently trades at a 14.3 PE and has a 3.5% yield, Hewlett-Packard (NYSE:HPQ) has negative earnings and a 3.8% yield, while Apple (NASDAQ:AAPL) has a 12 PE and a 2% yield.
| | | |
| --- | --- | --- |
| | Price to Earnings | Dividend Yield |
| Intel | 8.8 | 4.5 |
| Microsoft | 14.3 | 3.5 |
| Hewlett-Packard | ∞ | 3.8 |
| Apple | 12 | 2.0 |
I believe Intel at its current price of $20.16 is an excellent value. It provides an excellent 4.5% dividend yield, backed by strong cash flows. The expected $6 billion stock buyback program should also provide a floor for the share price. With the possible exception of Apple, nowhere else in tech is their a stock as cheap as Intel.
Disclosure: I am long INTC, AAPL. I wrote this article myself, and it expresses my own opinions. I am not receiving compensation for it (other than from Seeking Alpha). I have no business relationship with any company whose stock is mentioned in this article.