It's no news that Apple (NASDAQ:AAPL) is going through a rough patch right now. After reaching a high of $705 in late September, Apple has come down to $533. That is a drop of $172, or 24%, in a matter of months. This decline has given way to a rise in Apple hysteria, as bulls and bears both come out of the woodwork to prey on the other side. The only thing that's certain here is that fortunes have been made and lost in this decline.
What's next for Apple? Will it release a special dividend, like so many other companies are doing right now? Perhaps it will use the decreased share price to buy back some shares.
The real question to ask is what will Tim Cook do with the future of Apple. Apple has led the industry as an innovator, but is it time to take a backseat to Google (NASDAQ:GOOG), Samsung, Microsoft (NASDAQ:MSFT), and others? The market is becoming flooded with tablets and mobile devices from other makers. Google is catching up to Apple in the number of apps offered, and now Microsoft is joining the picture. Apple's future remains unknown as we eagerly await the next step.
The one thing we do know about Apple is its rise in volatility. Implied and realized volatility have risen to levels we normally see during earnings. According to the realized volatility, implied volatility has every reason to be at 40% right now. What it can't do is maintain these heightened levels, so we want to be a seller of volatility here.
Click to enlarge images.

The trade on my mind is an iron condor. This is a great short volatility play that has both limited risk and reward. The iron condor will allow us to create a "landing pad of safety" for Apple while we wait for volatility to come in.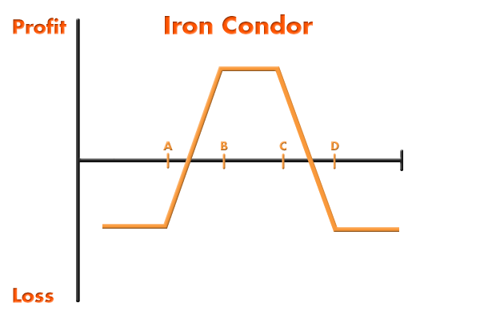 As a reminder, we used the iron condor on Apple during its earnings to create a home run trade. (You can see how we did it here.
The January options are a bit too close to expiration for an iron condor. We are going to look to the February options and focus in on the 10-15 delta range for the strikes.

The February 440/445/660/655 iron condor can be created for a $117 credit. This will generate a return of 30% on a $383 risk. The idea is to hold the iron condor while the theta is the biggest, so look to get rid of this in the first 30 days. That would give us an exit point around the January expiration (Jan. 18, 2012). There is a 80% chance of success that Apple will be trading between $445 and $660 by January expiration.
The way we have set up our strikes have given us a positive delta. We wanted the positive delta in case Apple begins to rally into the end of the year. The goal of this trade is to get at least 50% of our max credit. That means we will take the trade off when we reach $58. We will also only accept a loss of $58, so we are not risking more than the return. If need be, we are willing to adjust the trade by flattening out the deltas along the way.
We may not know which direction Tim Cook is going to take Apple or which direction the stock will go in, but we do know that volatility is mean reverting. This will allow us to make use of the iron condor and play the decrease in volatility. For a better entry, wait until volatility begins to decrease and then enter the trade. This will allow you to ride volatility down instead of taking it higher.
Disclosure: I have no positions in any stocks mentioned, but may initiate a short position in AAPL over the next 72 hours. I wrote this article myself, and it expresses my own opinions. I am not receiving compensation for it. I have no business relationship with any company whose stock is mentioned in this article.