Stocks To Trade:
Today, we are looking at an earnings trade in Visa (NYSE:V), longs in Salesforce.com (NYSE:CRM) and Facebook (NASDAQ:FB), and shorts in Coach (COH) and Yamana Gold (NYSE:AUY).
For an earnings trade, we are looking at Visa. The company will report earnings in late January for their Q4 of October-December, and we are expecting a strong report on the back of strong holiday sales. Statistics coming in are showing shopping trends are up around 13% for the holiday season versus 2011. Credit card companies are going to benefit from that type of buying strength, and we believe V looks strong headed into their earnings.
The company is expected to see over 10% growth in revenue and earnings year/year, which is very strong growth for a credit services company. On top of solid earnings expectations, the company has been performing wonderfully all year with over 40% growth. They are in a great upward channel that should continue to hold, and it has not been broken since it started to form in July. They have not broken their 50-day MA since then, which sits above 140. That level is where we would like to build a bull put spread.
Trade: V, Jan19, 140/135 Bull Put Spread
Max Gain: 12%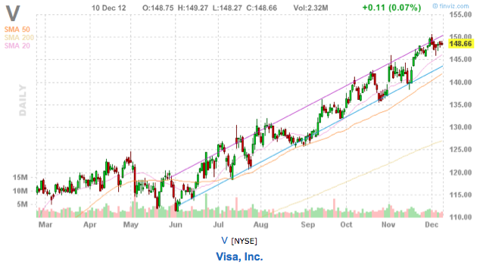 For longs, we like the looks of Salesforce.com and Facebook moving forward. CRM is looking near a potential breakout much higher at 160, and FB looks solid for a bull put spread moving forward. Despite its lofty valuations, CRM continues to push higher and is looking right now like it wants to break out/challenge the $160 line that has been tough resistance all year. The stock has only broken the level twice, and it failed to get traction above it. Yet, this time we believe it could be different for CRM. On the previous two tests, the stock had rallied 20% at least before meeting resistance there. On this test, CRM is moving from a much lower starting point.
Does it have the fundamental catalyst to break it? The company just reported very solid earnings in late November that has helped bring it to these levels. They reported strong earnings and revenue growth that beat the Street with revenue up 35% year/year. Earnings are still in the red, but they did beat expectations. With that catalyst behind it, the stock could definitely break the 160 resistance level. One catalyst that may help to push CRM over the edge is earnings from Oracle (NYSE:ORCL), which are due out next week. ORCL will give an update on how their cloud network is looking. If bullish, it does mean more competition for CRM, but investors may look for signs of strength in the industry from that report. CRM looks ready to explode, and you want to buy on a break of 160.
FB is also looking very solid in the technology arena after the stock took off on its last batch of earnings, which showed strong mobile ad revenue. The knock on the company had been that they did not have a developed mobile advertising business as the shift from desktop/PC internet use moved to mobile internet. The company seemed to answer that question, and we look for them to continue to remain very strong into earnings in January.
According to the report, the company generated $150M in mobile revenue during the quarter. That number was at nearly zero in Q1, so they are seeing a strong shift towards earnings there. With a strong push towards mobile ad revenue, we should see a lot of strength in FB that should not dissipate at least until their next earnings show something different. They have great support below them at $25 and $23 with the 20-day and 50-day MA, respectively. Therefore, we like using the 24/22 bull put spread for a company showing a lot of strength right now.
Equity Trade: CRM, Long
Breakout Point: Break of 160.00
Options Trade: FB, Jan19, 24/22 Bull Put Spread
Max Gain: 14%
For shorts, we like the looks of Coach and Yamana Gold. The reason we see more weakness is that COH has not been able to lift off due to concerns over European luxury spending as well as weaker Chinese markets. The company had a stronger than expected quarterly report in late October, but quickly saw those declines diminish as it tested $60, which continues to be very strong resistance. Right now, we just are not seeing a catalyst for COH. While retail sales have been strong, without knowing the individual companies that have done well, we can only play things like credit card services, Amazon.com (NASDAQ:AMZN), and PayPal-owner eBay (NASDAQ:EBAY).
Coach has not been showing much strength as of late as it has been flat between 55-60 for some time, testing resistance at $60, dropping back down to around $55. It's been a slinky between those two levels. Monday, the stock pushed down towards the $55 level with the 50-day MA holding up as support. A break of that line would signal a short for us. That 50-day MA is the key line, and if it fails, we should see a retest of $55. AUY is also looking quite weak as of late, and we like them for a bear call spread. The company recently broke a key support line at $18, and they have strong resistance above them at 19 where the 20-day and 50-day MA sit.
Weakness in AUY has been caused by weakness in gold prices. SPDR Gold (NYSEARCA:GLD) has dropped 4% in the past two months, showing underlying weakness in the gold commodity. That weakness has been caused by the fiscal cliff. A deal on the cliff means less spending by the government and likely tax increases. Neither is good for gold as less spending means a stronger dollar, which is not good for gold prices. Tax increases could cause individuals to liquidate commodities and expensive stocks that are tying up cash. AUY has not broken $21 all year, and we like using the 19/21 bear call spread for Jan19.
Stock Trade: COH, Short
Breakout point: Break of 50-Day MA
Options Trade: AUY, Jan19, 19/21 Bear Call Spread
Max Gain: 15%
Tuesday's Outlook:
The market gets a healthy slate of data Tuesday to complement the fiscal cliff situation. Thus far, the market has been pretty resilient despite potential weakness from the fiscal cliff. Tuesday, the market will get a look at imports/exports with the Trade Balance. The figure is key to understanding the GDP as exports affect the GDP strongly. The balance is expected to have dropped from -$41.5B to -$43B. A beat of that number could help the market continue from its strong Monday.
Additionally, the market will be looking for some developments around the fiscal cliff. Nothing is planned for Tuesday, but the market will be attracted to any headline developments out of either political camp or anything in DC. The market is still not starting to panic with the cliff nearing, but the politicians still have some time to get a deal done. Another large move to the upside in the face of the cliff seems unlikely, but we will have to see how the trade balance comes out Tuesday morning.
Chart courtesy of finviz.com.
Disclosure: I have no positions in any stocks mentioned, and no plans to initiate any positions within the next 72 hours.
Business relationship disclosure: The Oxen Group is a team of analysts. This article was written by David Ristau, one of our writers. We did not receive compensation for this article (other than from Seeking Alpha), and we have no business relationship with any company whose stock is mentioned in this article.