Well, it's just two weeks away from the big day, and my five kids are all getting very excited. Funny thing is that toys never last a full year and the ones that do are often "out of style" or not considered "cool." With many of my kids now getting older, I think it's time that I start investing for the long term and maybe stuffing the stockings with some brick and mortar.
Ha! Wouldn't that be funny. No, I mean real estate securities, more commonly referred to as REITs. Perhaps this year Santa may fill up the stockings with something that lasts forever - or have the words "buy and hold" gone the way of the dinosaur?
Wouldn't it be great for my kids to own something longer than a few days? Or better yet, wouldn't it be exciting to own things that increase in value and also produce income? Is that what a "sleep well at night" investment is all about? One true test to determine if something is worth owning "forever" is to ask this question:
If the market closed tomorrow, would you still own it?
The answer to that question is best answered in the words of the Oracle from Omaha:
Our favorite holding period is forever.
REITs: Invest for the Long Haul
Legendary economist and famed investor Ben Graham once said,
A long-term investor is the only type of investor there is. Someone who can't hold on to stocks for more than a few months at a time is doomed to end up not as a victor but as a victim.
A long-term perspective changes everything. And so should investing. In other words, it is extremely important to consider the long-term implications of REIT investing and position your portfolio on the premise that "if the market did close for years," the companies would continue paying solid and growing dividends - in good times and bad.
Dividend Predictability
The concept of dividend investing for REIT investors is rooted in the same "cake and icing" blueprint that Chuck Carnevale wrote about in a previous Seeking Alpha article; however, the two elements (dividends and capital growth) are reversed for REITs making dividends the "cake" and capital appreciation the "icing." Furthermore, REITs help to balance the conventional common stock portfolio by reducing volatility and by providing a natural hedge against inflation.
REIT dividend yields have historically been a good deal higher than the average yield of the S&P 500 Index. Conversely, dividends make a big difference for long-term retirement savings and they can be reinvested to generate future returns, while in later years they can provide a steady income stream to help meet expenses in retirement. This concept is best explained by Matthew R. Werner, CFA, with Chilton Capital Management:
Two-thirds of the total return of REITs has historically come from the dividend and the primary focus of a REIT should be to manage around the dividend. The ability to maintain and grow the dividend without having to cut it gives investors the comfort to assign the stock premium valuations.
During the credit crisis of 2008-2009, the capital markets closed to most US companies, including REITs. Without the ability to access capital amidst declining rents, many REITs had to cut their dividends to enhance financial flexibility. Remarkably, 14 increased dividends and several maintained them.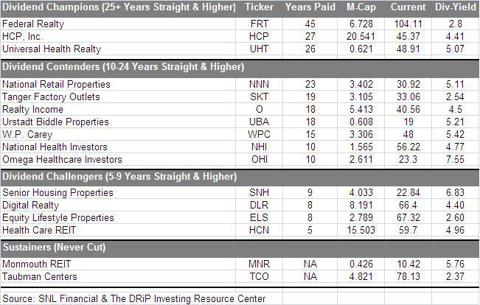 So, while the average dividend yield of these extraordinary REITs may appear to be modest (at or below the NAREIT average of 3.42%) - a skeptic may rather invest in a REIT with a higher dividend yield. However, investors should recognize that the dividend yield has two components: security of the current dividend and expected dividend growth.
Increasingly, defensive investors have gravitated to the "shares of important companies with a long record of profitable operations and in strong financial condition (Graham)" and the "life time" REITs could be defined by the "Intelligent Investor" as he wrote:
One of the most persuasive rests of high-quality is an uninterrupted record of dividend payments going back over many years. We think that a record of continuous dividend payments for the last 20 years or more is an important plus factor in the company's quality rating.
The Power of Compounding
One of my favorite motivational books is called The Compound Effect, by Darren Hardy. As the Success Magazine publisher wrote:
The Compound Effect is the principle of reaping rewards from a series of small, smart choices. What they don't realize is that these small, seemingly insignificant steps completed consistently over time will create a radical difference.
It is clear to see why Albert Einstein believed that "the most powerful force in the universe is compounding" and that "secret" - also considered a law - has to do with turning smaller amounts of money into serious wealth. Unlike "get-rich-quick" schemes or trying to find that one home-run stock investment, compound interest is classified as a law because it will always work, given enough time.
OK. So let's check out the "law of compounding" with one of my favorite REIT stocks, Realty Income (NYSE:O). As most know, I have been a big believer of the shares when they were trading at $20 and I am a continued believer in the shares today (closed at $40.56). I summed up my feelings on "the monthly dividend company" in a recent article (The Are The Voyages of the Starship REIT):
It's evident that the market pricing does not include an adequate appreciation of risks until things go wrong... Then all it appreciates is risk. The market seems remarkably sanguine about risk right now. Spreads between the cap rates on investment grade vs. non-investment grade tenants are quite tight given the economic risks of a double dip, low interest rates, the deficit, fiscal cliff etc. Wouldn't you rather buy risk protection today at the expense of a few basis points of additional yield?

Realty Income - Planet O - is a stalwart REIT that deserves attention in any retirement portfolio and, regardless of Mr. Market's feelings today or tomorrow, I see value in the company's durability and repeatability - especially its dividend. For I speak the language of the dividend investor and Realty Income's remarkable record - based on decades of consistency is what separates "the best from the rest.
Now, I am sure this article will be no different than many of the rest in that I will hear from the "doubting Thomas's" who believe Realty Income should be purchased at $30 or so. Who wouldn't? But the point that I'm trying to make is that this is a security being purchased for the value of its dividend safety - a hold forever REIT - in which the dividends (paid monthly) simply accumulate over a considerable period of time.
To make my point, let's assume Santa drops $2,000 of Realty Income stock into all five of my kids' stockings - for a total of $10,000. Utilizing the laws of compounding, the combined balance in my children's account in 20 years will be $25,679.13. That is assuming that the dividend yield of 4.5% stays constant and dividends are reinvested (see DRIP here).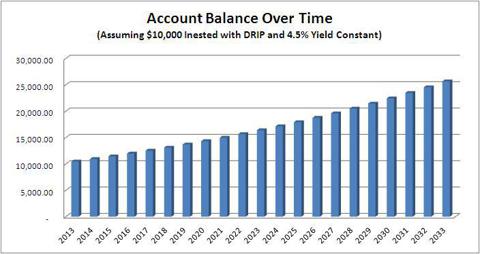 Now, what's very important is to examine the history of Realty Income. As noted above, the company has paid and increased dividends for over 18 years and has NEVER cut a dividend. One must recognize the basic truth about how history has shaped "the monthly dividend company" as explained by the great historian Carl Becker:
The past is a kind of screen upon which we project our vision of the future.
When picking stocks, a track record speaks volumes and investors should always consider the historical relevance of a company - especially the dividend fundamentals that are critically anchored to the composition of total return. With regards to Realty Income, the total dividends paid over the above referenced 20 year period would be $15,679.13. That represents a 156.8% return on the original equity investment (of $10,000). Annualized, the compounded average return over the 20 year period would be 7.84%.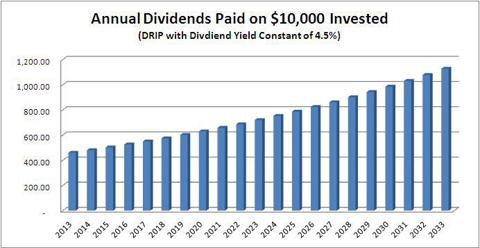 Prior to writing this article today, I was able to obtain an email from Tom Lewis, CEO of Realty Income. Here is his statement regarding his company's monthly dividend model:
We pay a monthly dividend for a variety of reasons. First, our long term leases make our business and revenue stream very predictable which makes us comfortable knowing we will have the cash to pay a dividend out every month. Second, we are dedicated to paying retired investors a dividend they can use to pay their living expenses in retirement. They receive most of their bills monthly, so we thought it would be more convenient for them to receive their dividends monthly. Third, for shareholders that reinvest their dividends, a monthly dividend compounds at a rate faster than a quarterly or annual dividend. So, for 43 years we have been paying dividends monthly and the shareholders seem to very much appreciate it.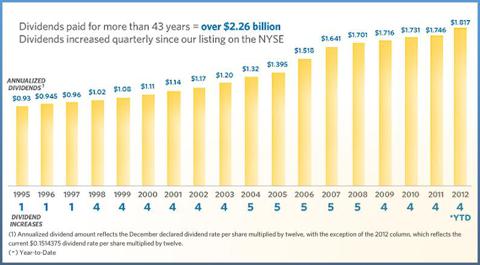 All I Want for Christmas Are a Few Good REITs
Fellow Seeking Alpha writer David Fish (see DRiP Investing Resource Center) was kind enough to provide me with a list of REITs with DRIP programs. Note: The data is subject to change without notice.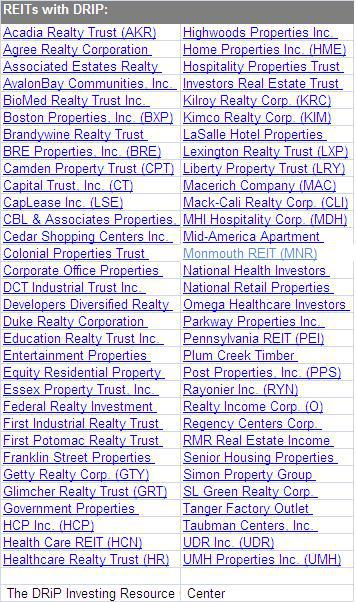 Dear Santa:
No more toys. No more clothes. No more candy.
All I Want For Christmas Are a Few Good REITs.
P.S. Santa. Don't Forget the "Monthly Dividend Machine."
REITs mentioned in this article include (NYSE:FRT), (NYSE:HCP), (NYSE:UHT), (NYSE:NHI), (NYSE:NNN), (NYSE:OHI), (NYSE:SKT), (NYSE:UBA), (NYSE:WPC), (NYSE:DLR), (NYSE:ELS), (HCN), (NYSE:SNH), (NYSE:MNR), and (NYSE:TCO).
Disclosure: I have no positions in any stocks mentioned, and no plans to initiate any positions within the next 72 hours. I wrote this article myself, and it expresses my own opinions. I am not receiving compensation for it (other than from Seeking Alpha). I have no business relationship with any company whose stock is mentioned in this article.