With less than a month to go in 2012, below we provide an update on the best and worst performing stocks year to date. Through the close on 12/10, the average stock in the Russell 3000 was up 15.6% YTD. Health Care stocks have been the clear winners in the Russell 3000 so far this year. Stocks in the Health Care sector have averaged a gain of 25%! Consumer Discretionary has been the other big winner with an average gain of 21.7%. While they don't have average gains of 20%+, Consumer Staples, Financials, and Materials have all posted above average gains. On the downside, with an average year to date decline of 1.7%, stocks in the Energy sector have been 2012's big losers.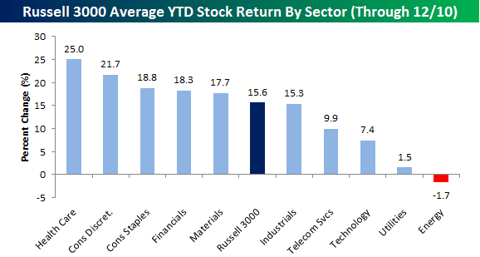 One reason for the strong average return of stocks in the Health Care sector is that some small cap Health Care stocks have been the biggest winners. The table below lists the thirty best performing individual stocks so far this year. BioDelivery Systems (NASDAQ:BDSI) is the best performing stock of the year with a gain of 451.5%. Second on the list is Arena Pharmaceuticals (NASDAQ:ARNA) with a gain of 367.4%. Outside of these two stocks, there are another ten stocks from the Health Care sector on the list of the top thirty. Other notable names on the list of big winners outside of the Health Care sector are homebuilders Hovnanian (NYSE:HOV) and PulteGroup (NYSE:PHM), as well as Lumber Liquidators (NYSE:LL) and 3D Systems (NYSE:DDD).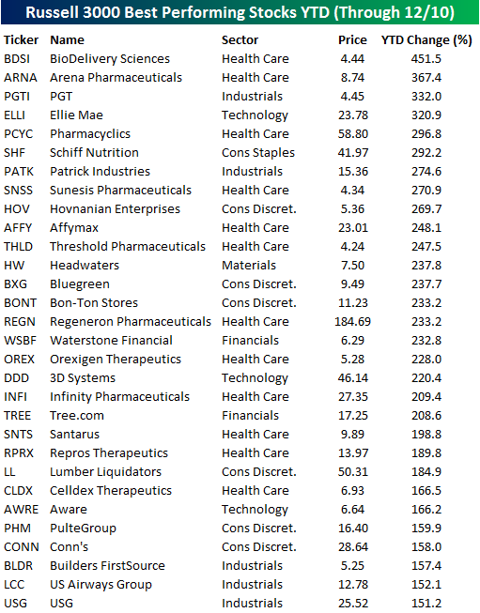 Below we list the worst performing Russell 3000 stocks so far this year. This year's biggest loser is KIT Digital (OTC:KITD), which is down more than 90% on the year. Outside of KITD, there are seven other stocks on the list that have lost more than 75% of their value in 2012. One of those big losers is Groupon (NASDAQ:GRPN), which is down 79.4%. It is hard to find another stock besides GRPN that saw a faster reversal from hot internet startup to also-ran. On second thought, maybe Zynga (NASDAQ:ZNGA), which is down 74.2% so far this year, also fits the bill.