The past month has been hard on the shareholders of Express Scripts (NASDAQ:ESRX). After management popped the bubble of analysts' earnings estimates by forecasting the continuation of the "current weak business climate," the shares have tumbled 20% from their recent all-time high of $66.06 to settle around $52.00. Rather than being scared off by this fall from grace, I am reminded of the admonition in The Warren Buffett Way that "price declines are a welcome way to add more shares to your portfolio" and to quote Buffett again, I see Express Scripts as a classic example of stock in which "growth and value... are joined at the hip."
Business Overview
Founded in 1986, Express Scripts has grown through internal growth as well as a series of mergers and acquisitions, the most recent being its acquisition of Medco, to become an integrated pharmacy benefit management service covering prescription benefits for one in every three Americans. Express Scripts delivers prescription drugs through contracted and non-contracted networks to patients, physicians, medical providers, and clinics.
Currently, more than 95% of all retail pharmacies in the United States participate in one or more of Express Scripts' networks. An incredibly efficient drug distribution chain allows Express Scripts to manage costs exceptionally well. Furthermore, Express Scripts' massive purchasing volume allows it to purchase drugs at a significant discount. Also, the products themselves, generic prescription drugs, are an inelastic good; something that consumers will not give up no matter how bad the economy is. Lastly, due to their generic nature, the product faces little competition outside of price. Combined, these factors present Express Scripts as an incredibly well-managed company poised to grow over the next years as demand for affordable prescription medications continues to grow.
Fundamentals
As of April 2nd, 2012 Express Scripts' merger with Medco was finalized resulting in a significant effect on their financial statements. Due to the merger, Express Scripts has realized synergies throughout the two corporations, greater use of generic and low-cost brands (an increase in the generic fill rate from 74% to 78%), and lower product costs through renegotiation of supplier contracts.
For the third quarter, year over year PGM revenues have increased 132% from $11,235 million to $26,156 million. Approximately 97% of this revenue increase came from the acquisition of Medco. At the same time, the costs of PBM revenues have increased 131% from $10,410 million to $24,124 million, leading to 0.4% increase in gross margins from 7.3% to 7.7%. Gross profit has increased by 146% from $824 million to $2,032 million.
An increase of 442.6% in SG&A costs from $221.5 million to $1,201.9 million has led to a decrease in operating margins from 5.4% to 3.2%. However, $787.2 million, or 80.2%, of this increase was due to the acquisition of Medco. Furthermore, $621.8 million of depreciation and amortization, primarily of intangibles, was recorded in the third quarter as compared to only $61.3 million being recorded during the third quarter of 2011. As redundancies are eliminated and greater synergies are realized between the two corporations, the SG&A costs should begin to decrease as a percentage of revenues and operating margins should return to a level slightly below pre-merger levels. All in all, net income has increased from $324.7 million to $391.4 million.
While net income increased, due to a dilution in shares as a result of the merger, income per share decreased 28.4% year over year from $0.67 to $0.48. Due to the primary driver of costs for Express Scripts' third quarter being SG&A expenses and the primary driver of SG&A expenses being amortization of intangible assets and transaction costs incurred with the merger, management has proposed that an analysis of EBITDA may be more valuable in evaluating the company. EBITDA has increased 113% from $666.4 million to $1,420.3 million. Due to the merger the basic share count has increased to 812.9 million from 487.2 million, an increase of 66.8%. Even with this increase in share count, EBITDA per share has still increased from $1.37 to $1.75, an increase of nearly 28%.
Taking a longer term view, Express Scripts has on average grown its earnings per share by 25% for the past five years - nearly tripling earnings from 2007 to the expected 2012 earnings. I predict that Express Scripts will continue delivering strong performance as well as growth for the next five years and that at the current price Express Scripts' long term value creation and growth potential is substantially discounted.
Valuation
Excluding nonrecurring losses due to the Medco merger, Express Scripts is expecting earnings per share of $3.60 for FY '12 giving it a P/E ratio of 15. For the past ten years, Express Scripts' P/E ratio has bounced between 15 and 30: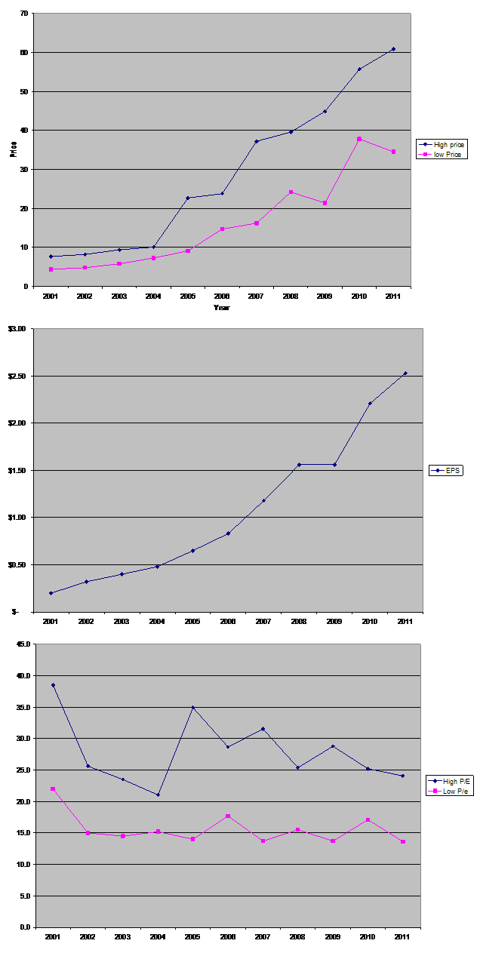 For the next five years Express Scripts is expected to grow at an aggressive clip. Analysts predict earnings in the six dollar range for FY '16 and the current P/E of fifteen makes it a bargain. A reversion to the mean in terms of P/E means that the recent price drop in shares has presented an excellent entry point.
Furthermore, over the past ten years Express Scripts has generated an average return on equity of 40%. With the acquisition of Medco this return is expected to drop to around 12-13% for FY '12. However, at the same time, the equity of the company has increased more than fivefold due to the acquisition. Furthermore, as more operational synergies are realized, I expect the return on equity to rise to 15% - a conservative estimate considering its previous levels. Using a discounted cash flow analysis assuming a return on equity rate rising to 15% over the next ten years, a discount rate of 5% and no dividends paid out, the discounted value of Express Scripts future earnings comes out to be $70.13. This means Express Scripts is trading at a 23% discount to value. And, just to highlight consistency, EPS in 2016 under this valuation comes out just above six dollars as well.
Conclusion
Over the past ten years, Express Scripts has delivered strong year after year growth in revenues, earnings, and book value. This growth is likely to continue over the next five to ten years as it continues to provide a generic, necessary product at the lowest cost in an industry with high barriers to entry. Weak results for the third quarter due to the completion of the merger with Medco have sent the stock to an absurdly low level. Over the next few years as Medco is fully integrated into Express Scripts this stock is poised to offer above average growth potential.
Disclosure: I am long ESRX. I became long ESRX after its price drop in the spirit of putting my money where my mouth is and do not plan on selling this stock for the next year. I wrote this article myself, and it expresses my own opinions. I am not receiving compensation for it (other than from Seeking Alpha). I have no business relationship with any company whose stock is mentioned in this article.