The market knows that Honeywell's (NYSE:HON) management started talking much more optimistically about the company's M&A prospects in September. Over the past few years, HON has demonstrated an ability to bolster its performance through acquisitions. Therefore, it was not a complete surprise for investors when the company announced its deal to buy Intermec (NYSE:IN) for $10/share (roughly $600 million). Intermec is an automatic identification and data capture vendor. The transaction will make IN a part of HON's automation and control solutions business. The fact that IN got scooped up was not a surprise to the market, as IN announced on Nov. 1 that it had hired Bank of America Merrill Lynch to help it in exploring strategic alternatives.
HON has already spent $1.1 billion on acquisitions in the fourth quarter. However, given the bullish words from the company's CEO in September, it seems as if many acquisitions are still to come for this manufacturer of flight controls and thermostats.
This deal is expected to temper the next year's profit. The transaction is expected to trim HON's consensus profit by 3-4 cents a share to an EPS of $4.75-$4.95 in 2013. The deal will have a dilutive impact on HON's income in the next year because IN is currently generating an operating loss. IN disclosed this fact in its Q3 earnings release this year. However, management believes that the deal is expected to pay off for investors in 2014. This will be possible due to certain factors:
Synergies. This will help HON to save the fixed costs. Synergies can be estimated by the fact that IN has been purchased at a price of 10 times its EBITDA (TTM). Based on the expected synergies, the transaction values IN at five times EBITDA (therefore, the synergies are expected to be approximately $60 million).
Diversification. This acquisition will enhance HON's scale in the rugged mobile computing segment and help it to gain incremental sales in AIDC. It should not be forgotten that IN serves several regions across the globe.
The following chart (taken from HON's investors' presentation) shows IN's targeted regions and products:
Click to enlarge images.

(ACS = automation and control solutions)
Through synergies and diversification, the deal will also help the company to achieve its 2014 targets: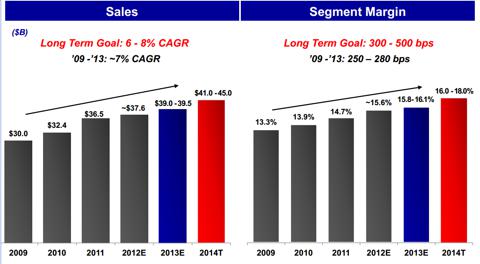 Source: Investors' presentation.
HON's stock is currently trading at a forward multiple of 12 times. Currently, the biggest drag on the company's profitability is its European operations. It is facing a recession in Europe. The company's CEO claimed in the Q3 earnings release that the company is also facing a lower demand for the short-cycle products in China.
Valuations and Conclusion
HON is a diversified industrial company with four business units: aerospace; automation and control solutions; performance materials and technologies; and transportation systems. This acquisition will help the company to boost the performance of its automation and control solutions segment.
The company expects the sales to grow by 5% to $39.5 billion in the next year. It is also expecting a 50-80 bps boost to the operating margins in 2013. While the FCF is expected to be flat at $3.7 billion, no pension contribution is expected for 2013 (vs. $1 billion in 2012), which will increase the company's flexibility for M&A and repurchases.
The company's long-cycle businesses (35% of sales) are expected to see a growth of +3%-4% in 2013. The short-cycle businesses are expected to grow by 1%-3% in 2013 (this segment generates almost 40% of sales). Following table shows the company's expectations regarding different segments: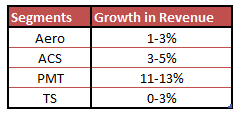 The emerging region sales are expected to grow by 7%-9%. However, the sales in the developed regions are expected to grow by only 0%-2%.
Stifel Nicolaus has set a target price of $72 for this stock, which means an upside of 16%. Currently, the main hindrance in the execution of the deal seems to be the ongoing inquiry by Levi & Korsinsky LLP. Levi & Korsinsky is investigating into a possible breach of fiduciary duty by IN. IN's stock is up by 40% in the last seven months. The company also announced both a $17.7 million improvement in the adjusted operating profit and an increase of $21 million in revenues. Levi & Korsinsky believes that the transaction fails to take into account IN's growth potential and stock evaluation.
It is important to note that HON's stock price dipped after the announcement for acquisition as the company announced that the deal will dilute the company's profits for 2013. However, this means that the expected growth after acquiring IN has not been priced into HON shares. The dip has provided the investors an ideal entry point in the stock. I recommend the stock as a buy.
Disclosure: I have no positions in any stocks mentioned, and no plans to initiate any positions within the next 72 hours. I wrote this article myself, and it expresses my own opinions. I am not receiving compensation for it (other than from Seeking Alpha). I have no business relationship with any company whose stock is mentioned in this article.