2013, could be the year of the Mortgage REIT
Although it may sound like a very bold prediction, Mortgage REITs have the ability to demonstrate some of the best gains shareholders have seen in a while. If it wasn't for the Federal Reserve enacting its third round of quantitative easing (and spending $40 billion a month purchasing residential mortgages), investors may have seen 2012's first-half returns carry over into the second half of the year. Instead, most of this year's early returns have evaporated, and unless something drastic happens, things will most likely remain fairly dismal.
Reviewing YTD Returns for FY2012 (Thus Far)
The last 12 months haven't really been all that bad. Yes many of the Mortgage REITs have reduced dividends and revenue has been hindered by such things as prepayments and the purchasing behavior of the Fed, but if we break things down, my 2013 prediction may not look so far-fetched.
On one hand, Agency-based Mortgage REITs had demonstrated some of the best returns during the first half of this year. Companies such as American Capital Agency (NASDAQ:AGNC), Annaly Capital (NYSE:NLY), ARMOUR Residential REIT (NYSE:ARR), Hatteras Financial Corp (NYSE:HTS), and Capstead Mortgage (NYSE:CMO) returned an average of 8.17%, with the only laggard being ARR, which demonstrated a negative return of 0.42%.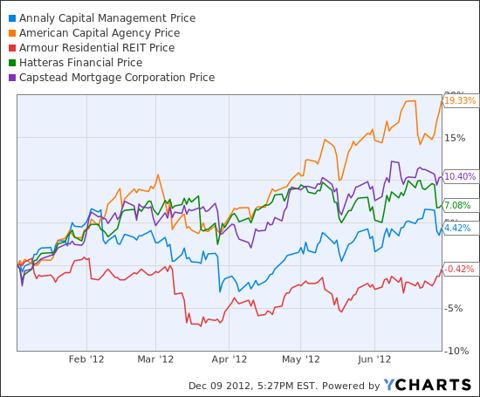 NLY data by YCharts
On the other hand, Mortgage REITs have fallen significantly in the second half of the year due to mounting concerns surrounding a decrease in spreads, a sharp rise in the number of prepayments and the upcoming fiscal cliff. As the number of risks outweighs the potential rewards investors have become a bit antsy and as a result things haven't been so hot as of late.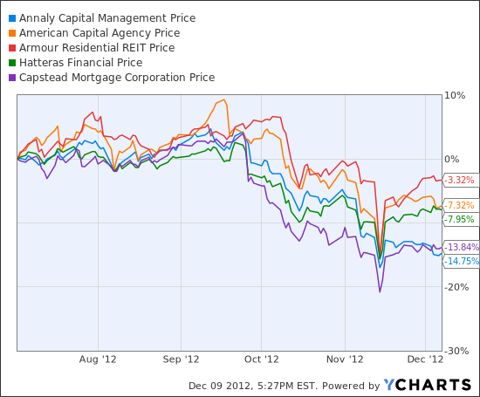 NLY data by YCharts
Mortgage REITs could appear considerably more attractive and may experience substantial growth during the first half of 2013. Why? Unlike some of the more well-known high-yielding dividend stocks such as Verizon (NYSE:VZ) and General Electric (NYSE:GE), Mortgage REITs actually offer investors somewhat of a tax-shelter against the upcoming dividend tax increases that will come to fruition as a result of the Fiscal Cliff.
Current Taxation Designation
According to a recent article by Doug Ehrman, "Under the current tax law, dividends are taxed at a flat 15% rate, giving this type of income a tax-advantaged status over wage income. As things stand, dividends will be treated as ordinary income for the 2013 tax year, meaning that, at the highest tax bracket, the tax on dividends will rise from 15% to 39.6%. The plan also calls for an income tax hike that will raise this top rate from 35%. The hike will be smaller for those folks not in the top tax bracket, but in all cases it is significant".
The dividend payments that are made out by most Mortgage REITs to their shareholders are generally taxed to the investor as ordinary income. This classification remains true unless the dividend distributions are considered to be "qualified dividends," which are then classified and taxed as capital gains. Otherwise, the dividend will be taxed at the investor's top marginal tax rate. One of the good things about this is the fact that a portion of the dividends paid by REITs may constitute a nontaxable return of capital, which not only reduces the investor's taxable income in the year the dividend is received, but also defers taxes on that portion on the investment until it is sold at a later date.
Several Positives to Consider
When it comes to some of the bigger Mortgage REITs such as Annaly Capital, Hatteras and American Capital Agency, near-term acquisitions could be on the horizon. Although it was announced that Annaly has plans to acquire the remaining shares of Crexus (NYSE:CXS) in an effort to diversify its holdings portfolio, American Capital and Hatteras may not be too far behind.
As a result of the continued pressure the Federal Reserve is placing on the Mortgage REIT sector (by acting as a pseudo-mREIT and buying up $40 billion worth of mortgages a month) many of these firms may need to implement strategic countermeasures. One possible countermeasure could be the acquisition of a smaller, non-agency firm such a Chimera Investment (NYSE:CIM) or Newcastle Investment (NCT). Though no official plans to acquire either have been announced, both would offer off-setting assets to many of the agency-based Mortgage REITs.
In the case of such Mortgage REITs as Armour Residential, investors have already voted on and approved a strategy that allows the firm to diversify through the purchase of non-agency MBS.
According to my fellow contributor, Smart Equity, "ARR invests primarily in hybrid ARM and fixed rate residential mortgage backed securities that are guaranteed by any government-sponsored Agency. Looking at the current situation where the Fed is committed to purchase Agency MBS, the shareholders of Armour Residential approved and amended the company's charter to include non-Agency in the MBS portfolio. This flexibility will allow the management to drive the company smoothly through the current challenging environment".
Lastly and most importantly, Capstead Mortgage recently announced its plans to initiate a $100 million dollar share buyback plan, which could benefit investors quite nicely. According to SA Contributor Hawk Invest, "The company's Board of Directors seem to think the stock is undervalued and it has authorized the repurchase of up to $100 million of its outstanding common shares. Since the market capitalization is about $1.2 billion, a $100 million buyback is significant as it represents around 8% of the market cap".
The buyback isn't the only value proposition to consider; shares are currently trading in-line with their 50-DMA, at a 10% discount to their 200-DMA, and at a 14.04% discount to their current book value per share of $13.89. If we consider all three of those numbers and then account for the company's current yield of 11.90% ($1.44), potential investors have quite the value and income play at their fingertips.
Final Analysis
Although the next 12 months could end up being quite positive for such names as Annaly, American Capital, Armour, Hatteras, and Capstead, I still think investors need to be a cautious before establishing a position.
Diversification, whether through investment or acquisition, is going to play a vital role for most of agency-based Mortgage REITs and may in fact be the best countermeasure against the Fed.
Lastly, and in terms of the very attractive double-digit yields that the agency-based Mortgage REITs offer, I'd keep a watchful eye on the pressure the yield curve may face over the next 12 months. If pressure eases dividends may in fact rise, and if pressure continues to mount and U.S. Treasuries sustain levels that are at or near all-time lows, I'd avoid putting all my eggs in one basket.
Disclosure: I am long AGNC, HTS, CMO, ARR. I wrote this article myself, and it expresses my own opinions. I am not receiving compensation for it (other than from Seeking Alpha). I have no business relationship with any company whose stock is mentioned in this article.