For a stock that is priced for a number of years in the future, one has to realize why should you stay or go in to Altisource Portfolio Solutions (NASDAQ:ASPS) at this price.
The company is valued at $2.41bn based on Monday's close of $103. By fundamental metrics, that means a P/E of around 25, a P/S at over 4, and a P/B at over 10. Impressive numbers one must say, this was done possibly thanks to a number of reasons which I highlight below.
First of all, ASPS has head offices based in Luxembourg, which happens to be a low tax jurisdiction with ASPS's effective tax rate being less than 10%. The Luxembourg office is an office of convenience, because if you look at the job postings on the company's website, out of 182 job openings, only four are Luxembourg posts. Let's also compare ASPS to its parent - which is a spin off of Ocwen Financial Corp (NYSE:OCN). Altisource was a spin-off of Ocwen and it is now valued at more than half of its parent, and is owned by the same insiders.
If one takes a closer look at Ocwen's financials and Altisource's financials (read their 10-Q here), one will note that both make business together, meaning OCN's expense can be ASPS's income. They shift revenues to the lower taxed company to gain a tax advantage. They can go around not disclosing this, because the shareholders of ASPS are not OCN, but the OCN insiders are related parties. Most of the top executives of ASPS mostly hail from OCN.
Similarly, from a technical point of view, ASPS and OCN tend to move together, meaning if OCN goes up, so will ASPS. This can be confirmed by the recent earnings announcements whereby ASPS missed, so OCN missed later. Both stocks sagged later.
If one takes a closer look at the balance sheet of Altisource, one can find that the company has net value of $231m, of which over $73m is made up of intangibles/goodwill assets, meaning the company is really a small company, because it is overvalued in its books. One must question what these intangibles are. The company has a very low float, and trades very little, and thus if insiders start selling, it will falter very quickly - as much as it rose in the past few months.
The recent blow-off top of just below $130 makes the current price attractive to buy, but in fact is the best price for the insiders to unload. In fact recently the same CEO of both OCN and ASPS dumped over $10m from both stocks at around current levels.
With the price being artificially supported at around the $100 mark, the insiders are trying to get a new deal done quickly close to the year's end to make the stocks more liquid. The idea is to work on an innovative 'stock split' whereby the shares of the common stock will be distributed as a dividend into another 2 companies. The reason is obvious, the insider will find it easier to sell a $25-30 stock and he can sell it in much larger quantities and remain unnoticed (since the new commons will initially trade in more voluminous amounts).
There will be a short-term euphoria on the new stock, whereby funds will buy the new stock, thus generating sufficient short-term demand for the insiders to unload. It is very difficult to sell a $100 stock with an average volume of 200,000 and any regular pattern of insider sales based on the current setup would propel the share price in a vacuum. Everyone knows, and it can be clearly seen in the chart attached, that this company is both fundamentally and technically overvalued.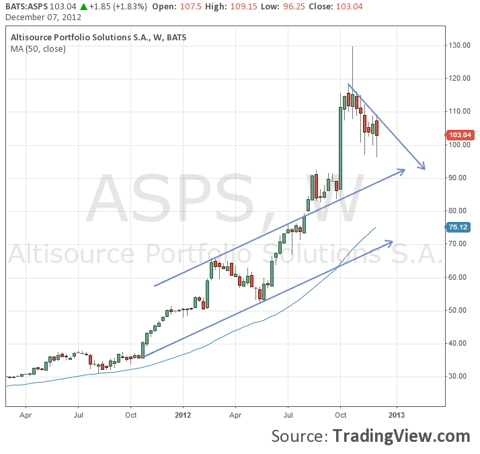 There is no real technical support until the mid-$70s, and there is a technical gap to be filled which makes the trade now very dangerous. Yet the stock can be easily manipulated as volume is small, so it can be very easy for the insiders to re-load the stock up to at least keep the price hovering around $100 until they finalize their new "IPOs".
The conclusion from this article is simply to make present investors aware of the real situation of Altisource's insider scheme. ASPS is a brilliant company but it does not deserve this rich valuation, the fact that its revenues can be "managed" by its parent. Coupled with the insider scheme to cash out at the top as explained above makes it an unwise investment in the long-term.
Traders, hedge fund managers and investors - look out below.
Disclosure: I am short ASPS. I wrote this article myself, and it expresses my own opinions. I am not receiving compensation for it (other than from Seeking Alpha). I have no business relationship with any company whose stock is mentioned in this article.