Apple (NASDAQ:AAPL) shares are in a funk. It seems the whole world (except for many of the analysts covering it) has turned on the company and the shares. I wrote about this a few weeks ago on Nov. 16. That turned out to be quite a day for Apple as the shares opened at $525, plummeting to a low of just above $505 before rebounding to close at $527. Quite a long trip to nowhere.
Since that article, the shares have continued their roller coaster ride, soaring to over $594, or more than 11%, on Dec. 3 before crashing back to $518 on Dec. 6. A loss of almost 15% in less than four trading days. Mercy.
Apple Three-Month Price Chart
Click to enlarge images.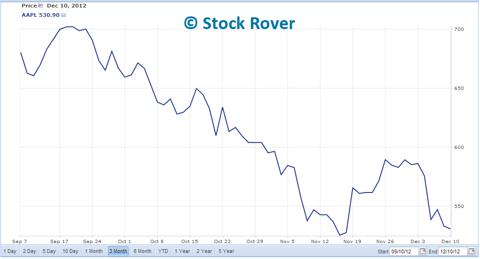 On the news side, not much has changed except for one more item added to the short-term pile of woes I enumerated on Nov. 16. It was a story regarding increased AAPL margin requirements from 30% to 60% by COR Clearing, an independent securities clearing house. There may be others following suit. In addition to that, many people think there may have been a rotation out of Apple by a number of investors playing the special dividend game, a game that Apple (thus far) has refused to play.
So How Do You Play This Without Getting Killed?
You might like the company long term, but are afraid to get in because you fear that within three hours you may lose 5% of your capital. That's a valid and rational fear. So what to do? There is an alternate approach that will:
Pay you for taking the "E-ticket" volatility ride
Potentially allow you to achieve a better entry point
Or at least get paid trying
Beat the tax man
The approach to consider is the use of options. Specifically, selling puts to establish your position. If you sell puts and they expire, you get paid. If they get assigned, you get a much better entry point. And if you use a strike date this year (specifically Dec. 28) and the puts expire, you will collect the premium at the more favorable 2012 tax rates.
As I write this, AAPL is at $529.82. If, for example, you sell $525 Dec. 28 puts, you will get paid $16.22 per share. Once you have sold the puts, one of two things will happen:
You will own the shares at an entry point of $513.60, over 3% below the current market price; or
You will get paid $16.22 per share on Dec. 28, which works out to an annualized return in the neighborhood of 70%. That is getting paid for the "E-ticket" volatility ride part.
For those of you who fear an endless descent for Apple, the one-year chart does provide a little more comfort than the three-month chart displayed previously.
Apple One-Year Price Chart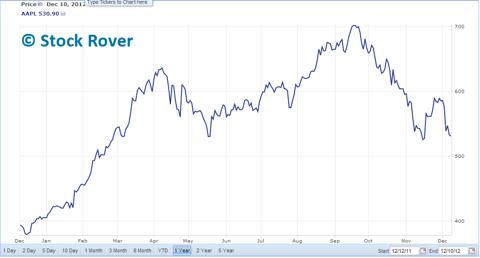 Conclusion
If you believe Apple is a good long-term investment, that many of the issues facing Apple are short term in nature and will subside in 2013, then consider selling puts as a good way to establish a lower-cost position. At the very least, you will get paid for trying.
Disclosure: I am long AAPL. I wrote this article myself, and it expresses my own opinions. I am not receiving compensation for it (other than from Seeking Alpha). I have no business relationship with any company whose stock is mentioned in this article.