All year there have been rumors that Netflix (NASDAQ:NFLX) will get bought out. I personally think that the probability of this happening is very low, especially at the current inflated price. Carl Icahn, who reportedly has a 10% stake in the company, is betting on another company stepping in and buying Netflix, which could be a possibility, at least it would not be the first time a company overpaid for an acquisition. However, I believe that any company that does a reasonable amount of analysis on Netflix would learn that it is essentially buying subscribers that can leave at any time as well as a bundle of overvalued licensing agreements. Another reason why I believe that an acquisition is unlikely is because of Netflix's horrible and deteriorating financial situation. The ballooning off-balance sheet obligations are something most investors have ignored. I believe that Netflix will go bankrupt within a few short years at the rate things are going. There are two main reasons why I hold this belief: the company has an enormous amount of liabilities, which are increasing every quarter, and deteriorating free cash flow. In this article I will examine both of these factors.
The first thing I want to focus on is the company's balance sheet.
Assets as of September 30, 2012

At the end of September 2012, the company had approximately $798 million in cash and short-term investments (21% of total assets). Most of its other assets consist of the streaming content library (72% of total assets).
Liabilities as of September 30, 2012

As can be seen from the liabilities section of the balance sheet, the company has $400 million in long-term debt. However, it is not this debt that investors should be worried about, it is the company's other obligations, which are much larger than most realize. In order to fully understand how dire the situation has become, we must look at the off-balance sheet obligations along with the on-balance sheet obligations.
Here is a snapshot of the company's current off-balance sheet obligations:

The $5 billion in commitments is the amount Netflix will have to pay for content over the next several years. According to management, the reason these enormous obligations are kept off the balance sheet is because "the content is not yet available for streaming to subscribers." To me that is not a good reason to hide liabilities in the footnotes, and it can trick a lot of investors by making it seem like the company is in better financial health than it actually is.
We are not done yet. The company has one more hidden liability which needs to be brought back to the balance sheet, and that liability is the company's non-cancelable operating lease obligations. Most investors realize that operating leases are actual debt and they need to be capitalized. I use Moody's (NYSE:MCO) simplified method of capitalizing operating leases. Basically you take the current year rent expense and multiply it by "8" (the accepted wall-street multiplier when it comes to capitalizing operating leases). According to the company's most recent 10-K, it expects rent expense to be approximately $21.77 million in 2012. Using a multiple of "8" this gives us capital lease obligations of approximately $174.18 million. Using this method will usually give a higher total obligation than what the company reports in its filings; however, it is justified since companies are notorious for underreporting their future operating lease obligations.
Here is the updated liabilities section of the balance sheet (includes all of the hidden liabilities):
Adjusted Balance Sheet Liabilities as of September 30, 2012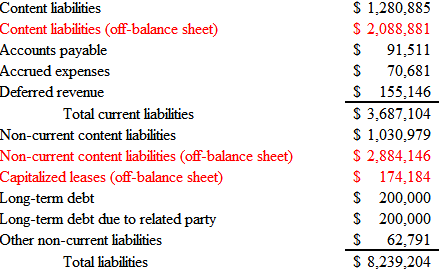 Excluding deferred revenue, which is not a true liability; the company has $3.5 billion in current liabilities (money Netflix owes within a year). Plus, there is another $4.6 billion in long-term liabilities, which will almost certainly increase every quarter as the company takes on more debt. However, in this article I will mainly focus on the company's short-term obligations.
The truth is that Netflix simply does not have enough cash on hand to cover its current obligations. Even worse, there is evidence that the company's cash flow has started to deteriorate, as can be seen from the table below.
Free Cash Flow Analysis

During the last twelve months, Netflix has barely been able to generate $18 million in free cash flow. This is bad news for a company that needs to spend billions of dollars annually to buy content. But, in order to be conservative, I will use the five-year average free cash flow, which is around $98 million.
To summarize, as of September 30, 2012, Netflix had $798 million in cash. The company averages around $98 million in free cash flow annually and only generated $18 million in free cash flow during the last twelve months. That was the good news. The bad news is that Netflix owes $3.5 billion within a year. Now, I am no math genius, but to me that seems like a huge shortfall. The only way Netflix can continue as a going concern is to take on more even debt, which will only make the stock an even riskier investment. Netflix must also spend billions of dollars annually buying and creating new content in order to stay competitive.
The bottom line is that Netflix is in real trouble. The company is nowhere close to being able to pay back it debts due within one year, let alone the billions due after one year. Additionally, this analysis assumes that management has not added more debt to the off-balance sheet numbers in Q4, which it certainly has considering the new deal with Disney (NYSE:DIS).
I strongly urge current shareholders to be rational and examine Netflix's financials. The company simply cannot grow fast enough in order to pay off its liabilities; it will be forced to take on a massive amount of debt. I also believe that the current international expansion will only hurt Netflix over the long run since it will be a drag on its earnings.
I fully expect the price of Netflix to keep falling, and I will soon take a short position. At the rate things are going now, I expect the company to go bankrupt in less than five years.
Disclosure: I have no positions in any stocks mentioned, but may initiate a short position in NFLX over the next 72 hours. I wrote this article myself, and it expresses my own opinions. I am not receiving compensation for it (other than from Seeking Alpha). I have no business relationship with any company whose stock is mentioned in this article.