Before I dive into the details of the recent successes of Pfizer (NYSE:PFE) and the risks it faces, here is a roundup of the stock's performance: PFE is up ~17% YTD, has yielded a one year return of 28.72% and presently provides a dividend yield of 3.5%. This performance has come at a time when Pfizer is quickly losing revenues subsequent to falling off the patent cliff. Bulls continue to see huge potential in Pfizer's pipeline while others point out the pharmaceutical's inability to produce new drugs and a series of litigation haunting it.
I intend to present a case in which Pfizer does indeed have promising drugs in its pipeline to boast, but numerous risks may limit their peak performance. I believe the stock is attractive given the dividend yield and the probable dividend increases in the future. A 3.5% dividend yield may not seem very high at the moment, but I believe that Pfizer has both the ability and willingness to boost its distributions (which I will explain later in the article). I therefore hold a favorable view on the stock.
Snapshot of the Pipeline
In the diagram below, we see that a total of 78 drugs are in the pipeline.

Quantity is not a surety of success but at least Pfizer's strategy targets the right areas. The drugs in the pipeline are diversified but a large portion of Pfizer's resources is focused on the area of Oncology. A report by IMS titled "Global Use of Medicines: Outlook through 2016" notes that by 2016, global spending on medicines in the therapy class of oncologics could reach $88bn. The report also notes that oncologics will see the highest level of spending amongst all other therapy classes.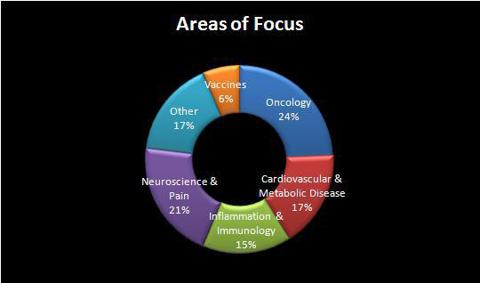 I will now move towards the updates on the pipeline and then in the end will discuss some of the risks to offer a more balanced view.
PD-991
On December 5th, 2012 Pfizer reported promising data of its Phase-II study of its experimental breast cancer drug PD-991. During the study, the drug was administered to patients in combination with Novartis' AG (NYSE:NVS) drug Femara. The outcome was a remarkable slowdown in the progression of breast cancer, the most common cancer in women after lung cancer. Details show that progression of the tumor was slowed for a median of 26.1 months in contrast to 7.5 months in patients who only received Femara.
The patients in the trial had gone through menopause and were diagnosed with hormone receptor positive breast cancer lacking the protein HER2. Pfizer will push the drug into its Phase-III in the post-menopausal women in the next year and it is researching on the drug's applicability in other cancer types. The street projects a potential multi-billion dollar market for the drug and Citigroup analyst Andrew S Baum models peak sales of at least $5bn. The analyst in a note to investors also remarked on PD-911 trial's superior results compared to that of NVS's Afinitor Phase-II data and PD-991's better tolerability.
The European regulators last month gave a nod to Eliquis, heralded by many as a potential blockbuster drug developed in partnership by Pfizer and Bristol-Myers Squibb (NYSE:BMY). Eliquis is a medicine for the prevention of stroke and systemic embolism in patients with non-valvular atrial fibrillation. The FDA still has to approve the drug and once that is done, analysts expect the drug to earn up to $5bn per year.
History of Eliquis
In August last year, Pfizer and BMY released data from a Phase-III trial which indicated that Eliquis, compared to the standard treatment of warfarin, prevented more strokes, was associated with less major bleeding and also caused less number of deaths. Then later in November, 2011, the FDA decided to give Eliquis a priority review. Priority review is granted to drugs that offer treatment in unmet areas or when the drug offers a significant advancement in a treatment.
But by the time FDA granted priority review to Eliquis, its competitors were already approved. Pradaxa, of Boehringer Ingelheim, was granted the similar status earlier. After Pradaxa, Johnson & Johnson (NYSE:JNJ) and Bayer's (OTCPK:BAYRY) Xarelto was approved but was not given the priority review. Hence the FDA must have viewed Eliquis as being a significant addition to the currently available treatments. A better safety profile and efficacy of Eliquis are well cited and are the reasons why analysts predict the drug to be a leading player in the industry.
But the expectation that Eliquis would sail through the approval process was sidelined once reports came pouring in relating to incidents of hemorrhaging in patients who took Pradaxa. The Institute for Safe Medicine Practices noted 505 cases of hemorrhaging which led to deaths and disabilities. The FDA grew cautious and it was announced that the PDUFA date for Eliquis was pushed to June 28, 2012 from the scheduled March 28, 2012. Then in June Pfizer and BMY were given a response letter by the FDA asking for clarification on data management and verification from their Aristotle trial.
Latest news reveals that the PDUFA date has been scheduled for March 17, 2013. The delays are a setback but I believe the U.S. approval is highly likely given the safety profile and efficacy of the drug. Since Pradaxa's safety has been questioned, I believe Pfizer and BMY will be able to promote Eliquis as a much better alternative to warfarin. Both Pfizer and BMY have significant experience in marketing cardiovascular drugs which should help strengthen the sales effort for Eliquis.
Rheumatoid Arthritis
On November 6th, 2012 FDA approved Pfizer's Xeljanz (tofacitinib) to treat adults with moderately to severe rheumatoid arthritis (RA) who are intolerant of, or do not respond to methotrexate. Xeljanz is an oral disease-modifying antirheumatic drug (DMARD) and is the first approved treatment for RA in a new class of drugs known as JAK inhibitors. It is believed it is as effective as the currently widely injectables which in aggregate earn $13bn in annual sales in the treatment of RA. Citigroup analysts place a value of $2.3bn in peak sales for Xeljanz in the treatment of RA alone and an additional $1.6bn of sales for its possible usage in non-RA indications.
Risks
PD-991
PD-991's Phase-II results are a great achievement and a lot is expected from this drug. But the drug is yet to move to the next round of trials and there is no guarantee that the same promising results can be pulled off in Phase-III as well. One professor, who was quoted in a Bloomberg article, also notes that the recent PD-991 study which involved 165 patients was small and must be confirmed in larger trails.
Eliquis
Despite being the standard treatment for decades in the prevention of the formation of blood clots and their migration elsewhere in the body, warfarin has a few limitations which include its interaction with other drugs and the need for blood monitoring and dose adjustment. Therefore, clinicians have been eager to adopt an alternative medicine that is easier to administer.
Although Eliquis overcomes the necessity of regular blood monitoring, one editorial in The New England Journal of Medicine notes that warfarin will be less expensive than the new alternatives even if one accounts for the costs of blood monitoring. Hence, although Eliquis and its competitors may offer better results than warfarin, warfarin's cost-effectiveness may lead to its continuation in patients with atrial fibrillation. This view may turn out to be particularly true in the case of emerging economies which will be constrained in terms of resources and may opt for the cheaper therapy, i.e. warfarin. To conclude, I believe it is a possibility that the optimistic peak sales figure of $5bn may not be achieved or it may take more time than currently estimated by analysts to reach that figure.
Eliquis also faces a competitive threat from Daiichi Sankyo's (OTCPK:DSKYF) drug Edoxoban. Data from Edoxoban's phase-III ENGAGE AF-TIMI 48 trial is expected in 2013, which will shed light on its efficacy. Edoxoban's once-daily formulation is an advantage over Eliquis's twice-daily formulation. Lastly, Eliquis may continue to face delays from the FDA.
Xeljanz
FDA notes in its press release that Xeljanz was associated with increased risk of infections, tuberculosis, cancer and lymphoma. The drug was further noted to increase cholesterol as well. Given the risks, FDA approved the drug with a Risk Evaluation and Mitigation Strategy (REMS) and has called for a post-marketing study to evaluate the long-term effects of Xeljanz. REMS is intended to provide health care practitioners with information on the drug's potential risks. This poses a threat to the drug's prospects if FDA deems that the drug's threats outweigh its benefits in the future. Potential competing drugs which may eat away Xeljanz's market share are:
· AstraZeneca (NYSE:AZN) and Rigel Pharmaceutical's (NASDAQ:RIGL) fostamatinib and
· Eli Lilly (NYSE:LLY) & Incyte Corporation's (NASDAQ:INCY) baracitnib
Dividends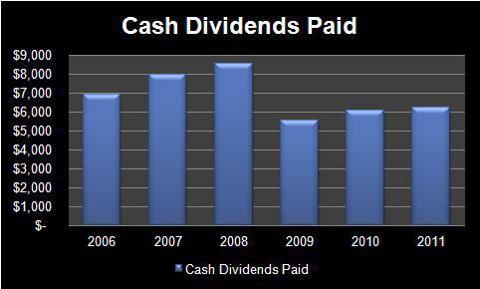 Pfizer has been a good dividend growth story but the company slashed its payments in 2009 following the acquisition of Wyeth Pharmaceuticals (payment was halved from 32 cents to 16 cents). The company has increased its dividend payments since the acquisition which now stands at 22 cents per share. I believe that since the company has substantial funds in its coffers, Pfizer has the ability to raise its distributions. In fact, one of the ways to increase investor interest in the company is by boosting dividend payments which I believe is a strategy Pfizer would adopt.
Below in the table I have compiled some metrics to give you a snapshot of the company's financial strength. Investors must note here that future dividend cuts similar to the one experienced in the year of Wyeth's acquisition is unlikely since Pfizer seems to be content with small deals like the recent purchase of NextWave Pharmaceuticals, a privately held company.
| | |
| --- | --- |
| Payout Ratio | 67% |
| Interest Coverage Ratio | 9x |
| Total Debt/ Equity Ratio | 47% |
Conclusion
Since Lipitor's exclusivity loss, the company has been on the lookout for a drug that can fill Lipitor's shoes. Pfizer may not be on its way to find that one blockbuster drug but the pipeline does indeed offer a diversified product portfolio. But there are several limiting factors for these drugs which I have highlighted in the article. I take the view that Pfizer has a solid dividend yield and investors should expect further dividend increases as well. I therefore take a positive stance on the stock.
Disclosure: I have no positions in any stocks mentioned, and no plans to initiate any positions within the next 72 hours. I wrote this article myself, and it expresses my own opinions. I am not receiving compensation for it (other than from Seeking Alpha). I have no business relationship with any company whose stock is mentioned in this article.