When Universal Display (or "UDC") (NASDAQ:PANL) reported a big earnings miss, investors were left wondering if the challenges were temporary. The company lost $0.12 per diluted share, or a loss of $5.5 million. The company said that delays in customer commercial rents and global economic challenges were to blame.
Last week, UDC shares rallied by nearly 12% after investors speculated that Samsung's (OTC:SSNLF) Galaxy S IV would use UDC's flexible OLED technology. On a fundamental basis, demand for existing Samsung devices is expected to remain strong. Corning (NYSE:GLW) forecast sales in specialty materials would rise by about 5% (year-over-year) in its fourth quarter. Sales in Gorilla Glass are expected to rise 60% in the current quarter. In the last month, Corning and UDC shares are both up: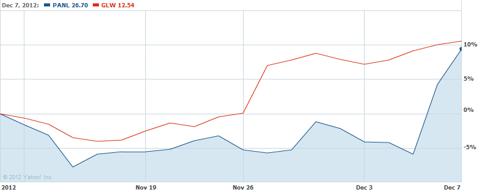 (Chart Source: Yahoo Finance)
Quarterly Results Summary
Universal Display earned much lower royalty and license fee revenue in its third quarter. Revenue dropped to $396,000 from $4.6 million a year ago.
Additional figures (year-over-year):
Host revenue declined by $5.9 million
Green emitter revenue declined by $2 million
Red emitter revenue rose by $3.3 million, up 89%
Material sales declined to $11 million, from $15.4 million
The company ended the quarter with $239 million in cash, short-term investments, and cash equivalents.
Revenue Forecast
In the next quarter, the company will include $7.5 million from its semi-annual license payments from Samsung. Another $15 million from Samsung will also be received. In UDC's most recent quarter, the company generated $12.5 million in revenue.
For the full-year, the company expects revenue to be up 30% - 34%, or $80 million - $82 million. Revenue was previously forecast to be much higher, at between $90 million and $110 million.
Reasons to be Bullish on Universal Display:
Overall OLED Market Expanding
DisplaySearch estimated that OLED display would be $6.5 billion in revenue. By 2019, the OLED display market will be $34 billion. Universal Display also anticipates OLED lighting will be an area for growth in the future.
Demand for Red Materials Still Strong
Strong demand for red materials should be expected to continue. UDC experienced delays last quarter for green material demand, but anticipates that customers will eventually follow-through on demand for green for products like flexible display.
Reasons to be Bearish on Universal Display:
Challenges
The company faced two major challenges. First, customers delayed using green phosphorescent emitter and host materials last quarter, limiting short-term growth. Second, total shipment for OLED TVs is expected to be down dramatically, from a previously forecast 50,000 to just 500.
To model more conservative revenue growth, investors should now anticipate slower adoption for green emitters.
Inventory Build-up
The company built inventory, because it expected host materials and green emitters to be adapted by the end of 2012. Adopting green and green host materials in TVs was also delayed. Both delays mean that the company now expects adoption will not happen until early next year.
12/31/2011

3/31/2012

6/30/2012

9/30/2012

Inventory

3.84

5.57

8.57

9.45

value in millions, USD
Data Source: Kapitall.com
Despite an inventory build-up (which was identified as a risk factor), the material will eventually be designed into product, so a write-down should not be expected in future quarters.
Valuation and Conclusion
Buying UDC is not without risk. Universal Display is valued at 3.6 times its book value of $7.50. Inventory levels were nearly 2.5 times higher than the year-ago period. By comparison, Corning is valued at 0.8 times book, while NVIDIA (NASDAQ:NVDA) trades at a 1.6 times its book value. Investors clearly expect OLED to be the biggest beneficiary in the growth of mobile devices.
The company raised its patent portfolio holdings, which also raised costs to $3.7M, up from $1.9M last year. Delays from customers in adapting host materials other than red reminded investors that growth will not be a smooth one. Still, UDC grew its pretax income steadily, and a dip in earnings on occasion is expected. In fiscal 2011, income declined 16.4% over 2010:
| | | | | |
| --- | --- | --- | --- | --- |
| | 12/31/2008 | 12/31/2009 | 12/31/2010 | 12/31/2011 |
| Pretax Income | 1,523.00 | 1,934.00 | 3,845.00 | 3,213.00 |
| value in millions, USD | | | | |
Data Source: Kapitall.com
Revenue in the next quarter will be higher, due mostly to the payments from Samsung. If mobile makers adapt green material from UDC in early-2013, the high valuation of its shares will be justified.
Disclosure: I have no positions in any stocks mentioned, and no plans to initiate any positions within the next 72 hours. I wrote this article myself, and it expresses my own opinions. I am not receiving compensation for it (other than from Seeking Alpha). I have no business relationship with any company whose stock is mentioned in this article.