Workday (NYSE:WDAY) was introduced to me by a fellow commentator, asking me to comment on it when I wrote an article about Groupon (NASDAQ:GRPN). I have to admit -- I thought I had seen it all. I thought I had seen every type of bubble stock possible. I thought there was nothing on earth that can surprise me anymore. Well, I was wrong. When I reviewed Workday, I was totally blown away.
Workday provides enterprise cloud-based applications for companies on a subscription basis. Workday belongs to a new type of space called SaaS or, software as a subscription. There are many companies in this space and they are all valued for perfection. In the case of Workday, however, that is an understatement.
I will give the company the benefit of the doubt and say that this is a great name. But the question is: How much should investors pay for it?
Price/sales, one of the metrics I look at most, stands at 34! I think this might be a new record. I don't recall ever coming across a stock that sells for so many times its revenue. Price/book stands at a mindboggling 13. Trailing P/E is negative as well as the forward P/E -- in other words, the company is not expected to make any money even in the next 12 months.
Revenue (NYSE:TTM) stands at $235 million with revenue increasing by 100% year over year. I hate to be a spoiled sport -- while revenue growth is indeed important, it's just not that important to value a company 34 times its revenue.
Click to enlarge images.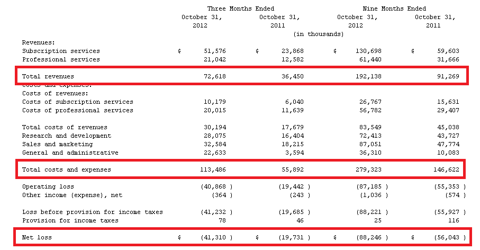 Now, let's look at the income statement (the above chart). As per the company's latest Q3 report, total revenue for the third quarter was $72 million, with total costs and expenses running at $113 million, giving us a loss of $41 million for the quarter. For the nine months ending Oct. 31, the company had revenues of $192 million, with total costs and expenses coming in at $279 million, for a grand total loss of $88 million.
If I am going to pay 35 times sales for any company, the least I expect from it is to be profitable. But as is evident from the above data, this company starts out with losing money, even before spending a dime on anything else. It has negative gross margins. In fact, it has never earned a dime. Profit margins stand at -47% and operating margin at -43%.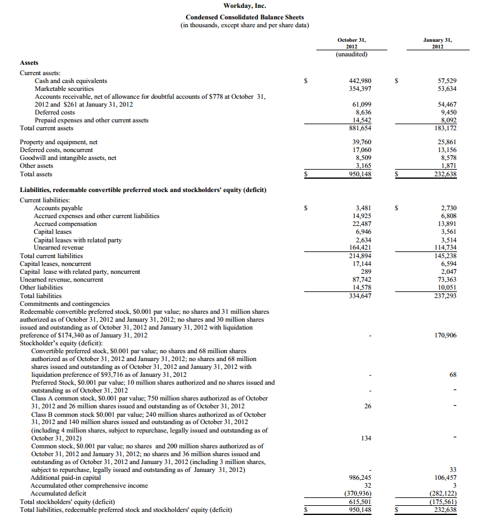 Looking at the balance sheet (see above), the company has about $881 million in current assets, but that's only because it recently completed its IPO raising of about $685 million. If we subtract the recent $685 million hot IPO money from the $950 million in total assets, we get $265 million, which is less than the $334 million the company has in total liabilities. Had this IPO not been consummated, the company would probably be a questionable going concern.
A big round of applause to the underwriters of this deal (Morgan Stanley and Goldman Sachs). I have no idea how they persuaded people to buy into this company, but they deserve their salary. That not being enough, this stock was one of the IPO darlings of the year. On the very first day of trading, the stock jumped 75% from its IPO price. While I understand how underwriters can market any stock to their clients and persuade them to buy in, how they persuaded the whole market to follow up and bid this stock even higher on the first day of trading is beyond me.
The SAAS Model
Many people have tried to find some sort of new valuation model for SaaS companies. Many claim that SaaS companies should be valued differently. Do you remember the 1990s dot-com bubble? Let me refresh your memory. During the late '90s the market was valuing stocks to the moon and analysts had no explanation for it, so they invented explanations. All of a sudden, you had analysts claiming that a company with almost no sales had a value of X, because another set of companies that were in the same space had a similar valuation. I don't remember who it was, but one analyst even used the number of clicks as a valuation metric.
Of course, when everything blew up in everybody's face, out went all those exotic ideas of the new valuation norm. As far as I'm concerned, we have the same situation here. We have analysts trying to find ways to value WDAY at 35 times sales, with zero earnings (and no earning in sight, in fact), never having made a dime.
I'm sorry folks, but I don't buy the whole SaaS notion one bit. Oracle (NYSE:ORCL) and SAP (NYSE:SAP) have been subscription-based businesses forever, and I don't see them trading at 35 time sales.
Workday is not the only SaaS darling trading for pie in the sky multiples. Others in the space include Cornerstone OnDemand (NASDAQ:CSOD), NetSuite (NYSE:N), Saba Software (OTCPK:SABA) , Ultimate Software (NASDAQ:ULTI), and Salesforce.com (NYSE:CRM).
| | | | | | |
| --- | --- | --- | --- | --- | --- |
| | Price/Sales | P/E | Forward P/E | Price/Book | Profit Margin |
| CSOD | 13 | N/A | N/A | 27 | -27.85% |
| N | 15 | N/A | 187 | 28 | -11.54% |
| SABA | 1.88 | N/A | 58 | 6.34 | -12.48% |
| ULTI | 8 | 256 | 66 | 21 | 3.30% |
| CRM | 8 | N/A | 79 | 11 | -8.91% |
All of these stocks are on cloud nine. Don't get me wrong. I am all for speculation, but when I speculate, I like to have some leverage on my side -- for example, a stock with no earnings but a very low price/sales ratio and the potential for decent earnings in the future. In the case of Workday we have an extremely expensive stock, trading at a crazy price/sales multiple, and no clue as to when it will make a profit.
Shorts Are Already Piling Up
As per Yahoo Finance, about 6.4% of the float has already been sold short. This is not a small number, considering the time frame this stock has been trading in. And in my opinion, this will be one of the most shorted stocks in the entire market in a few months.
WDAY Is Definitely a Short Candidate
After I decide that the fundamentals warrant a short position, I look for weak technicals to find an entry point.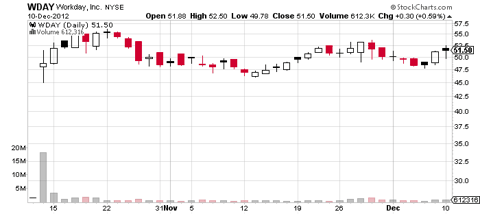 But Workday's chart does not give us any clues, as the stock has only recently started trading. So you can either wait for technical weakness, or short at will, as the market has been doing for the past months.
Disclosure: I have no positions in any stocks mentioned, and no plans to initiate any positions within the next 72 hours. I wrote this article myself, and it expresses my own opinions. I am not receiving compensation for it (other than from Seeking Alpha). I have no business relationship with any company whose stock is mentioned in this article.