CapLease (NYSE:LSE) announced last week that it had acquired another 145,000 square feet of Class A office space combined with the intention to acquire two additional buildings by the end of the year. The announcement underscores CapLease's acquisition strategy and reinforces its ability to continue to increase its dividend for the foreseeable future. For 2012, CapLease has now acquired over $165 million of new office space. That's 10% of their current real estate portfolio and more than half of its current book value.
CapLease owns net lease properties throughout the United States. Its portfolio of $1.8 billion net lease is well diversified by tenant, property type, and geography. It's portfolio covers almost 12 million square feet and it continues to look for additional acquisition targets.
It looks like a good place to park your investment and receive growing dividends.
Investment Thesis
Strong and growing dividend
At a current trailing twelve month dividend yield of 5.17% (morningstar.com), the acquisitive office REIT already looks attractive. According to Morningstar, the expected dividend yield next year will increase to 5.46%. Its dividend yield compares very favorably with both its peers as well as REITs in other sectors.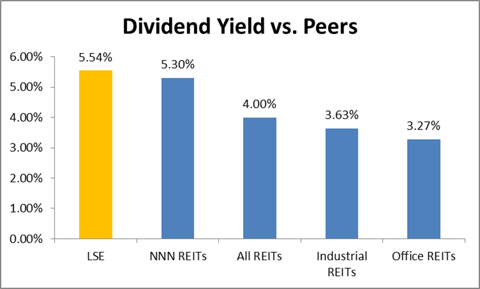 source: www.caplease.com
And there really isn't any concern that the dividend would be in jeopardy. In fact, the lower payout ratio for LSE relative to peers indicates that there could very well be additional dividend increases in the future. The company has increased its dividend for four years in a row and there is no sign of that trend abating.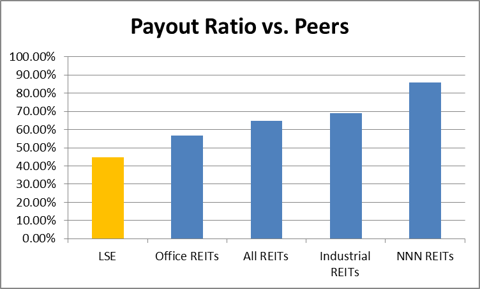 source: www.caplease.com
Capitalization rates are very attractive
CapLease's portfolio also has a high cap rate compared to other REITs. At a current level of 9.3%, it is well above peers in the office sectors as well as triple net REITs and industrial REITs. (For those needing a refresher, the cap rate is the rate of return of a real estate investment. It's calculated by dividing the total operating income by the value of the property. It can also be considered the discount rate of a perpetuity, which gives you the current value of the property.)
For example, a property with income of $100,000 and a value of $1,000,000 has a cap rate of 10%. (100,000/1,000,000 = 10%). By the same token, if a property is generating $100,000 in income and I require a 10% cap rate, what is the value of that property? Or how much would I be willing to pay for that property? The answer is $1,000,000 ($100,000/.10 = $1,000,000).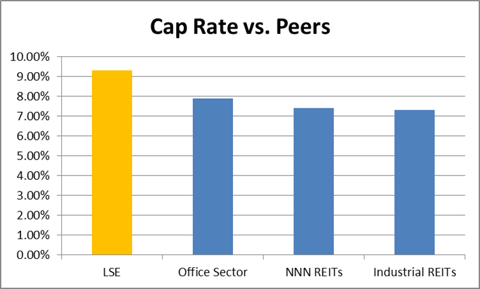 source: www.caplease.com
What is even more appealing to interested investors is that LSE continues to acquire properties above its average long term cap rate, strengthening its portfolio even further as it adds high quality, high earnings properties to its balance sheet. Its latest acquisition had a cap rate of over 8% and the two additional acquisitions expected before month end are above 9%. The chart below shows the average cap rate for CapLease along a normal distribution curve.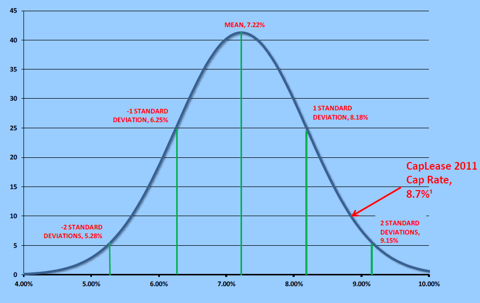 source: CapLease Investor Presentation
Strong and diversifed tenant base
CapLease boasts one of the strongest tenant credit rating portfolios among its peers. While it does have 10%+ exposure to two specific tenants, we feel comfortable with this exposure because of the specific tenants. The table below lists the top 10 tenants, of which Nestle and the US Government make up 20%.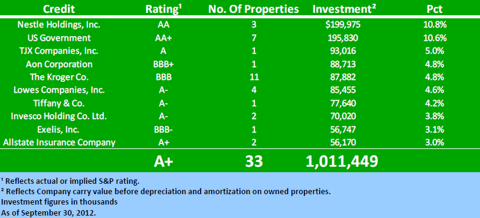 source: www.caplease.com
Looking at its portfolio by industry sector confirms a high level of diversification across non-correlated industries. With an average credit rating of A+, CapLease boasts high quality tenants.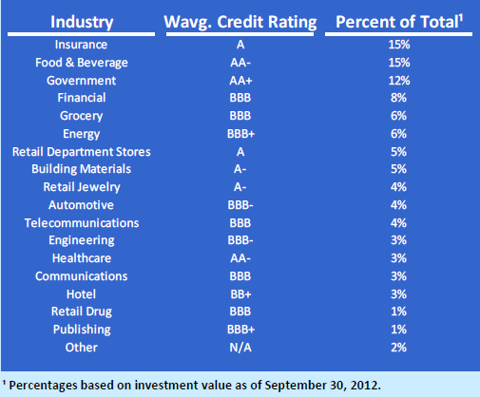 source: www.caplease.com
Operational Excellence
Operationally, the company has managed its properties extremely well and has strengthened its balance sheet in the process. One of the most important components of net lease REITs is their ability to manage lease renewals as they expire. LSE presented during its third quarter presentation that its lease roll-overs should be manageable. Only 10% of its leases are up for renewal in 2013, 1% in 2014, and 8% in 2015. Not until 2017 does CapLease have a substantial portion of its leases up for renewal. And five years from now, expectations are that lease rates could potentially be much higher.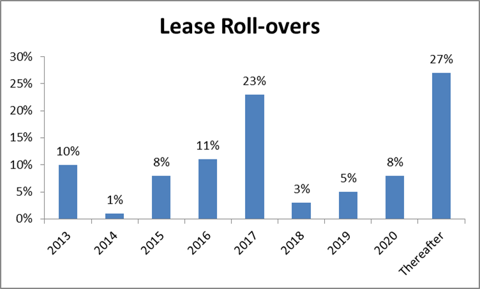 source: www.caplease.com
In terms of financing, 90% of its portfolio is financed on a long-term fixed rate basis, so the company has locked in current rates for a very long time. Any increase in leasing rates will therefore be accretive to the bottom line and benefit investors. And almost all of the financing is amortizing, non-recourse, and secured by individual assets, not the REIT.
Valuation
So we like the investment story and we're positive on LSE's dividend prospects. We also like the valuation. At current levels, while it doesn't look cheap relative to its long-term average multiples, it does look very compelling relative to its peers. The office REIT sector currently trades at an FFO multiple of over 14, while LSE is barely above 8.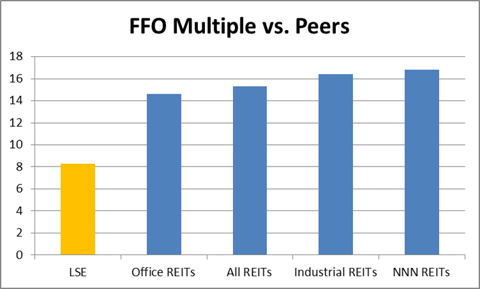 It is a great story, and management has done a tremendous job of continuously improving its portfolio of properties and positioned itself to grow FFO and dividends in a very challenging environment. As the economy continues to improve, albeit slightly, we expect CapLease to continue to outperform both the S&P 500 and its industry peers.
Disclosure: I have no positions in any stocks mentioned, and no plans to initiate any positions within the next 72 hours. I wrote this article myself, and it expresses my own opinions. I am not receiving compensation for it (other than from Seeking Alpha). I have no business relationship with any company whose stock is mentioned in this article.