In my previous analysis on both Darden Restaurants (NYSE:DRI) and McDonald's, (NYSE:MCD) I examined how both companies were implementing their dividend and dividend growth strategies. McDonald's has a long history of paying and growing dividends, while Darden's dividend policy is relatively new. McDonald's has raised its dividend roughly in line with its EPS growth, maintaining a payout ratio of around 50%. On the other hand, Darden has mostly funded its dividend growth with a higher payout ratio. Darden's payout ratio, using earnings, has risen from 30% to about 48% in eight quarters. Below, I will compare both and see which is the better investment.
However, before I start, I need to discuss some recent news for both companies:
McDonald's suffered a major setback with global comparable sales decreasing 1.8% in October. However, the company has quickly rebounded. On November 15, 2012, McDonald's announced that it had replaced Jan Fields, who was president of McDonald's USA, with Jeff Stratton, who was Global Chief Restaurant Officer, effective December 1. Yesterday, the company announced global same-store sales rose 2.4% in November, ahead of estimates calling for a more modest pace of 0.4%. Sales in the U.S. grew at a 2.5% clip, while Europe was up 1.4%. Both these events are positive for McDonald's, in my opinion.
Darden pre-announced terrible calendar Q4 (it refers to calendar Q4 as fiscal Q2) earnings. The company reported that it expected diluted net earnings per share from continuing operations of approximately $0.25 to $0.26. For comparison, earnings estimates were previously $0.40 for that quarter. Darden estimates U.S. same-restaurant sales for the second quarter will be approximately -0.8%, -2.7% and -3.2% for LongHorn Steakhouse, Red Lobster and Olive Garden, respectively. The company also reported that it anticipated the transaction and closing costs associated with the purchase of Yard House, USA Inc. will adversely affect diluted net earnings per share from continuing operations for its fiscal second quarter by approximately $0.05. As I wrote in my previous article on Darden, the last charge was widely assumed. However, the collapse in sales at LongHorn Steakhouse, Red Lobster and Olive Garden was not at all expected. I had hinted that the share price might fall when the company revised guidance, though I underestimated the decline. On the day Darden pre-announced, it promptly fell 10%.
Now, let's take a look at the numbers:
First, let us take a look at TTM PE. While granted PE is an imperfect metric, it is still important to look at. Using the TTM balances out some of the "noise" that individual quarters may produce. Remember that Darden will most likely have very low earnings next quarter, and its PE will rise as a result.
(click images to enlarge)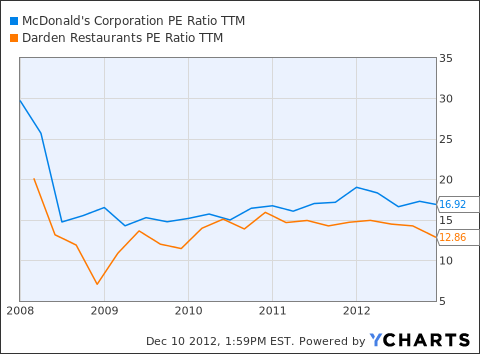 MCD PE Ratio TTM data by YCharts
We can see that Darden is currently cheaper than McDonald's based on earnings. However, we know that Darden will report very subpar numbers for the next quarter. Darden may be winning this round at the moment, but do not be fooled, Darden's PE should skyrocket to about 44 (TTM should be about 17) next quarter. I will label this round as inclusive.
Next, let us take a look at TTM EPS.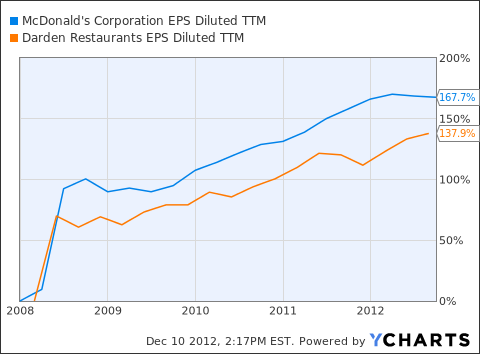 MCD EPS Diluted TTM data by YCharts
This is a clear victory for McDonald's. McDonald's EPS growth has been smoother, faster, and more consistent than Darden's. Also, we know that Darden's EPS is going to take a beating next quarter, so without a doubt, McDonald's wins this round.
Now, let us move on to TTM revenue.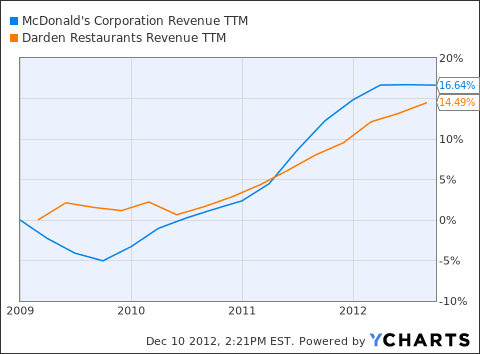 MCD Revenue TTM data by YCharts
We can see that McDonald's has had faster revenue growth. This is a bad sign for Darden. Darden has made several acquisitions over the last few years in order to grow. This means McDonald's is able to grow organically faster than Darden can grow through buying smaller restaurant chains and organically. I honestly was expecting Darden to at least show faster revenue growth than McDonald's. McDonald's wins this round.
Next, let us look at the current dividend yield for both companies: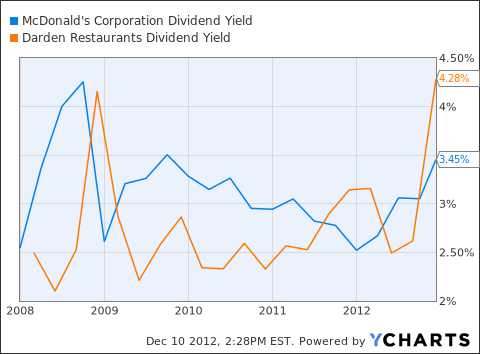 MCD Dividend Yield data by YCharts
Darden offers a higher dividend yield than McDonald's. The recent price decline has widen the gap. A victory for Darden here.
Now, let us examine the dividend growth provided by these companies.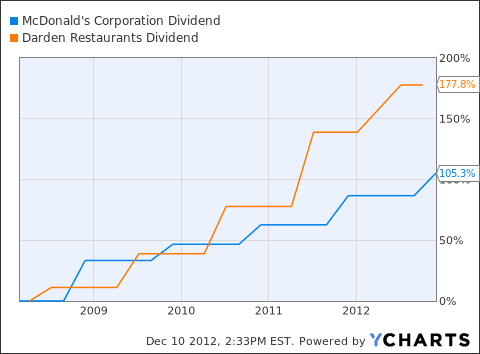 MCD Dividend data by YCharts
We can see that Darden has been growing its dividend faster than McDonald's over the last five years. However, as noted in the opening paragraph, it has come at the expense of its payout ratio. Darden wins this round.
As mentioned above, let us look at the dividend payout ratio for each company.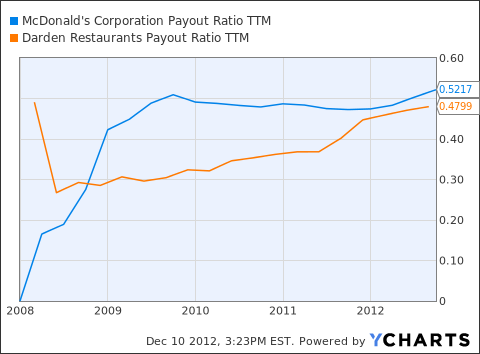 MCD Payout Ratio TTM data by YCharts
We can see both companies have similar payout ratios at the moment. However, McDonald's payout ratio has been more stable over time. We know that Darden's payout ratio will skyrocket next quarter to about 200% of earnings. This is a case where a chart is misleading. McDonald's wins for payout ratio due to the information we have about Darden's Q4.
I would like to take a look at Darden's FCF and dividend payments, since the payout ratio using earnings is misleading:
We can see that Darden's calendar Q4 has been a very weak quarter for cash flow for the last three quarters. I expect Darden will experience a similar situation this Q4, with free cash flow being negative.
So, here is the tally:
TTM PE: Inconclusive
TTM EPS: McDonald's wins
TTM Revenue: McDonald's wins
Current Dividend: Darden wins
Dividend Growth: Darden wins
Payout Ratio: McDonald's wins
We can see we have a split decision. McDonald's is growing its revenue and earnings faster than Darden, while Darden has a current higher dividend and faster dividend growth. However, McDonald's has a much more stable payout ratio. Darden's FCF, especially for the last few Q4s, has been lagging.
I have already made up my mind. For me, McDonald's has a much more attractive profile: growing EPS, with the dividend increasing about 10% per year. Darden's earnings and FCF worry me. We will need to see its next quarter's earnings report to fully comprehend just how bad the quarter was. I expect it to be worse than advertised.
Disclosure: I am long MCD. I wrote this article myself, and it expresses my own opinions. I am not receiving compensation for it (other than from Seeking Alpha). I have no business relationship with any company whose stock is mentioned in this article.