Over the past month, a vocal group of commentators has been criticizing the Treasury for not including a provision in TARP II that would've ensured that banks receiving government funds would also be required to lend some of it quickly.
With Wednesday's joint release from the major financial authorities, it's obvious that the regulators are hearing this message loud and clear:
It is essential that banking organizations provide credit in a manner consistent with prudent lending practices and continue to ensure that they consider new lending opportunities on the basis of realistic asset valuations and a balanced assessment of borrowers' repayment capacities.
In ordinary times, that would be read as a signal to curb loose lending, but this time it's the opposite -- so let's hope these guys were listening.
But, and you knew there'd be one, as Goldman Sach's Ed McKelvey reminds us, the drop off in loan supply has been accompanied by a slowdown in loan demand as well. The following two charts from the latest Senior Loan Officer Survey show demand for business and consumer loans:
click to enlarge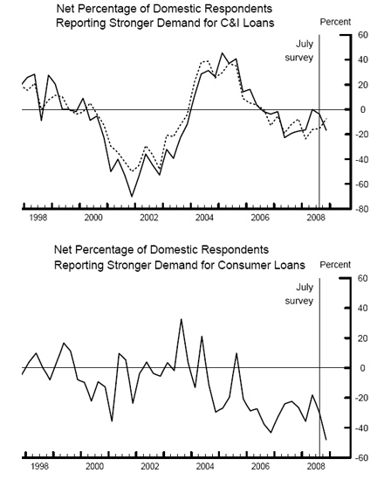 Why has demand fallen? If it's because lending standards have tightened too much, then prodding by the gov't could be beneficial, says McKelvey. But if a dropoff in demand "reflects a desire to spend less in a highly uncertain economic and financial climate, then success may be much more elusive, at least in the short term." And if it reflects a secular pullback by businesses or, more likely, consumers, then greater credit availability may not be much of a panacea.