We have been following Xerox Corporation (NYSE:XRX) since the middle of January largely because David Einhorn (Greenlight Capital) had purchased 17M shares of the company in Q4 2011. We have stepped up our coverage of Xerox in October as the company's shares were trading at a 30% discount to book value. However, we are most certainly aware that just because a company's shares are trading at a low price to book value does not automatically make it a great value. When we first started following Xerox, the company's shares were trading at a 5% discount to book in the middle of January. The primary reason why its price to book discount narrowed to a small 5% discount to book was due to investor enthusiasm surrounding David Einhorn's stake in Xerox through his Greenlight Capital hedge fund. Although Xerox is cheap by many traditional measures such as free cash flow yield, PE ratio and price to book, we have demurred from taking a position in the company because we have been concerned that it was a value trap.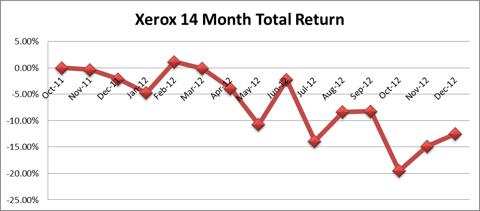 Source: Morningstar Direct
Why We See Xerox as a Value
Xerox's Dividend Yield: There is no question that Xerox is cheap based on valuation metrics such as price to book, price to (adjusted) earnings, free cash flow yield and dividend yield. Xerox recently increased its dividend by 35% and this will take effect in Q1 2013. Because Xerox's stock price has been continuously sagging since Ursula Burns assumed Xerox's presidency in April 2007, Xerox's dividend yield is now 3.3%, up from 1% in December 2007 when Xerox reinstated its dividend. Xerox's dividend yield is more than double the 1.58% SEC yield on the iShares Core Total U.S. Bond Market ETF (NYSEARCA:AGG) and it is not far off from the 4.62% weighted average cost of Xerox's debt. Considering that Xerox's 4.62% weighted average cost of debt is tax deductible at its statutory tax rate of 40% as opposed to its effective tax rate of 20% Xerox's effective after-tax weighted average cost of debt is just over 2.75%. This results in Xerox saving 55bp in weighted average financing costs at the margin if it was to opportunistically utilize debt to finance share repurchases.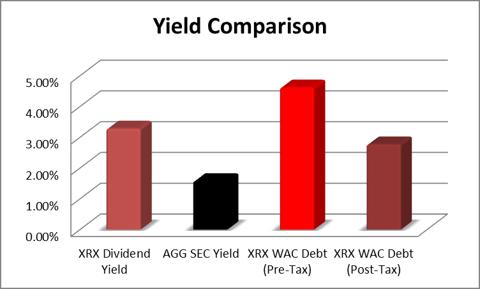 Source: Morningstar Direct
Xerox's PE Ratio: Xerox has an adjusted PE ratio of 6.5 based on adjusted 2012 and 2013 EPS forecasts of $1.09 as projected by company management. That translates into an earnings yield of 15.4% based on its forecasted EPS. Furthermore, the company's GAAP EPS estimates for 2013 are expected to be within a range of $.94-$1.00 which translates into a forward GAAP PE of 7 and a forward earnings yield of 14.29%. This also translates into a dividend payout ratio of 20-25% based on GAAP EPS results, which gives us confidence that the company is able to maintain or expand its per share dividend distributions to investors.
Xerox's Price to Book: Xerox's market price per share of $7 is at a 27% discount relative to its book value per share of $9.60. Part of the reason why the company's share price is seeing a negative disparity to its book value is because over 97% of Xerox's book value is attributed to acquisition related identifiable intangible assets and goodwill. We believe that investors might be concerned that the company may need to take a write-down of its assets due to the soft financial performance that Xerox has achieved under Ursula Burns' leadership. While we are not going to project when and if such impairment(s) would take place, we don't see impairments coming from its legacy Affiliated Computer Services acquisition as that business has been Xerox's island of tranquility in an otherwise truculent macroeconomic environment. We are aware that Xerox announced another restructuring charge of $100M to take place in Q4 2012.
Xerox's Free Cash Flow Management: Xerox is expecting to generate operating cash flows of $2B-$2.3B in 2012 and increase it by $100M in 2013. Xerox's cash flow conversion cycle exhibits a strong sense of seasonality at it incurs significant investments in working capital during the first quarter of its fiscal year which results in minimal to negative operating cash flows in the first quarter of its fiscal year. Xerox generates incremental operating cash flows in the second and third quarter and the bulk of its operating cash flows in the final quarter of a fiscal year as it is able to recover its working capital investments during this quarter. We are expecting Xerox's 2012 OCF to come in at the low end of management guidance ($2B) for FY 2012 and we are expecting Xerox's Q4 2012 capital expenditures to be $150M (FY 2012 CapEx ~$525M and $243M for acquisitions) which will result in FY 2012 free cash flows of over $1.2B. Xerox generated $2.085B in TTM OCFs and spent $741M on CapEx and acquisitions for FCFs of $1.344B and used it with $140M in net new borrowings to buy back $1.08B in outstanding shares and pay $330M in dividends.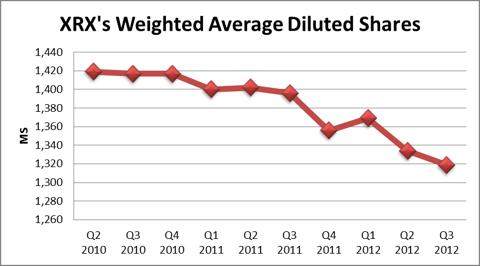 Source: Morningstar Direct
Xerox's Free Cash Flow Yield: Despite having to deal with nearly $12B in acquisition related goodwill and intangible assets on its balance sheet, Xerox generated a FCF/equity rate of return of over 10% during the last twelve months. Xerox's market cap is $8.93B as of December 7th and we are expecting it to generate $1.2B in FCFs for 2012 and $1.3B in FCFs for 2013. Xerox generated a 15.5% yield on its TTM free cash flows in relation to its current market cap and we are expecting it to at least generate 15% for its FY 2013 FCFs. We also expect the company to maintain its prudent cash management program as the company recently announced it would be adding $1B to its share repurchase authorization.
Analyst Ratings on Xerox
Morningstar Investment Research has a five-star rating on Xerox. Morningstar has a Fair Value Target Price of $11/share on Xerox and suggests that investors considering buying Xerox shares at $7.70/share or below. Morningstar has had a four-star or five-star rating on Xerox since August of last year. Oscar Schafer of the Barron's Roundtable and former hedge fund management proprietor at O.S.S. Capital also has Xerox as one of his picks for the 2012 Barron's Roundtable. The things that attract us to Xerox are the same things that attract Schafer. We both like its share repurchase program as well as its efforts to fundamentally transform its business away from hardware and towards IT services. We also like that Xerox is in the early stages of its transformational efforts and is trading at a discount to its fair intrinsic value even though it is still generating solid cash flows on its equity base.
Xerox's Institutional Supporters
Even though Greenlight Capital's 2% stake in Xerox is only good enough for 9th place amongst Xerox's institutional shareholders, it's the most notable shareholder in our opinion because that is what precisely drew us to covering it. Franklin Mutual Advisers (Michael Price's old shop) is the third largest shareholder at 5.53% of Xerox (down from 6.75% in Q2 2012). Franklin owns it through four of its mutual funds (Franklin Mutual Shares Securities, Mutual Global Discovery, Mutual Shares, Mutual Quest and Mutual Beacon). Franklin Mutual has reduced its position by 17.6M in the Q3 2012 period and this represented nearly 20% of its Q2 2012 stake. Dodge & Cox is Xerox's largest shareholder with 9.27% and that firm still has an image of conservative, value-oriented equity investment management. Notable boutiques include NFJ (2.57%), Glenview Capital Management (2.75%), LSV Asset Management (1.36%), Brandes (1.36%) and First Pacific Advisors (FPA Funds 1.1%).
Xerox Peer Group Comparison
While Xerox has seen soft results and issued a sour outlook, we believe that it compares well against its IT outsourcing competition (or at least if we were not to count its underperformance against Accenture (NYSE:ACN). Besides Accenture, we would compare Xerox against Hewlett-Packard's (NYSE:HPQ) HP Services division and Dell Inc's (NASDAQ:DELL) Dell Services segment. Xerox gets 52% of its MRQ revenue from its services and solutions versus 100% for Accenture, 32% for HPQ and 22% for Dell. Xerox's Services Division generated 4.8% revenue growth year-over-year in 2012 YTD versus -3.6% for HP Services and -1.25% for Dell Services. The one area that Xerox Services has shown some material weakness relative to its IT Services peers is its operating margin because it operates exclusively in outsourcing services, while its peers are also involved in IT consulting and other higher-value-added services. We have seen Xerox's outsourcing services operating margins pressured recently due to the ramp-up of new service contracts as well as concessions extended to certain customers in order to retain business. Our thesis going into this conclusion was that although Xerox may not be Accenture, at least it isn't HP Services or Dell Services and we can conclude that our thesis here holds.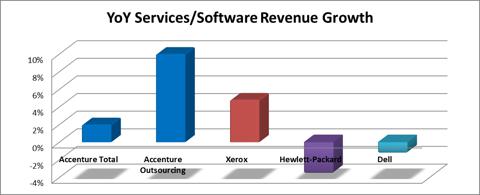 Source: MRQ Reports for Accenture, Xerox, H-P and Dell
Conclusion
In conclusion, we have reinforced what we like about Xerox and why we have expanded our coverage of the company. Even though we have not yet taken a stake in the company, we were surprised at its soft performance and sour guidance. The reason why we are continuing to follow the company is because of its 27% discount to book value and the institutional support for its shares. Although it isn't as strong as IT Solutions leader Accenture, at least it is in better shape than Dell and Hewlett-Packard. We have been carefully analyzing and evaluating Xerox to determine when it stops muddling through the muck and morass of mediocrity caused by the eurozone debt crisis before buying into it. We have been approaching it a significant level of care and due diligence reserved for special situation and turnaround plays in order to minimize potential losses and getting in too early because we believe that Xerox offers investors a solid level of cash flow generation and margin of safety. At the same time, we have potential concerns about it that made us concerned whether it was a value, or a value trap and those concerns will be the subject of our next report on Xerox.
Disclosure: I am long ACN. I wrote this article myself, and it expresses my own opinions. I am not receiving compensation for it (other than from Seeking Alpha). I have no business relationship with any company whose stock is mentioned in this article.
Additional disclosure: This article was written by an analyst at Saibus Research. Saibus Research has not received compensation directly or indirectly for expressing the recommendation in this article. We have no business relationship with any company whose stock is mentioned in this article. Under no circumstances must this report be considered an offer to buy, sell, subscribe for or trade securities or other instruments.