Across our universe, we're continually hunting for those stocks with exploitable seasonal trends. While there's no guarantee a seasonally strong stock will repeat its winning ways, seasonality provides interesting and useful clues into where returns are likely.
I've found it most helpful to consider seasonality in rolling three month windows.
This gives position traders and opportunity to have patience building positions. And, it gives shorter term traders a continuously updated group of names to focus on.
It's also helpful to break out the list of seasonally strong performers by sector because it allows investors specializing in particular baskets additional insight. I'll cover other sectors separately, but let's begin with basic materials.
Four large cap basic materials stocks post robust seasonality for the three months ending February 28th.
The first is Hess Corp (NYSE:HES). Hess produces oil and gas as an independent E&P company. It also operates a marketing and refining operation. Shares are trading -26% off their 52 week high and 8x FY13 earnings per share ("EPS") estimates of $6.21. Shares have been in steady distribution since the middle of 2011.
The company is shedding less profitable assets. It already sold its Schiehallion Field assets back in May as well as its Beryl area fields for $525 million in October. Last month it announced plans to sell-off its Russian subsidiary Samara-Nafta as part of its plan to unwind up to $2.4 billion in assets. These asset sales will better focus future capital spending.
Last quarter, production increased to 402 barrels of oil equivalent a day, up from 344 last year - mostly thanks to U.S. and Africa growth. Its marketing and refining segment generated another $76 million in adjusted earnings last quarter thanks to higher refining margins. Refining strength has continued into Q4, with the BP Global Marker Margin running at $14.99 per barrel this quarter, up from $9.08 in Q4, 2011.
Source: The Seasonal Investor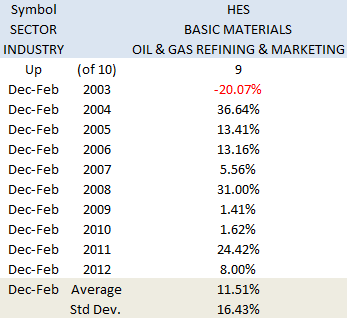 Talisman Energy (NYSE:TLM) also offers historical upside through February.
The Canadian oil and natural gas producer is -27% below its 52 week high and analysts expect FY13 earnings to increase 47% to $0.53.
The company is leveraging stable North Sea production to fund North American and Southeast Asia exploration. In July, it raised $1.5 billion selling a 49% interest in its North Sea assets to Sinopec. In September, the company got itself a new CEO in Hal Kvisle, the former President and CEO for TransCanada. Mr. Kvisle moved into the role from the Board, increasingly speculation Talisman may be up for sale.
While the company has struggled, new leadership is focused on containing capex to operating cash flows and reducing debt. A bright spot has been the company's Eagle Ford production, which has climbed to 15 million barrels of oil equivalent per day from less than 10 a year ago. The company also owns 200,000 acres in the low cost Marcellus shale. Shares are currently yielding 2.5%.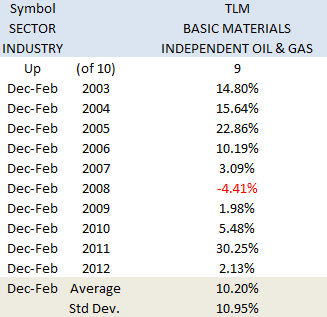 Brazil's Vale Sa (NYSE:VALE) is also a seasonally strong performer, rewarding investors with an average 13.27% return over the past decade.
Shares are 32% off their 52 week high and yield 1.7%. Analysts expect FY13 earnings per share of $2.36, giving shares a forward PE of 7.7x.
In the first six months of this year, Vale's market share of seaborne iron ore fell to 26% from 28% a year ago as it lost share to BHP Billiton (NYSE:BHP) and Rio Tinto (NYSE:RIO). However, the company remains the biggest iron ore producer, despite expectations its production will slip again in 2013 to 306 million metric tons. In a bid to win back lost share, Vale plans to increase production by 20-25 million tons a year beyond the projected 400 million ton goal set for 2017.
The production growth is likely in response to forecasted long term demand from China, which had recently slowed and weighed down prices. However, industrial output in China rose 10.1% in November - its fastest clip in 8 months. And, this pickup translated into higher iron ore imports, which were the second highest on record, as the country took advantage of low spot prices.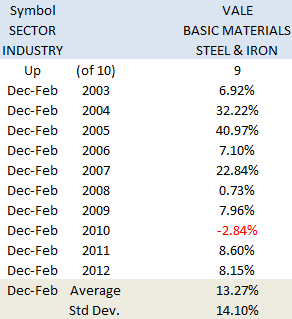 The last of the seasonally strongest large cap basics is Valero (NYSE:VLO), another refiner. Valero has posted an average return of 19.2% over the past 10 years for the period ending February.
Analysts expect the company to earn $4.76 per share next year -- up from $4.45 estimates 90 days ago -- giving shares a forward PE ratio of less than 7x.
The company's 16 refineries clearly benefit from improving margins, with more than half of its refining capacity located in the Gulf Coast, where marker margins have increased to $13.45 per barrel from $7.16 per barrel in Q4, 2011 (Source: BP). Additionally, the company's plan to spin off its 1800 store retail operation offers an opportunity to unlock value for shareholders. If all goes as planned, the spin-off should occur in Q1 or Q2 2013. Shares are yielding 2.1%.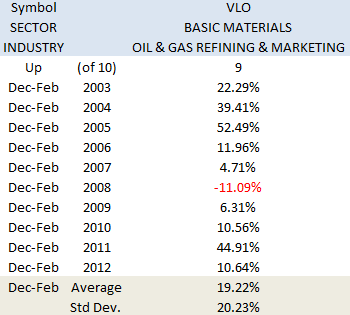 Investors who have been wondering when the time will prove right to buy into energy stocks can take additional consolation knowing the S&P Energy Spdr (NYSEARCA:XLE) has gained in 7 of the past 10 years during this same period, suggesting winter weather provides a favorable backdrop for these individual seasonal winners.
Disclosure: I have no positions in any stocks mentioned, but may initiate a long position in VLO over the next 72 hours. I wrote this article myself, and it expresses my own opinions. I am not receiving compensation for it (other than from Seeking Alpha). I have no business relationship with any company whose stock is mentioned in this article.